As the state of the current health crisis is continually changing, our staff has acted swiftly and intentionally to ensure that the residents who contract the virus are cared for. When a student goes into quarantine and isolation, our resident director on-call sees to it that they have just the right assistance to make their adjustment. We are highlighting some of the many phenomenal staff members for going above and beyond while on-duty. As we know, it is our community that is essential and we want to do everything we can to get our residents back to help create the campus we know and love.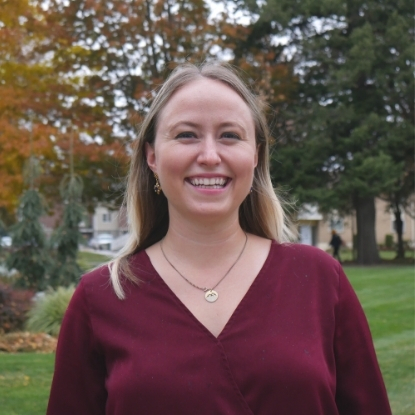 Sierra Pancoast - Residence Director for Northeast Block
"When I was on call, I really had to become a multitasking master. Not only was I driving the golf cart around, but I was answering calls from contact tracers, students, parents, and CSPS. I tried to treat every student as if they were the first student I was moving for that day. For me that meant being patient, answering their questions, and calming their nerves. I used Facetime as a way to be more personal and show care. For example, if a student needed a book from their room I would Facetime them while I was in their space so they could direct me to get the right items. Or, I might troubleshoot a facilities issue over Facetime with a student before getting facility services involved. Communication with the contact tracers was also critical to making the process go as smoothly as possible. I feel like the contact tracers have a good grasp on how hard the RDs are working when we are on call. For example, after a late night, one of the contact tracers found me on campus and brought me a coffee. The RDs and the contact tracers really are the foundation of this whole Q&I process. Over time we have learned to work more efficiently with one another, and it's been awesome to see that process improve."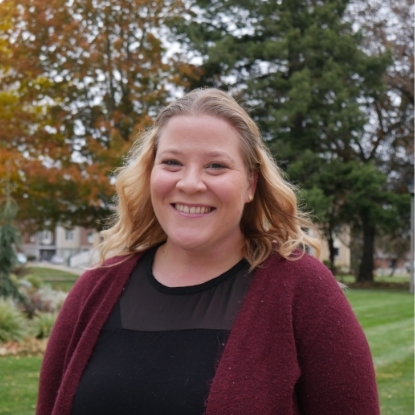 Katie Steele - Residence Director for Northwest Block
"At the same time, this work has provided an immense amount of comfort—in any given week while on call, I've done several moves – sometimes into quarantine and isolation, or sometimes out. During the moves, I've connected with more students than I probably ever do, in any given year. While riding on the back of a golf-cart, I've heard from many freshmen that they've really loved their first semester, despite how different campus is. I've delivered numerous items to students that they've forgotten, printed out homework (on more than one occasion), and done several after hours meal deliveries. I've taken students to testing appointments, fielded parent phone calls, dealt with student hospital transports, and the follow-up that ensues.
The most gratifying thing I've experienced on-call was a student's token of thanks when I moved her back into her residence hall, I had moved this student into isolation, and I was also on-call when she moved out. As I keyed her into C/M, she said, "Thank you for taking every phone call, and for bringing me everything from food to soap, to simply talking with me on the phone. I really felt cared for." I didn't think much of her comment at the time, but it's this high touch approach that is a hallmark of Jesuit institutions – I didn't think much of her requests because I was doing my job, and if I was in college during a pandemic, it's what RDs and professional staff would've done for me. I have also come to realize that the student's gratitude is also a hallmark of Jesuit education – in the students we attract and in the people we want them to become. Though so minimal, her gratitude was consolation in its purest form."

Jared Payton - Assistant Director of Housing & Residence Life
"The Housing & Residence Life team has done an incredible job of supporting students as they move from their regular housing to temporary quarantine or isolation. I recall one particular story of going above and beyond for these students. In a particularly heavy load of quarantine and isolation student numbers, one student was added to quarantine after the typical process of food and provisions had been settled for all previously identified numbers. The Housing & Residence Life team out of their concern for the student not having food provision before the next time a meal drop off could be managed worked with the student to find out what they needed to get through the night and into the morning hours. The student requested milk, crackers and fruit snacks. Without hesitation the on-call staff went to the local grocery store and picked up and delivered those items to the student. This is the ethic of care for our students that makes me proud of our intentional approach to supporting students in their most difficult times given Covid-19. This is just one of many stories that highlight how we must come around another in these times of desperate need."