Laundry facilities are available in each on-campus residential facility, as well as Gonzaga University managed "off campus" apartment complexes and houses. The University rents the machines from a Spokane company which is responsible for maintenance. The cost of providing laundry facilities and the utilities that service them is included in the semester room charge, thereby eliminating the necessity for a coin-operated system. Students must provide their own laundry detergent and other supplies.
All on-campus machines use the CleanPay Mobile app available for download through the Apple Store or Google Play Store on your mobile device. Instructions on how to get started on the mobile app are below. The app will automatically load with money and will reload once your remaining balance becomes zero.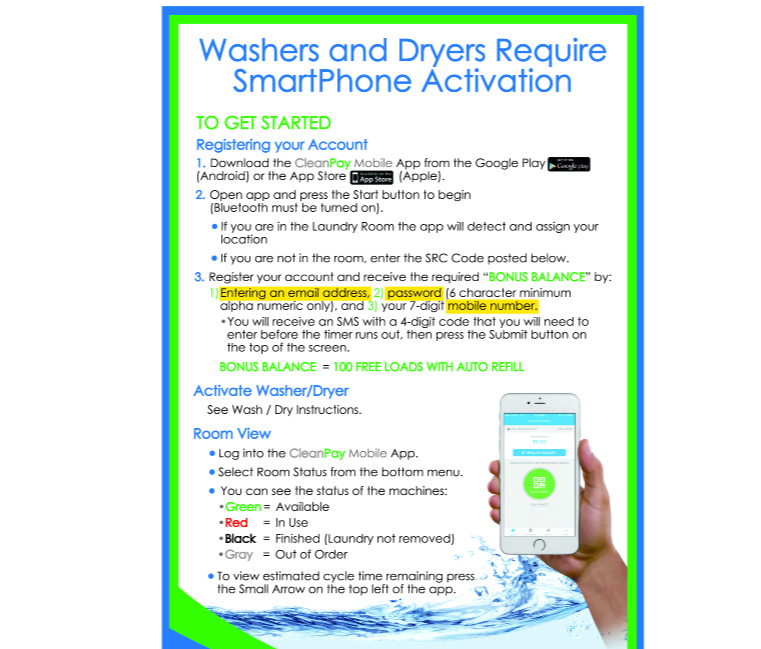 Washing machines and dryers are for resident use only. Please remember that the University does not promise security for your laundry nor reimburse you for losses due to theft. We strongly suggest you:
never leave your laundry unattended

share in monitoring the security of your area's laundry

secure Renter's Insurance which can reimburse you for losses
Please report any needed repair immediately to the Housing and Residence Life Office at 509-313-4103. Feel free to leave a detailed message after hours. Please be specific about the location (building/floor/wing) and the machine type (washer/dryer) and number.