The online Second Master's Degree in Nursing is designed for the Registered Nurse who has already obtained a Master's degree in Nursing, but desires additional preparation in another specialty area. The program is structured to meet the needs and schedules of working Registered Nurses through the same distributive learning formats used in the MSN program.
Outcomes
First-time MSN/NP test takers will achieve a passing score on either the AANP or ANCC Certification Exam
Facilitates effective communication and interprofessional collaboration
Demonstrates a commitment to ethical principles in decision-making and practice
Utilizes best evidence as a basis for decision-making in a defined area of advanced nursing practice
Demonstrates leadership and advocacy in defined areas of advanced nursing practice
Demonstrates or promotes safe and effective practice in a defined advanced nursing role
Distinctive Features:
Instruction by caring faculty, many of whom continue to practice in their areas of specialization
Emphasis on Jesuit inspired values of knowledge, sensitivity, integrity, excellence, and justice
Pursuit of humanistic and ethical alternatives to solve contemporary nursing and health care problems
Critical reasoning vital to professional judgment and ethical decision making
Track Options:
Financing
There are many ways to pay for your degree. From federal financial aid, to scholarships, to payment plans, Gonzaga can help you navigate the process and figure out the best way to finance your degree.
Gonzaga is regionally accredited by the Northwest Commission on Colleges and Universities (NWCCU). The baccalaureate, MSN and DNP programs at Gonzaga University are accredited by the Commission on Collegiate Nursing Education.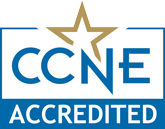 Commission on Collegiate Nursing Education:
655 K Street NW, Suite 750
Washington, DC 20001
(202) 887-6791