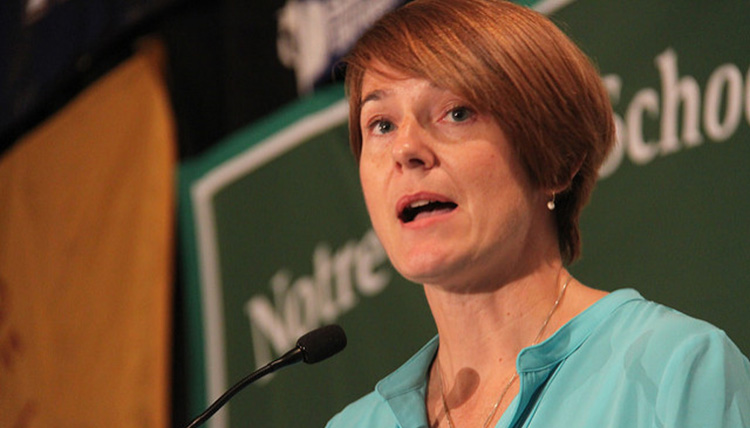 The Flannery Chair of Roman Catholic Theology is an endowed Chair gift of the late Maud and Milo Flannery of Spokane, to further excellence of theological study and teaching at Gonzaga University. The Flannery Lecture is delivered twice per year by an outstanding theologian who is invited to campus especially for the lecture.
Spring Flannery Lecture
Thursday, February 28, 2019 | 6 PM
Cataldo Hall, Globe Room
Gonzaga University
Lecture is FREE and open to all.
Speaker:
Dr. Maureen H. O'Connell
Associate Professor of Theological Ethics
La Salle University
Lecture title:
From the Upper Room to Pentecost: Toward an Ethic of Racial Mercy
The experiences of White Christians in the United States right now when it comes to crises and conflicts around racialized inequality are akin to that of Jesus' disciples who locked themselves away in the upper room in the dark days between the Crucifixion and the Resurrection. Many of us desire to be followers of Christ, but are trapped by emotions of fear, shame, guilt, frustration, and anger. Like them, if we desire to cross the threshold of that confining space and move toward the empowering – and multicultural - event of Pentecost, we need to be transformed by God's mercy. In this presentation, I suggest that before White Christians engage in racial justice movements we must first seek racial mercy. I'll turn to wisdom I've discovered from exploring my own family history with the color line to explain my concerns about racial justice without racial mercy and offer some personal and collective practices for racial mercy itself that might help us show up as more whole people in that critical work.
About the speaker:
Maureen H. O'Connell is Chair of the Department of Religion and Theology at LaSalle University where she is also an Associate Professor of Christian Ethics. She holds a BA in History from Saint Joseph's University and a PhD in Theological Ethics from Boston College. She authored Compassion: Loving Our Neighbor in an Age of Globalization (Orbis Books, 2009) and If These Walls Could Talk: Community Muralism and the Beauty of Justice (The Liturgical Press, 2012), which won the College Theology Book of the Year Award in 2012 and the Catholic Press Association's first place for books in theology in 2012. Her current research project will be forthcoming with Beacon Press in 2020 and explores the interplay between being Catholic and "becoming White" across five generations of her family's history in the City of Philadelphia. She received the Distinguished Lasallian Educator award in 2017 from both La Salle University and from the District of North Eastern North America, one of the provinces of the Brothers of the Christian Schools. She is a member of POWER (Philadelphians Organizing to Witness, Empower, and Rebuild), an interfaith coalition of more than 50 congregations committed to making Philadelphia the city of "just love" through community organizing, and the Publications Board of both the Wabash Center for Teaching and Learning in Theology and Religious Studies and the Society for the Arts in Religious and Theological Studies. She serves on the national Lasallian Education Council, as well as the Boards of Rosemont College and Cranaleith Spiritual Center, a ministry of the Religious Sisters of Mercy in Northeast Philadelphia.