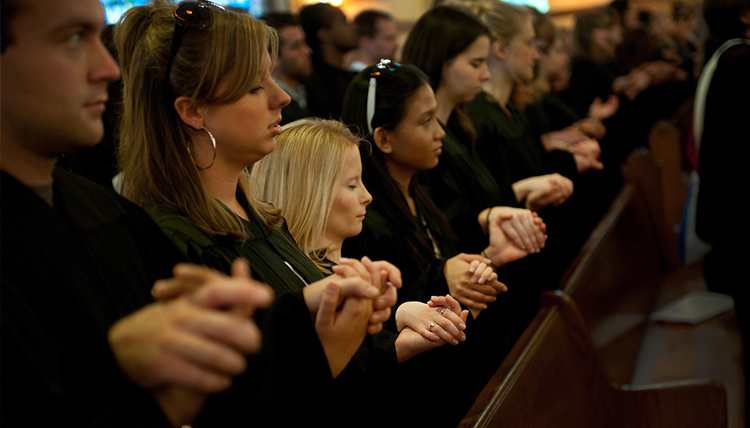 Being Religious Interreligiously is a lecture series that brings to campus each year a noted scholar in theology or religious studies as an expression of the Society of Jesus' judgment that to be religious today is to be interreligious. The lecture series seeks accountability to religious neighbors in a pluralistic and globalized world, works for justice by joining hearts and hands with faith neighbors, and contributes to the university and Spokane community's conversation with current matters of interreligious concern. The lecture series targets a student audience as well as members of the wider university and Spokane communities and admission is always free and open to the public. Questions, comments, and suggestions can be directed to sheveland@gonzaga.edu or (509) 313-6784.
Upcoming Events
Being Religious Interreligiously Lecture Series: Islam, Immigration, and European Integration
Thursday, Apr 11, 2019 5:30 PM - 7:00 PM
Jundt Art Museum Auditorium
Presented by Dr. Mohammed Boudoudou
Professor of Sociology (retired), Mohammed V University; Visiting Post-Doctoral Fulbright Scholar, Community Colleges of Spokane.
About the lecture:
In a modern world characterized by increasing interconnectedness and population mobility, questions of immigration and social integration loom larger than ever. Like America, Europe is struggling with its own complex set of challenges surrounding these issues. In his talk, Dr. Boudoudou will address how Islam and Muslims are caught up in the often fraught discourse and dynamics of European identity, immigration, and social and political integration.
About the speaker:
Dr. Boudoudou is a sociologist from Morocco whose 35-year career has seen academic and professional appointments in Morocco, Japan, France, and several other European countries. His fields of expertise include international migration, ethnic relations, and the sociology of North African societies.
Than you to our sponsors:
Sponsored by the Center for Global Engagement, Chief Diversity Officer, Office of Mission and Ministry, the Department of Religious Studies, and the Department of Sociology.
---
Previous Events
March 1, 2018
Peter Cho Phan, Ignacio Ellacuria, S.J. Chair of Catholic Social Thought, Georgetown University
"Would there be Christianity without Migration? Church as a Community of Migrants"
January 30, 2017
Dr. Jonathan Brown
"Why Shouldn't I think there's a Problem with Islam"
February 4, 2016
Dr. Amy Jill-Levine
"Of Pearls and Prodigals: Hearing Jesus' Parables through Jewish Ears"
January 2016
Dr. John Kelsay
"The Debate over the Islamic State Group"
October 2014
Dr. John Borelli
"1964: Fifty Years Ago at Vatican II and the Catholic Commitment to Interreligious Dialogue"
April 2014
Dr. Martin Kavka
"Articulating a Positive Relationship Between Christians and Jews"
October 2012
Dr. Joseph Prabhu
"The Encounter of Religions"
March 2010
The Venerable Geshe Thupten Phelgye
"Economics and Human Rights"
October 2009
Dr. Amir Hussain
"Building Faith Neighbors"
October 2008
The Venerable Geshe Thupten Phelgye
"Buddhist Wisdom"
April 2008
Thubten Chodron
"Buddhist Wisdom"