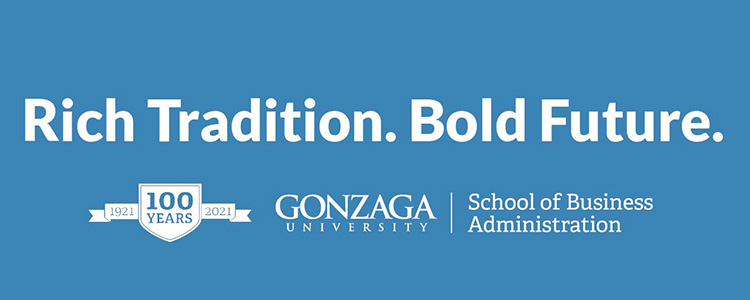 In celebration of the 100th anniversary of the School of Business Administration, Gonzaga seeks to acknowledge the outstanding accomplishments and contributions of its graduates and faculty. Please submit nominations for distinguished SBA alumni who are serving their communities, excelling in their careers and/or on a path for a bright future. We are also recognizing an outstanding faculty member for excellence in teaching. Four alumni and one faculty will be selected from the nominations. Learn about the categories of awards below and complete the linked nomination form.
---
Eligibility Criteria
Nominees must hold a degree from the School of Business Administration (undergraduate or graduate), with the possible exception of the faculty award recipient.
A separate nomination must be submitted for each nominee, with the exception of a couple or family nomination.
Requirements for Nominations
Please do not inform the nominee they are under consideration for an award. Only a limited number of recipients are chosen each year from among the many worthy nominations received. All deliberations are confidential.
A written explanation of why this person deserves the award is required for each nomination. Though not required, nominators are encouraged to submit additional supporting materials to help illustrate the scope of the candidate's achievements with clear and concise detail as to why he/she should be selected for the award.
The Awards Committee will not consider nominations that consist solely of a nominees' CV/resume.
Incomplete or late nominations will not be considered.
GU SBA Alumni Award Categories