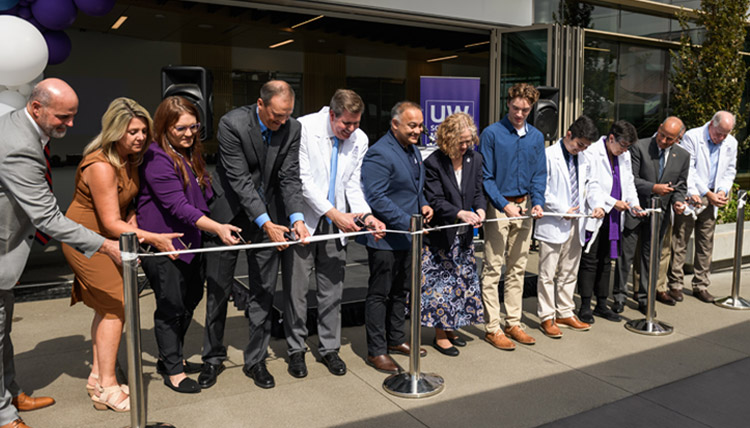 Seven years after the UW School of Medicine - Gonzaga University Health Partnership was formed with a vision to transform the health, well-being, and prosperity of the region, it is living its mission everyday - to promote greater health through education, research, and innovation, while preparing our region's next generation of healthcare providers.
The combined strengths of each university, and the synergy generated through a nexus of students, faculty, healthcare and health sciences partners, creates a greater impact than each partner could accomplish alone. UWSOM's 50-years of delivering top-ranked, world-class medical education, combined with GU's legacy as an exemplary learning community educating students for lives of leadership and service, attracts, grows, and keeps the next generation of healthcare professionals serving patients throughout eastern Washington.
The new Health Partnership building is home to 120 UW medical students and used by more than 500 GU undergrads in nursing and health sciences. Thirty-plus UW MEDEX Northwest physician assistant students attend classes in the adjacent SIERR building, forming a growing cluster of academic and research institutions in the Health Peninsula. Students from a variety of health science disciplines create synergy for interdisciplinary education, mirroring the working environment in healthcare.
Through our partnership, a strong foundation for scholarly research has been established. Second-year medical school students address issues facing rural health through hand-on research projects and GU undergrads work with GU and UWSOM faculty through the McKinstry Fellows Research Program to explore issues and barriers to health.
To help future physicians more easily step into leadership roles, UWSOM and GU's School of Leadership Studies have partnered to conduct a pathway that pairs leadership development with medical education, offering students leadership training, mentoring and practical applications.
Faculty and students in the Health Partnership are forming groups that facilitate targeted learning and social connections, such as a Pre-Med Forum, and Running Club.
The UW School of Dentistry's Regional Initiatives in Dental Education (RIDE), which trains dentists to meet the needs of rural and underserved populations in the state and improve access to care in rural communities, has requested legislative funding to support its move to the building's fourth floor, hoping to expand the building's health ecosystem.
Together we are stronger, and so are the communities we serve.
We welcome your comments and suggestions.
There's more to explore in the 2023 edition of Partners in Medical Education: A Report to the Community.