The Office of Leadership Training and Development accompanies leaders at all walks of life by providing customized services, such as speaking, facilitating, research, and assessments. Scroll down to learn more about our services.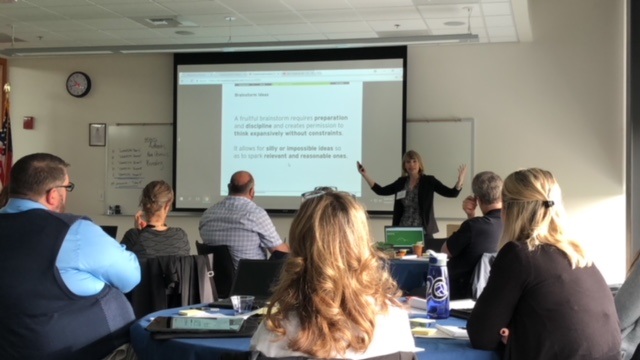 Services Offered
Keynote Speaking ("I need a speaker for my company's annual conference!")
Training ("Can someone lead a session on . . . ?")
Consulting & Advisory Services ("Our company would like to create a leadership program. Where do we start?")
Coaching ("I'd like to help one of my employees develop their leadership skillset . . .")
Assessments ("I'd like to go through a 360 review…")
Topics That We Address
Adaptive Leadership
Building Strong Teams
Coaching Employees to Success
Conflict Resolution
Design Thinking
Difficult Conversations
Emotional Intelligence
Facilitating Effective Meetings
Giving and Receiving Feedback
Group Facilitation
Intercultural Competence
Interpersonal Communication
Intrapreneurship
Leading Organizational Change
Mentorship & Sponsorship
Mindfulness
Public Speaking
Servant Leadership
Storytelling & Leadership
Strategic Planning
Transformational Leadership
Testimonials
"Sonderen Packaging has utilized the Gonzaga University Leadership Training and Development program in several ways to better ourselves and our company. They are an outstanding resource and are willing to customize programs to maximize the benefit to the company and the individuals involved. We are thankful for the wide range of services this program offers, and the many leadership professionals in their network who are truly invested in our success as a local, family owned business."
-Keva Sonderen, Principal, Sonderen Packaging
"Our presenter expertly aligned change leadership principles with our business model and competitive challenges. Our people were fully engaged in the forum and associated exercises, which is a testament to the caliber of the workshop since they are often distracted by their day jobs. We walked away with action plans and collaborative tools that will enhance our business operations, as well as the personal and professional growth of our team members."
-Brenda Rawlins, Senior VP & Regional Manager, First American Title Insurance Company
"Aging & Long Term Care of Eastern Washington utilized Gonzaga University Leadership Training and Development to conduct effective communication training with all of our staff and leadership training for all managers. The facilitator worked with us to hand-pick topics to most effectively fill gaps in our knowledge base, and delivered exactly what we expected. She ensured that all workshop goals were met and that all participants had input to what they wanted from the training. Presentations were effectively delivered with comprehensive information coupled with skilled delivery, providing compelling real-life illustrations from personal experience. We've also called upon the department to refer personal coaches to build the professional skills of individual staff, with impressive results. We are fortunate to have such a rich talent base in our community to call upon for targeted training."
-Peggy Chapel, HR Administrator
To learn more, please email Rachelle Strawther at strawther@gonzaga.edu or call 509-313-3579.