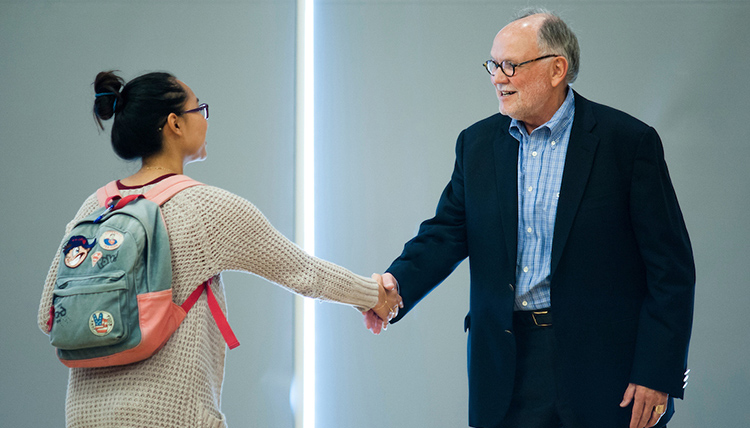 The members of our Advisory Board come from a variety of organizations, including Boeing, Avista, Starbucks, small local businesses, government, and news networks.
This diverse group of leaders meets twice a year to advise the dean, faculty, and staff on strategic planning, giving, and curricular initiatives to strengthen the school and promote our students and programs. The board has remained committed to the mission of Leadership Studies over the years, through many transitions in Administration and Leadership at the university. We are extremely grateful for our board members as they help inspire and bring life to our school.
Below is a current list of the School of Leadership Studies Advisory Board members.
Jeff Adams - CEO, Horizon Credit Union
Delores Alexander - VP of Supplier Management, The Boeing Company
Jim Alling - CEO, Toms
Howard Behar - Retired President, Starbucks Coffee Corporation
Phil DiPofi - President/CEO, Northwest Farm Credit Services
Dayna Eberhardt - VP for HR, Siren Retail, Global Coffee & Global Design, Starbucks Coffee Corporation
Linda Underwood - Spokane Regional President, US Bank
Jim Kouzes - Professional Trainer, Coach and Author
Randy Krause - Fire Chief, Port of Seattle
Ken Kress - CEO, BDS Marketing, LLC
Lewis Lee - CEO/Global Head, Aon Intellectual Property Solutions
Dan Mahoney - CEO Peer Group Chair, CEO Focus
Scott Morris - Chairman, President & CEO - Avista Corporation
George Murphy - President/CEO, GPM Enterprises LLC
Kevin Parker - Owner, Dutch Bros Coffee, Spokane
Glenn Reph - VP of Finance, Subsplash
Brenda Rountree - Senior VP, First American Title, Pacific Region
Buck Somes - CEO, GenPrime, Inc.
Scott Spink - Director of Engineering, Plug Power
Terry Stokesbary - Senior Program Director, M.J. Murdock Charitable Trust
LTC Alan Westfield - Professor of Military Science, Gonzaga University ROTC
Marie Wilson -

Former Resettlement Officer, UNHCR