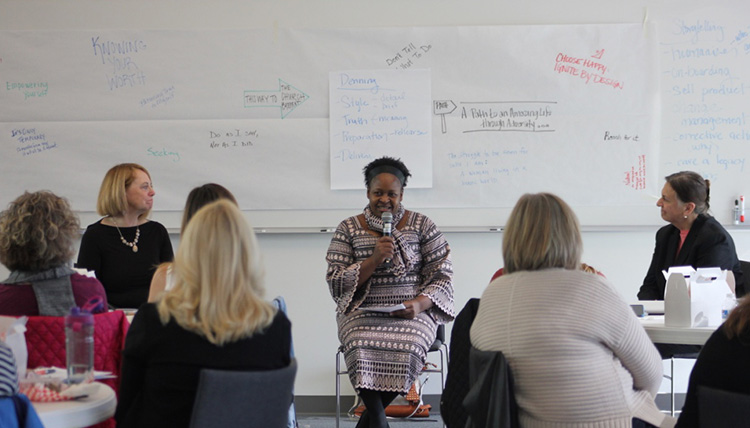 Program Overview
The Certificate in Women's Leadership is a 3-month, non-degree course designed for professionals who wish to develop skills and practices for advancing women in the workplace. Through online learning and an on-campus immersion, the course exposes students to research and studies regarding women in the workplace, as well as current readings and materials on the subject. Additionally, the course offers practical skills for overcoming common barriers facing women in the workplace.
This certificate program highlights the following areas of awareness and development:
Leadership & Identity
Emotional Intelligence
Gender and Communication
Overcoming the Confidence Gap
Work-Life Integration
Compensation & Negotiation
What you'll learn
Gain tools and skills to navigate the unique dilemmas that working women face, such as "double-binds" and "unconscious bias."
Understand one's individual, unique leadership identity and how it surfaces in teams.
Enhance one's emotional intelligence for greater effectiveness in leadership roles.
Develop skills to communicate and negotiate authentically and confidently in various situations.
Identify practices and attitudes that contribute to a healthy, fulfilling work-life balance.
Important Dates
Spring 2021 Cohort: January 20th - April 30th
Direct enrollment opens November 1st, closes December 15th, 2020 (Maximum 20 students, first-come, first-serve). The Spring cohort will be held virtually.
Immersion dates: February 5th - 6th, 2021 & April 16th - 17th, 2021. These two-day virtual immersions will be live gatherings for students to connect and discuss what they are learning together. All students need to commit to being available for both virtual immersions.
Enrollment Process
The Spring 2021 cohort is now full. Click here to enroll for the Fall 2021 cohort! No application or payment is required at the time of enrollment. Students will receive bills after their registration is confirmed and prior to the start of the course. Please note that enrollment is first come first serve and subject to meeting enrollment prerequisites described in the program details. To learn about scholarship opportunities, email Emily Clay at claye@gonzaga.edu.