The Certificate in Design Thinking is a 3-month online course designed to help you develop a new mindset and toolbox for addressing organizational and societal challenges.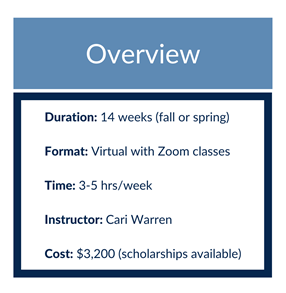 As leaders, one of the most important things we do is gather teams to solve problems. But how much time do we really spend gaining an understanding of a challenge and the people impacted by it? That's where
design thinking
comes in -- a human-centered, problem-solving process that leads to better solutions. Unlike most problem-solving processes that start with assumptions and move quickly toward a solution,
design thinking
is based on empathy - seeking to deeply understand how a challenge affects people, and what they most need from a potential solution.
It rests on the concept of 'learning early to succeed sooner' through experimentation and testing, thus refining potential solutions until the end-users' needs are met.
With significant experience teaching and implementing design thinking in organizations, Gonzaga University's School of Leadership Studies has designed the Certificate in Design Thinking to help you develop a new mindset and toolbox for solving organizational and societal challenges. In this 14-week, online course, you'll apply design thinking principles to actual, real-time organizational challenges. Discover why design thinking is a sought-after skill in a wide variety of fields and industries, and be prepared for a transformative shift in the way you look at problems!
Learning Outcomes:
Understand how

design thinking

addresses gaps and limitations in current brainstorming and problem-solving practice

Learn how to shift the mindset of problem-solving from solution-focused to problem-focused, with attention to the user experience.

Learn how to gather data and interpret insights about users to focus a challenge at hand.

Develop the mindset, skills and tools for more productive brainstorming, prototyping and testing that can be applied to real-life challenges.
Format:
The course is fully virtual with live, interactive Zoom classes weekly on Mondays from 4:00 to 5:30 PM PDT. Students should plan to spend 3 - 5 hours per week on class-time, independent work, and a group project. The structured curriculum is a balance between independent assignments that you can complete on your own schedule and practical challenges that you'll complete in a group.
Fall 2022 Dates:
Students receive access to course on Monday, September 12th
First live Zoom class is Monday, September 19th, 4:00 - 5:30 PM PDT
Live interactive Zoom classes held weekly on Mondays, same time
Course ends officially on Sunday, December 18th
Winter/Spring 2023 Dates:
Students receive access to course on Wednesday, January 18th, 2023
First live Zoom class is Monday, January 23rd, 4:00 - 5:30 PM PDT
Live interactive Zoom classes weekly on Monday, same time
Course ends officially on Sunday, April 30th
Class size:
Approx. 20 students per cohort
Cost: $3,200*
*A 30%-off scholarship is automatically granted to anyone employed by a 501c3 non-profit or government/public sector agency.

*Scholarships are also available on a case-by-case basis. To be considered for a scholarship, submit

an enrollment form

first and then complete

a scholarship application

. Scholarship applications must be submitted by

June 1st

for Fall programs and by

November 1st

for Winter/Spring programs.

Note: Federal aid is not available for this program. Gonzaga employee tuition waiver does not apply.
How to enroll:
No application required, and no payment required at time of enrollment. Students must have five (5) years of work experience or an undergraduate degree. Students admitted on a first-come, first-serve basis, subject to meeting aforementioned criteria.
Credit:
Upon completion, students receive a Certificate from Gonzaga University and eight (8) Continuing Education credits on a Gonzaga University transcript.

Students who successfully complete a School of Leadership Studies certificate program have the option of applying a maximum of three (3) credits towards completion of a Masters in Organizational Leadership or Masters in Communication and Leadership at Gonzaga, contingent upon admission.
Student Testimonials:
"I liked everything about the class. It was so fun, intense, and massive amounts of knowledge." -Anonymous comment, student evaluation
"I liked how engaging the exercises were. The course flew by!" -Anonymous comment, student evaluation
Want to learn more?
Email Rachelle Strawther, Director of the Center for Lifelong Learning, with questions at strawther@gonzaga.edu.
ENROLL HERE FOR FALL 2022 or WINTER/SPRING 2023.