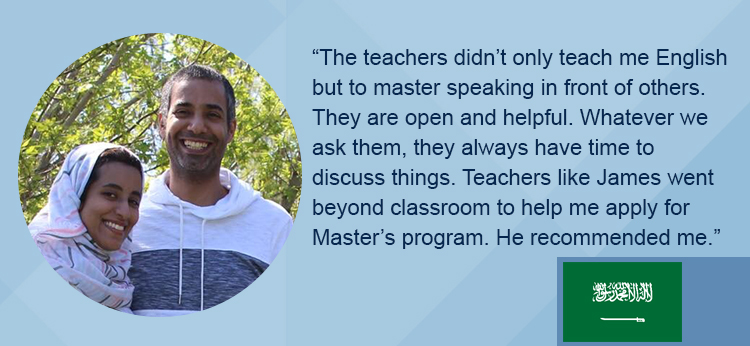 Faten
I will always remember the Small Talk classes. That was a good experience for me. I am very proud of my skills in the English language now. The teachers are very patient and helpful. It was hard when we arrived to Spokane. It was hard attending classes while finding those things at the same time. I made my biggest improvements in giving presentations and communicating with American people. ESL here has high quality classes/education here for English language. Especially for families that have kids. They have to make some plans for them, list of daycares or schools, recommendations. Recommendations for best areas to live when you have family. I have improved my English language skills. I will prepare for Master's degree.
I would tell [future] students to be prepared to learn the language here if they are preparing for grad/undergrad classes. They can always apply for scholarships, as well. It is good to have different people from different countries [in classes]. It gave a variety to the daily activities… Level 5 here has made me ready for the graduate program.
Sultan
I will always remember the quality of teaching and the 25% scholarship the program gave us. I am proud of the number of presentations I presented in one semester. It was a lot, but it was good for us. My biggest improvements have been in presentations. Now, doing presentations is much easier. Giving speeches is much easier. I think Gonzaga ELC is unique because of the quality of education, the educated teachers. But, it's expensive. Compared to other private institutions, GU is more expensive.
The teachers didn't only teach me English but to master speaking in front of others. They are open and helpful. Whatever we ask them, they always have time to discuss things. Teachers like James went beyond classroom to help me apply for Master's program. He recommended me.
It was hard to have everything done. Finding accommodations and schools for our children. Our kids are 5 and 3, so it was hard finding kindergarten and daycare. We didn't know anybody here. Living here, we are homesick. Spokane, compared to other cities is just not diverse. We miss the weather.
The most useful skills is giving presentations and speaking and Small Talk, actually, is very useful. It taught me how to present information, discuss that information, and present it again. It was also very useful for me to learn how to do a research paper.