Communication Studies trains students to use their voice as leaders to make a difference in their communities, their organizations, and the world.
The Skills to Succeed
A deep understanding of communication produces strong leaders and develops skills necessary for success. In fact, a study from the Pew Research Center shows that Communication Studies helps you develop 5 out of the top 6 skills needed to get ahead in the world today.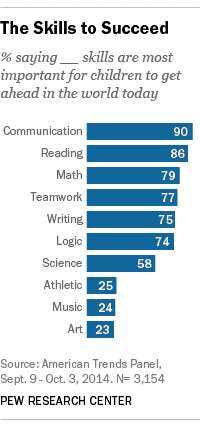 Communication Studies equips students with:
leadership know-how necessary to make a difference in the world,
critical understanding of the reasons why people think, feel, and act in particular ways,
relationship-building skills,
competitive advantages in the workplace,
and much more!
In addition, a 2015 survey by the National Association of Colleges and Employers found that employers seek candidates with the abilities to:
Work in a team structure
Make decisions and solve problems
Communicate verbally with people inside and outside an organization
Obtain and process information
Sell and influence others
And Harvard Business Review reported that successful senior executives possess the following skills:
Leadership
Team- and relationship-building
Communication and presentation
Change-management
Integrity
Communication majors develop all these abilities through careful study of communication theory and through valuable experience putting these theories into practice.
What can I do with a degree in Communication Studies?
Communication Studies majors and minors enjoy nearly unlimited career potential.
For example, Communication Studies majors:
help scientists communicate with the public about climate change.
become physicians who create trusting health-care partnerships with their patients.
advocate for and with people in our communities whose voices aren't always heard.
Graduates from Communication Studies also go on to advanced studies in law school, medical school, graduate school, and other professional fields.
Career and Professional Development
Communication Studies is committed to helping our majors with their career and professional development.
Starting in fall 2018 the department will offer a one-credit course in professional and career development for our majors. This course supplements and complements other career services on campus with a distinct disciplinary lens.
The course will:
emphasize career discovery and opportunities in communication studies
help students develop a narrative about how the major will benefit them
help students translate the skills and ways of thinking from the major to different audiences
introduce graduate school opportunities for students interested in advanced study