A Science Outreach Program
Partnering with local schools and community groups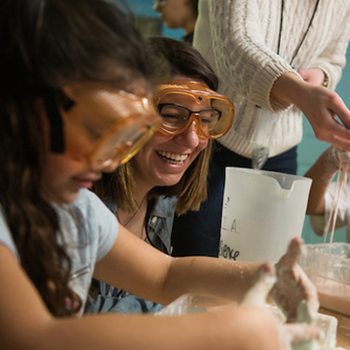 Science education is vital to our way of life, our health, and our economy. Gonzaga University is committed to building partnerships with local schools and community groups as we strive to improve scientific literacy in our community. With this goal in mind, the Biology and Chemistry & Biochemistry departments currently run a variety of outreach programs that include visits to elementary school classrooms, field trip tours, special summer programs, and more. All of our programs seek to engage participants with opportunities for hands-on scientific discovery and inspiration.
The goals of Science in Action!:
Cultivate K-6 student curiosity, knowledge in science and overall scientific literacy.
Recruit science majors into the teaching field.
Help pre-service teachers develop confidence in their abilities to teach science by providing them with a
Tool kit of science exercises and activities.
Real world setting to test teaching strategies that will help them into their future classrooms.
Provide additional resources to our partner teachers and schools to help teach science all the time!
We envisions that all students, no matter their background, will be truly engaged in science early on in their education.
How teachers/schools can get involved with SIA!
If you are a teacher or school administrator interested in working with Science in Action!, please contact Jiana Stover, the Science Outreach Coordinator by email or phone at (509) 313-6642.