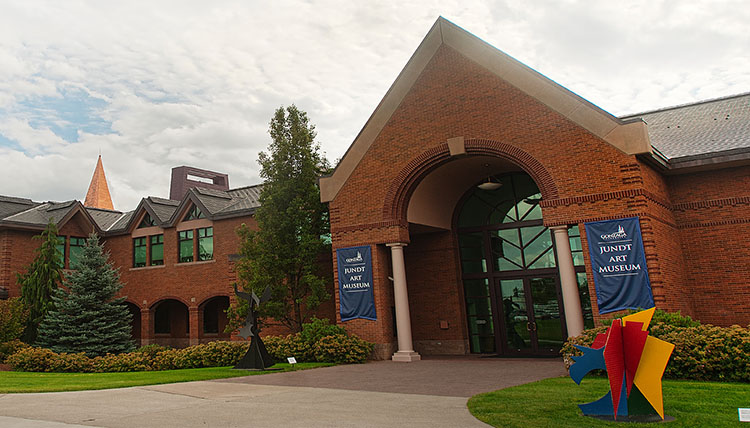 Hello, Alumni and Friends of the Gonzaga Art Department. This last year has entailed a number of changes for us with several new colleagues joining the department (including a new department chair for 2022-23, Dr. Rob Donnelly from the History Department), new course offerings, and a packed and exciting exhibition schedule at the Gonzaga University Urban Arts Center (GUUAC) in downtown Spokane. The 2021-22 academic year opened with an exquisite retrospective show of work by emeritus professor Mary Farrell at the GUUAC and concluded with an impressive senior art exhibit featuring the work of Brianna Bruce, Brang Dee, Opheila Duncan, Shannon Law, and Megan Rusby.
Greetings, alumni and friends, of the Gonzaga art program. I sincerely hope that you have been able to bounce back in 2021 after 2020 tested all of us in countless ways that few could have ever imagined. Since the last time we sent you a Gonzaga Art Department newsletter in early fall 2019, a global pandemic has shown us how interconnected our lives and worlds really are. It brought new levels of uncertainty and sudden change to daily life--and loss and grief for far too many families. Of course, the pandemic continues to impact and shape the current moment. But life does seem to move a bit closer each week in fits and starts to a "post-pandemic" existence.
Greetings once again to friends and alumni of the Gonzaga art program! This last academic year has been another dynamic and inspiring one for students, staff, and faculty alike in the Art Department. Some of the year's highlights have been an outstanding art faculty show in the Jundt Art Museum and an impressive senior exhibition at the Richmond Art Collective this past spring.
Greetings to friends and alumni of the Gonzaga Art program! Inside this inaugural issue of the Art Department newsletter, you will find an abundance of exciting and inspiring news about student, faculty, and alumni activities over the last year. I would like to extend a special "thank you" to the alumni who shared their recent and upcoming professional activities for this first issue. I am truly astonished at the remarkable range of professional journeys so many of you have taken, and I hope that other alumni reading this newsletter will share with us your professional news for future newsletters.