2021 – 2022 Alumni Scholarship Recipients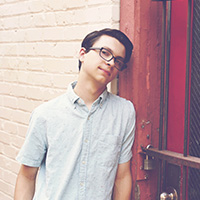 Garrick Bateman
Garrick Bateman is a sophomore at Gonzaga University from Fort Collins, Colorado. He is double majoring in English and Environmental Studies. Outside of the classroom, Garrick is a member of Gonzaga's club rock climbing, received the university's 2020 Gurian Fiction Prize, and an avid piano player. Garrick's father attended Gonzaga when Garrick was in middle school and Garrick has looked forward to joining Gonzaga's ranks ever since. He is excited to continue his studies at the school and continue to grow.
---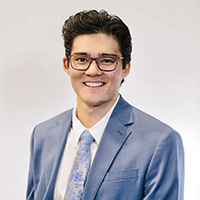 Joshua Bryce Butorac
When people ask about my experience at Gonzaga, I am quick to tell about how proud I am to be a Zag. Over my three years at GU, from Spokane to Florence, I have been presented with incredible opportunities that have challenged how I think about myself, others, and the world around us. I am looking forward to the business courses I get to take next year, and I am excited to see how I continue to grow before graduating. Thank you to the entire Alumni Association for supporting me.
---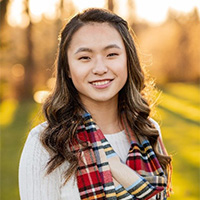 Grace Camera
I am an undergrad at Gonzaga University, I plan to graduate May of 2022 with a Bachelor's in business administration and a minor in sociology. Reflecting on my time at Gonzaga thus far I am most grateful for all of the opportunities I have been given. I have had the opportunity to meet so many amazing people: passionate professors, determined and imaginative students, as well as welcoming faculty. They have played a big part on who I am and want to be. I once expressed my interest, to a fellow student at Gonzaga, about pursuing law school after I graduate. She herself had an internship at a law firm the previous summer and so kindly helped me find my own internship at a law firm for this next summer. Gonzaga has given me so many things over my two years at being at this university; and I cannot wait to see how my next two years pan out.
---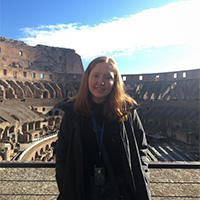 Madelyn Cayton
Hello! My name is Madelyn Cayton, and I am a soon-to-be senior at Gonzaga, studying Civil Engineering with a minor in Spanish. Gonzaga has provided me with many opportunities that have helped to prepare me for a future after graduation, both academically and socially. Since attending Gonzaga, I have had the opportunity to study abroad in both Florence and Delft, where I got to experience new cultures and see the different perspectives of engineering. On campus, I have been able to become involved in clubs that will help me in the future like the Institute of Transportation Engineers and the American Society of Civil Engineers, allowing me to network with fellow civil engineers and become engaged in my community. I have also had the opportunity to lead Young Life at a local middle school, where I have met people in the greater Spokane community. Along with these opportunities for involvement that Gonzaga has provided me, I have also been able to meet many more people through my classes, dorm, intramurals, and more which have all helped make my Gonzaga experience.
---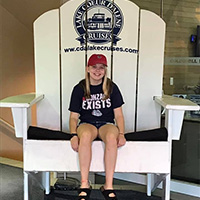 Kira Dean
My name is Kira Dean and I am a junior Criminology, Psychology double major with a theatre arts minor at Gonzaga. I am looking forward to my junior year where I am planning on auditioning for the fall musical and continuing my participation in the Photography and Plant Our Future clubs. I also enjoy volunteering at the local animal shelter with the Man's Best Friend club and volunteering with Spokane middle schools through the SMILE program. In the future I am hoping to go to law school in order to work with juveniles. I also hope to begin a program that institutes arts programs in juvenile penitentiaries to encourage positive living and to reduce recidivism in youths.
---
Sandra Dillinger
Allow me to introduce myself, my name is Sandra Dillinger. I am the youngest of the three girls, Megan, a Xavier grad and Alana, a Gonzaga grad. Clearly our family loves the Jesuits, and yes, basketball season does get competitive in our house. I am from Colorado and I am an incoming Junior at Gonzaga University. My declared major is a B.S. in Chemistry, a minoring in Art History. My goal is to get a career restoring historical art pieces. My time at Gonzaga has been enlightening, exciting, and informative all at once. My work-study job is in the John J. Hemmingson Center, at the Next-Gen Tech Bar, where I design stickers and logos, some of which have made it to their Instagram page. For my weekends I can usually be found at Rockwood Bakery in South Hill working on my homework with one of my housemates, while enjoying their coffee and pastries. The sense of community I have found through my classmates has become an amazing support system, both inside and outside of my classrooms. This year I started doing research under a professor during the Spring semester. I am looking forward to the new experiences that await me. Thank you.
---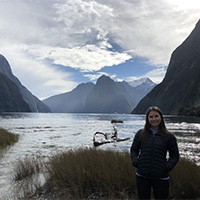 Molly Fackelman
Hi there! My name is Molly Fackelman and I am a rising senior studying mechanical engineering. I was born and raised in Colorado Springs, CO, where I gained a strong passion for the outdoors. I followed my older brother Zach to Gonzaga, and I've loved every minute of my time here! When I'm not studying or in class, I work in the Gonzaga Outdoors office as an office assistant, and I'm actively involved in several clubs, including Gonzaga's chapter of Tau Beta Pi, the ASME rocketry club and the Bulldog Band; I'm looking forward to serving as the president of Tau Beta Pi and the vice president of the rocketry club starting this fall! Also, I was extremely blessed to be able to study abroad in New Zealand during the 2019 spring semester. Once I graduate from Gonzaga, I hope to begin working in the aerospace industry, and eventually become a NASA engineer! For fun, I love mountain biking, telemark skiing, reading, watching movies, and basically all outdoor activities!
---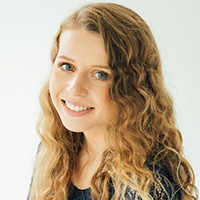 Madison Gemmet
My name is Madison Gemmet and I'm originally from San Jose, CA, but now live in Sammamish, WA. I am finishing up my freshman year at Gonzaga University and I am studying Special Education. I'm aiming to pursue my Master's Degree in Special Education and Behavioral Therapy post-graduation as well. My passion for working with and advocating for individuals with special needs is rooted in my younger brother, Ryan (10), who was diagnosed with Autism at age 3. I have worked since I was 15 at the International Center for Autism & Neurodevelopment, where my brother also goes for his individual therapy. Combining my work, experience with my classes at Gonzaga, and my experience at GUSR, has grown my passion and allowed me to gain a holistic approach to learn how to best serve individuals with special needs. This scholarship empowers me to continue with my education, and I look forward to engaging with the Alumni Office and fellow Zags!
---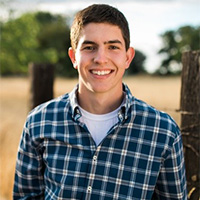 Scott Golden
My name is Scott Golden, and I will be attending Gonzaga as a junior transfer student beginning in the fall of 2020 to study Applied Mathematics and Computer Science. I spent my first two years after high school attending community college in my hometown of Walla Walla, WA. For a while, I wasn't sure where I wanted to transfer to for my final years of college, but Gonzaga was the ultimate and obvious choice for me. I grew up a big Gonzaga basketball fan in a family full of Zag fans and alumni. I am fortunate enough to have visited the GU campus numerous times over the years through summer basketball camps. I fell in love with the campus and its location and atmosphere right away. I know Gonzaga will challenge me in many ways, and I feel I am ready to tackle this next chapter in my life. Spokane has always felt like a second home to me, and I am excited to see what the future holds for me as a Zag!
---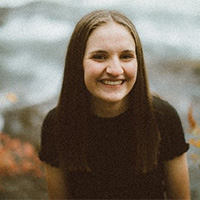 Meaghan Greaney
My name is Meaghan Greaney and I am a freshmen at Gonzaga (class of 2023). Currently, I am pursuing a degree in History and working towards a teaching certification to teach secondary social studies. At Gonzaga I volunteer at Logan Elementary and Saturday Literacy Tutoring. I love working with kids and am very excited to be a teacher. I am from Sisters, Oregon (which is near Bend) and love spending time outdoors doing activities like hiking, biking, and kayaking. I come from a family of ten kids and enjoy spending time with my siblings. During my first year at Gonzaga I have had an amazing time and am excited to see what the next three years bring!
---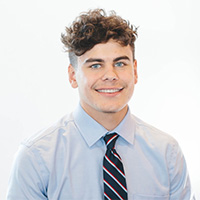 Eric Gustin
Hi! My name is Eric Gustin and I'm a rising Junior from Oregon. Here at GU I'm studying Computer Science and Mathematics. Gonzaga has pushed me to not only be a better student, but also a better person. The community and education that GU provides has continually gone above and beyond my expectations and it is something that I will always be grateful for. Outside of academics I enjoy participating in intramurals and going running when I can find the time. Gonzaga has presented me with many rich friendships and fond memories, and I can't wait to see what these next two years bring!
---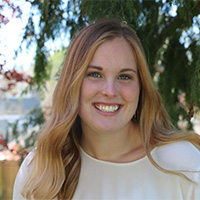 Lily Henling
My name is Lily and this Fall I will be entering into my senior year at Gonzaga. I am majoring in mathematics and economics and minoring in psychology. I am the fourth of six kids in my family and one of three to become a Zag! Throughout my time at Gonzaga I have had the amazing opportunity to get involved in various CCE programs including GUSR, Campus Kids and Zag Volunteer Corps, first as a participant then as a leader. Another highlight of my Gonzaga experience has been participating in intramural sports, winning my ninth t-shirt last spring! As I enter into my last year, I am so thankful for my time at Gonzaga and I could not imagine spending the past few years anywhere else.
---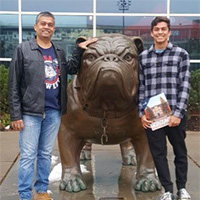 Justyn Khan
My name is Justyn Khan and I was born in Spokane, Washington, but my most formative years were spent in Hawaii. I love Hawaii in many ways, it is beautiful and there are many outdoor activities all year around. Hawaii is not perfect though; it suffers from a poor education system. I decided not to let this hold me back, however, and I became my own teacher in many subjects and top in my class. Learning how to be self-motivated is a great skill to have, but I knew when I was looking for a college I wanted one where I could be mentored. My dad has always told me stories of how great his time was at Gonzaga so when I was touring colleges, I had to visit Gonzaga for myself. While I did not spend a lot of time there, I could see Gonzaga had a solid staff of people who wanted to help me gain the best education possible. That is why I decided to attend Gonzaga: to further my education and be a part of the Bulldog community.
The following picture is one that was taken on December 20, 2019, during my visit to the Gonzaga University campus. Pictured with me is my dad, Darryl Khan, who graduated from Gonzaga University with a Masters in Counseling Psychology in 2003.
---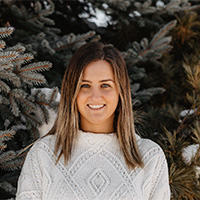 Isabelle Koehler
My name is Isabelle Koehler and I am a senior majoring in Public Relations and minoring in Communication Studies. I grew up in Snohomish, Washington with my two sisters and my two parents who are graduates from Gonzaga (89'). Last year, I had the privilege of studying abroad through the Gonzaga in Florence program, just as my mother did 27 years ago. In Spokane, I have been involved with the Setons of Gonzaga and I worked as a Student Outreach Officer. Three of my uncles are graduates from Gonzaga and my cousin is a 2020 graduate. I am proud to be a part of the legacy experience at Gonzaga. Go Zags!
---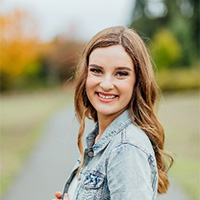 Sophie Kuhn
Hi, my name is Sophie Kuhn, and I am from Bellevue Washington. I was born and raised there my entire life. I live with my Mom, Cathy, and Dad, Scott, as well as my Sister, Rachael Kuhn. Rachael graduated from Gonzaga last year and is now working as a high school math teacher. I attended Newport High School, and it was then when I discovered my love for the education department, as well as my love for mathematics. From this passion, I have decided to major in mathematics and earning my secondary education certificate at Gonzaga. .
Part of my reasoning for choosing Gonzaga is my love to serve and give back to my community. My freshman year I was able to participate in two different CCE programs including Science in Action and Zag Study Buddies. Both of these were service groups I participated in weekly, and both allowed me to go into local elementary schools in the Spokane area to teach, interact, and build relationship with kids. From this experience I gained a lot of perspective on how every kid is unique in their own way, and as an educator I have a large role in letting these kids know they are loved, cared for, and appreciated more than they know. Although the material we were teaching them was very important for their academic success, this kind of service allowed us to go beyond the academics and build trust and loyal relationships with each student. Finally, I have been blessed to be a part of the Setons of Gonzaga my sophomore year, which is a group of 30 girls that perform acts of service to support our three pillars of service, sisterhood, and leadership. From this experience I have done many weekly and monthly service events including helping prepare and serve meals for an organization called Blessings under the Bridge. This kind of service, not to be cliché, has been eye-opening and truly an experience I cannot compare to anything I have done before. It has taught me to check my privileges, understand everyone has a story, and never to judge a book by its cover. I have learned I don't know what they have been through or where they are going, but all I can do is give unconditional love and support and let them know they are not alone. As someone who played basketball my whole life, another aspect of Gonzaga I have enjoyed is attending basketball games. The kind of thrill that McCarthy encapsulates, always brings a big smile to my face and has allowed me to meet a ton of new people through it. I overall have loved my time at Gonzaga thus far, and I look forward to where the next two years will take me.
---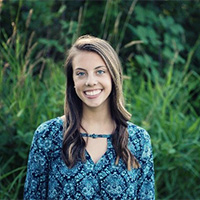 Nicole Lerch
My name is Nicole Lerch and I am a Gonzaga University Class of 2021 Human Physiology student! I am from Sammamish, WA, and I knew I wanted to attend Gonzaga after watching my older brother, Kyle, have a great experience at GU his freshman year. Kyle has always been my best friend, and it was incredible to get to spend 2 years with him at Gonzaga before he graduated with a degree in Civil Engineering in 2019. At GU, I have met so many other people whose siblings have also attended school here, which I think speaks volumes about Gonzaga's community. At Gonzaga, I love to play intramurals with my friends, study with a cup of Thomas Hammer coffee, and cheer on our basketball team in the Kennel! Go Zags!!
---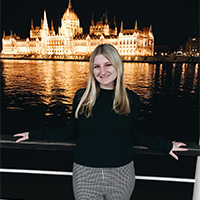 Emily Lovchik
My name is Emily Lovchik and I am a Communications major and English minor at Gonzaga University. The first time I stepped foot on campus, I knew I was meant to be here. Being at Gonzaga has allowed me to grow into a strong, confident, faith-filled young woman. I have been involved with numerous activities including leading and attending Mission and Ministry retreats, being a part of the Christian Life Community, and being in the Alpha Pi Phi Sorority. I work at St. Aloysius Gonzaga Elementary School as a Daycare Aide and I work in the Student Media Office as the Publications Manager. The meaningful friendships that I have made during my time at Gonzaga has made such an impact on me. Being able to walk down Bulldog Alley and say hi to everyone I see makes my day! I love the community that makes up Gonzaga and I am so proud to be a Zag!
---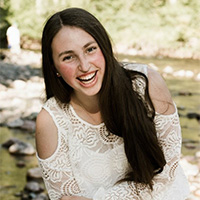 Kelli Maunder
My name is Kelli Maunder from Missoula Montana. I am the youngest of 3 and both of my older brothers attended Gonzaga. I am an accounting major and I am a part of the class of 2023. This year, I was fortunate enough to be able to attend Gonzaga with my older brother while he was finishing his master's degree. I have tried to be an active member on Gonzaga's campus by joining different clubs and organizations. Through my involvement in different organizations on campus, I have been able to make friends in different graduation classes. Although, my time at Gonzaga has been short, I believe that there is still more that I can do to help the Gonzaga and Spokane community.
---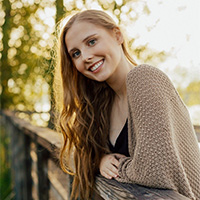 Emma McGregor
Hi, my name, is Emma McGregor and I am majoring in public relations and minoring in comprehensive leadership as a rising junior at Gonzaga. I am so proud to be a Gonzaga University student and to be following in my older sister's footsteps. Gonzaga has been such a transformative experience thus far, it has challenged me and pushed me to become a better version of myself. I knew from my first day of school at Gonzaga, that I wanted to be involved not only around campus but also around the Spokane community. Due to this, I have joined a multitude of activities including Setons, Campus Kids, Ignatian Family Teach-In for Justice and my Christian Learning Community. All of these organizations have ultimately shaped and defined my experience at Gonzaga; and have showed me how lucky I am to be provided with not only a Gonzaga education but the Gonzaga experience. In between class and my on-campus involvements I love to bake, play tennis, and paint.
---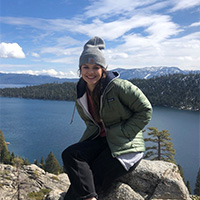 Maddie Moen
Hello! My name is Maddie Moen, I am a Pre-Med Human Physiology student in the class of 2021. I am the sister of Matthew Moen, a Gonzaga graduate c/o 2019, and Jacob (perhaps a future Zag), as well as the daughter of two wonderful parents, Mike and CT, who taught me the importance of family and have shown me unconditional love. I enjoy running along the Centennial Trail, working at my scribing job in the Kootenai Health ED, window shopping on-line, decorating my room with wolf posters, and picking up new hobbies. Recently, I have become extremely passionate about painting furniture and drawing woodland creatures. I am a proud Zag, and am so thankful for my time at Gonzaga. This is a place that has allowed me to be introspective, reflective, thoughtful, and creative inside and outside the classroom. I hope to one day use the skills I have learned at Gonzaga to contribute positively to the field of medicine. Thank you to my friends, family, and fellow Zags for always supporting me in my academics and dreams.
---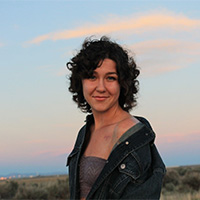 Megan Rice
My name is Megan Rice and I am an incoming junior from Boise, Idaho, studying Political Science and Economics. Thanks to this scholarship, I have been able to call Gonzaga my second home after growing up hearing about my mom's time here. After graduation, I plan to pursue a career in public policy guided by the humanistic education I've received at GU. On campus, I am part of the professional business fraternity Alpha Kappa Psi, which has connected me with so many fellow Zags and guided me in both personal and professional development. Starting this next year, I am also looking forward to contributing to the GU community as a ProRep, helping to promote career and professional skills on campus. Outside of school and extracurriculars, I love coffee, hiking with my friends, and putting together countless music playlists. I am so incredibly grateful for this scholarship and all of the experiences it has made possible for me in the last two years. At Gonzaga, I have taken some truly memorable classes, met some of the most important people in my life, and watched myself grow in ways I never could have predicted. It's hard to believe that I am halfway through my time here, but I'm excited to see what my next two years have in store.
---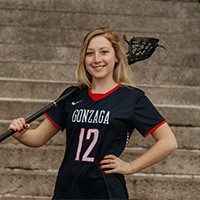 Megan Rusby
My name is Megan Rusby, and I am from a small town tucked away in the Rocky Mountains of Colorado called Marble. I'm a Communication Studies major, with intentions to earn my graduate degree from Gonzaga as well. I am very passionate about all forms of art, fostering that love through classes in my minors of Art and Visual Literacy. Some of the activities I'm involved with at Gonzaga include playing on our Women's Club Lacrosse team and volunteering as a character for the A Moment of Magic Foundation's Gonzaga chapter. I spend my summers working with kids in nature at a summer camp. I'm an outdoor enthusiast, hiking, skiing, biking, and paddleboarding whenever I get the chance!
---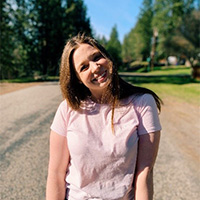 Hannah Sparber
My name is Hannah Sparber and I am going to be a Junior in the fall. I'm from the small town of Colbert, WA; which is right outside of Spokane. I am one of six children; whose ages range from 5-21 years old. Aside from my biological family, I also have families here at Gonzaga. At Gonzaga, I have had the pleasure of working at the Rudolf Fitness Center as lifeguard and swim instructor and I am on the Bomb Squad. Bomb Squad is the Gonzaga hip-hop dance team that performs at basketball games, as well as other events held on campus. While being a part of these, I'm also pursuing a Biology degree. All these involvements have played a huge role in my happiness at Gonzaga and has made my time here amazing.
My time at Gonzaga has surpassed my expectations. Within my first couple of years, I have been a part of two teams that continue to challenge and make me happy. I've grown as a student and found my best friend, who pushes me to pursue these challenges and build my character in and out of the classroom. As I continue through my Gonzaga education, I am beyond excited to see what the future holds and where this education will take me.
---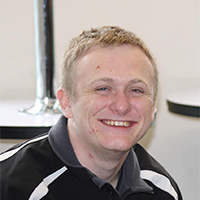 Luke Staben
My name is Luke Staben and I am majoring in Political Science, minoring in English, and getting my Secondary Education Teaching Certification. After Gonzaga, I hope to continue pursuing my dream to become a professional soccer referee. Along with this, I hope to use my teaching certification to go back and teach at my old high school, Gonzaga Prep, teaching English and coaching debate.
---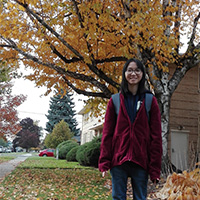 Lin Ai Tan
Hi, my name is Lin Ai and I have just completed my first year pursuing a double degree in Computer Science and Biology. I am also part of Gonzaga's Honors Program. The only way to describe my first year in Gonzaga is amazing, with all the friends that I have met and made, and all the things I have learned in class. It is one of the most memorable moments of my life, to be on campus and grow academically, mentally, and spiritually. Despite having a sister that has walked this path before, the hallmark of my Gonzaga experience is unique. There are just so many ways to get involve and participate on-campus. My favorite moments were attending STEM club events, volunteering, cheering in the Kennel, or just simply enjoying pumpkin doughnuts in Green Bluff! Going to Gonzaga was not an easy choice for me, and I am so grateful for this alumni scholarship for enabling me to continue my journey for three more years. As I enter my second year, I cannot wait to learn more and give back to this amazing community that I now call home.
---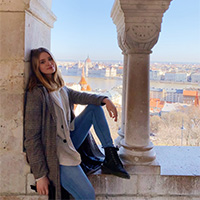 Grace Torlai
Grace Torlai is a rising junior born and raised in Renton, Washington. She grew up playing sports, dancing competitively, and working on her family's farm, Springbrook Farms Inc. This past May 2020 her sister Julianna completed her degree at Gonzaga and will be graduating in September due to the current global situation. Along with Julianna, Grace has had a long line of family attend Gonzaga including several cousins, an aunt and an uncle. She is currently a Business Administration Major with concentrations in finance and international business, and a minor through the Hogan Entrepreneurial Leadership program. Nowadays, school and work take precedence in her life but she also enjoys cooking, the outdoors, exercise, and fashion.
---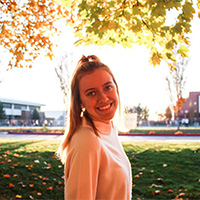 Emma Tucker
My name is Emma Tucker and I'm from a small town on the Washington coast. I'm majoring in Community, Culture, and Language with the goal of becoming a speech language pathologist. I am so grateful for the people I've met and the experiences I've had at GU so far. This year, I was a Smile mentor through the Center for Community Engagement. I loved getting to work with elementary students in Spokane Public Schools. Next year, I'm looking forward to being a leader on Parent and Family Crew to guide families through their Gonzaga experience. I am so grateful for the opportunity to grow holistically at such a special university. I can't wait to see where the next three years take me!
---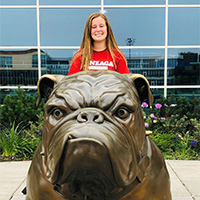 Shannon Victory
My name is Shannon Victory and I am a Senior at Gonzaga studying Accounting and Human Resource Management. I have lived in Issaquah, Washington with my family of seven my entire life. As a junior and senior in high school I participated in Running Start, which allowed me to get an entire year's worth of college credits done before I even graduated high school. With only three years of college to experience I wanted to make the most of my time at Gonzaga. Since entering Gonzaga University in the Fall of 2018, I have been involved in so many memorable experiences. From fun intramurals where I was a Freshman Games winner with my Coughlin hall friends to more academic experiences, Gonzaga has given me the opportunity to grow into the person I am today. I am a member of Beta Alpha Psi that has led me to create and strengthen an expansive network with professionals across a variety of firms and industries. My accounting professors urged me to participate in the VITA program, where I have been able to utilize my education in the real world. I have also been able to continue pursuing my passion for service with the CCE through Smile, a mentor program that allows me to build connections with elementary students in the greater Spokane community. Gonzaga has so many experiences and opportunities that enable their students to thrive and reach their full potential, and I have made sure to take advantage of each one I could.
---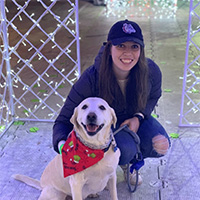 Stephanie Westlund
My name is Stephanie Westlund, and I am a rising sophomore here at Gonzaga. I'm majoring in biology and am an athlete on the Gonzaga Women's Rowing team. This past year I've spent much of my time volunteering in the Spokane community with my team, where we work together to give back to the community. Between early morning practices and late nights spent studying, this year has been a busy one, but I wouldn't change it for anything. I am so excited to be growing as a member of the Gonzaga community, and following in the footsteps of my great-grandfather, grandparents, and many other family members who attended Gonzaga. My great-grandfather imparted a lifelong love of Gonzaga on our family that has been passed down for generations. I am so grateful to the alumni who are helping me on my way to achieving my goal of one day becoming a doctor, and I am so looking forward to my next three years here as a Zag.
---