Est. 2022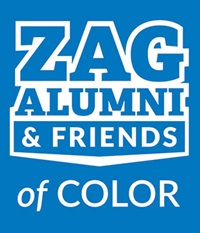 Mission
The Alumni of Color Community serves Gonzaga's self-identified diverse alumni and seeks to intentionally connect alumni and students of color through educational, social, and professional development, and philanthropic programming rooted in values of diversity, equity, and inclusion.
Programming
Connect alumni of color with each other and with the university to provide affinity group feedback and input on engagement efforts.
Connect alumni to students and each other for mentoring and career development.
Partner with the Office of Admissions and Recruitment to assist with increasing the volunteer participation by alumni of color in addition to connecting prospective students of color with diverse alumni.
Support campus-partner programs and activities by sponsoring and/or participating in annual events to connect current students to Gonzaga's programs and opportunities through UMEC, Cultural Clubs, etc.
Endow multiple funds supporting identity-based scholarships.
Structure
The Alumni of Color's leadership team is rooted in equity and is not a traditional hierarchical structure. This community is intentionally collaborative, and while one individual may be the point leader of a certain area, there is no hegemony.
East Coast
Saba Mateos – Founding Member, Point Leader Systems & Strategy
Brittany M. Clark – Founding Member, Point Leader Professional Development
Central
Meghan Montelibano-Gorman – Founding Member, Point Leader
Programming & Marketing
West Coast
Danielle Cendejas – Founding Member, Point Leader Mentorship
Chris Navarro – Founding Member, Point Leader Outreach
View the Alumni of Color Leadership bios.
* Future Leadership Roles
Point Lead Student Liaison
Point Lead Social Justice