They are solving the world's problems. You make it possible.
Here, students find what they need and what industries demand. They discover why their future in the fields of science and engineering begins at Gonzaga.
A Different Kind of STEM Education

Angela Jones ('16, J.D.), CEO of Washington STEM, believes in the faith-based focus of education at Gonzaga University and shares her excitement for the Integrated Science and Engineering facility. Read the full story here.
A Commitment to Women in STEM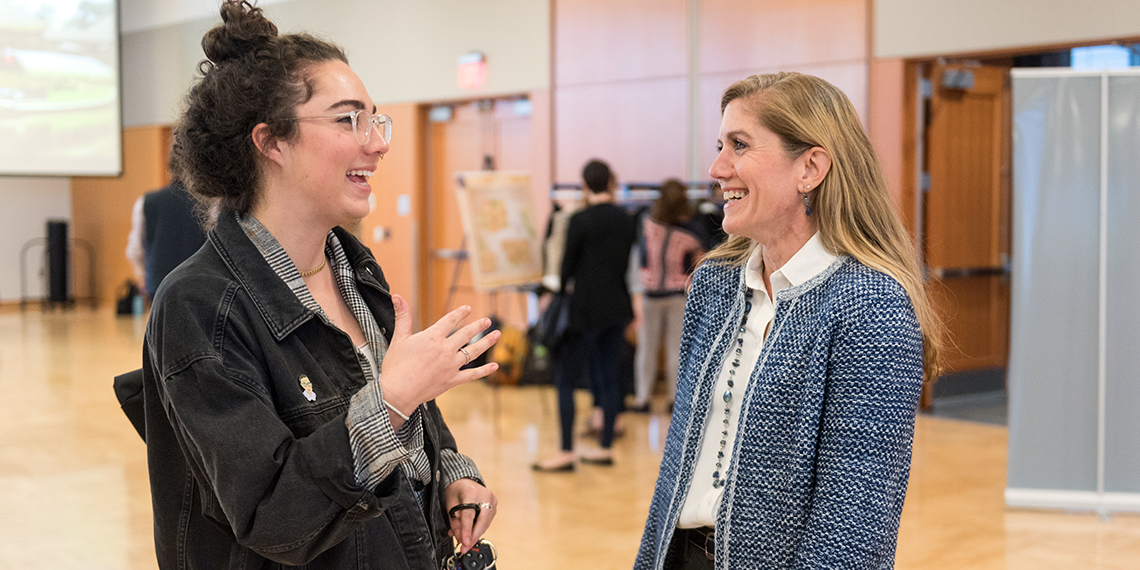 Mia Bertagnolli, Ph.D. (pictured above, right), Gonzaga University professor of biology and chair of the chemistry and biochemistry department, has been named co-director for a five-year, $999,899 National Science Foundation ADVANCE Partnership grant that supports the advancement of mid-career STEM women faculty across colleges and universities in three U.S. regions. Read the full story here.
Cameron's Story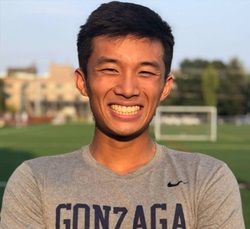 Cameron is a first-generation American, whose parents epitomized the ideals of the American dream. They instilled in their children the values of hard work and service. Their example inspired Cameron to choose Gonzaga University to pursue his mechanical engineering degree. But it isn't just a degree Cameron is after; he aspires to serve in the U.S. Navy as a nuclear officer aboard a ballistic missile "boomer" submarine. He wants to give back to his country, because he believes that with his Jesuit education, he will become a better contributor that can mold a better future for society.
"I sought an environment that values academic success and community engagement. Gonzaga champions them both."
By partnering with engineering classmates and faculty to collaborate with students and faculty in the sciences, Cameron's dreams can go even further in the Jesuit tradition of education for the good of all.
Gordon's Story
GU alum Gordon Kersten shows what Gonzaga can do to connect passions in science with a career path.
But wait! There's more...
These examples of projects, research and outreach in which Gonzaga students and faculty are participating demonstrates the impact that this new space enables and enhances, to the benefit of students' learning, as well as society as a whole.
The Science in Action! outreach program sends Gonzaga biology, chemistry and biochemistry students to visit elementary school classrooms, puts on special summer programs, welcomes field trip tours and much more. This program helps pre-service teachers develop confidence, cultivates K-6 curiosity, knowledge and skill in science, and has an impact on local schools. More than 900 GU students have done over 2,750 STEM activities with more than 7,500 K-6 students in this program that has provided over 17,000 hours of service to the community.
Assistant professor of art, Laura Truitt, and associate art professor Mat Rude helped chemistry students understand how chemistry plays a role in art materials and studio practice, and how artists use chemistry in their own work
According to the World Health Organization, 884 million people lack access to improved sanitation. That's why Gonzaga chemistry and biochemistry professor Joanne Smieja, Ph.D. is researching a simple, robust, low-cost method of water treatment for removal of inorganic contaminants and pathogens that would vastly improve public health in underdeveloped countries.
Max Dulin ('19) created a unique inter-collegiate event to highlight cybersecurity. The Spokane Cyber Cup in Gonzaga's PACCAR Center allowed 16 teams of regional students the experience of legally "hacking" into other teams' systems while protecting their own data codes. Area professionals and Gonzaga faculty served as judges and offered guidance to make this a learning experience.
There are many more projects, initiatives and accomplishments like these happening every day on the Gonzaga campus. Your support enables them to continue with an even greater impact.