Innovation, Technology and a Commitment to Serve Students and Communities
Gonzaga's focus on a data-driven future is infused with timeless Jesuit ideals.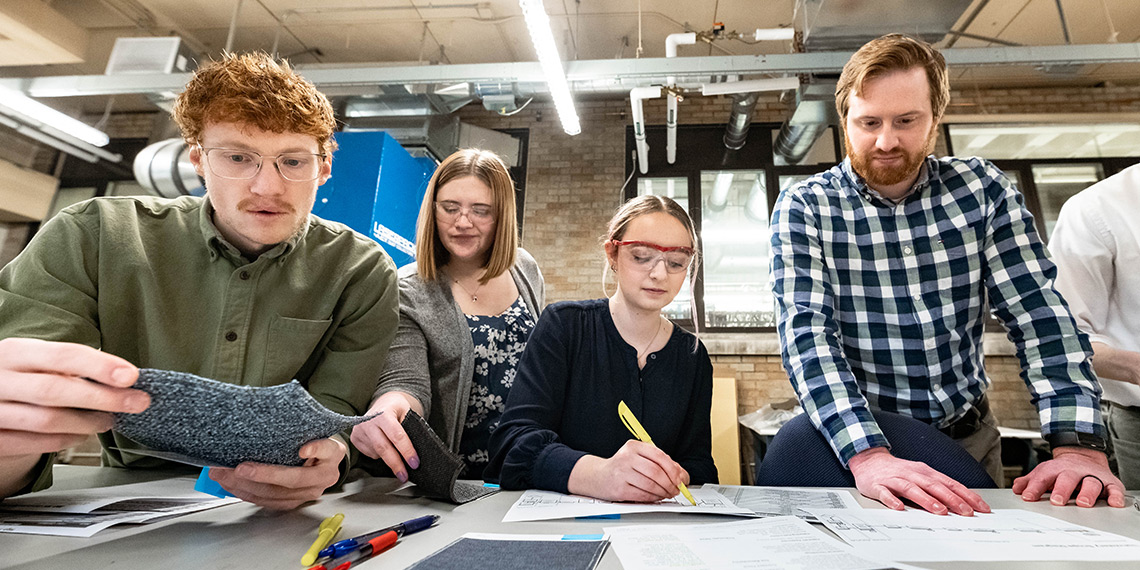 Twenty years ago, the term "high tech" was used to describe cutting edge products like Blu-Ray discs, Myspace, iTunes, and a ground-breaking new video game, "Call of Duty," a franchise that has since sold 425 million copies. At the same time, a new term was gaining big momentum in education. STEM (science, technology, engineering and math) was dramatically expanding the horizons of higher learning.
At Gonzaga University, those horizons have never looked brighter. Innovation has dramatically driven opportunities available to graduates ready to tackle the technology so much in demand today. No wonder, then, that the number of GU students majoring in STEM fields has nearly doubled in the last 20 years, with as many as 40 percent of the student body declaring STEM-related majors.
"Technology shapes and impacts nearly every aspect of human life, enhancing our ability to connect with the world, our knowledge of phenomena, our ability to explore, even extending life itself," said Gonzaga President Thayne McCulloh. "Industries like aerospace manufacturing, healthcare, and computer engineering are all central elements of the Inland Northwest economy, and Gonzaga is dedicated to creating new opportunities for our students to be leaders in high-tech industries for years to come."
Nick Questad hires nationwide for Boeing, and specifically looks for Gonzaga graduates.
"The engineers we hire from Gonzaga are not only technically sound, but their well-rounded Jesuit education prepares them to think critically and creatively to work with others to solve problems, setting them up well to be future technical leaders at our company."
Gonzaga recognizes the ever-increasing demand for education in tech-heavy fields like cybersecurity, data science and biomedical and software engineering and software development. At the same time, GU continues to evolve as an institution on the leading edge of higher education and technological innovation. Between adding to existing programs and creating new ones, Gonzaga continuously evaluates students' wants and society's needs to make sure its Catholic, Jesuit and humanistic approach to a liberal arts education remains intact even as it delves into areas that were unimaginable just two decades ago.
Gonzaga codified its relentless pursuit of advanced learning in its 2023 updated Strategic Plan. In July Gonzaga's Board of Trustees approved the launch of a new Institute for Informatics and Applied Science as well as a slew of new undergraduate and graduate programs that will be offered at the institute and across campus. Gonzaga also led the pursuit of an Inland Northwest "Tech Hub" to create a center to develop and manufacture materials vital to the future of the aerospace and aviation industries. The center would serve as a valuable opportunity to merge advanced technology study and research with real-world applications.
Additionally, the University has further enhanced learning opportunities through collaboration, exemplified in the unique University of Washington School of Medicine-Gonzaga University Health Partnership – in which Gonzaga undergraduates work alongside UW medical students in state-of-the-art laboratories – and in longstanding partnerships with regional industry titans like Boeing.
As always, these new areas of study will be imbued with Gonzaga's mission to educate thoughtful, ethical leaders passionate about serving the common good. At GU, technological advancement has a heartbeat as students find innovative and value-driven solutions for a complex world.
"The Ignatian perspective is hard-wired into GU's learning environment," said Gonzaga Provost Sacha Kopp. "The campus is built on Jesuit tradition that teaches critical, humanistic thinking. We're not just innovating; we're carefully considering the implications for society. That consideration for the planet and our communities is the foundation of a Gonzaga education and has been throughout our history."
In the 1950s, the country was seeing massive expansion of infrastructure projects like highways and airports. Gonzaga was at the forefront of civil engineering programs. In the '60s, aerospace and aircraft manufacturing industries changed the face of travel and space exploration. Gonzaga quickly met the need with much-in-demand electrical engineering offerings.
"Our students are the key to our future," said McCulloh. "We have the opportunity today to provide the world-class education they need to unlock our very best future. I am so grateful to our remarkable faculty and staff who create this holistic learning environment, and to our alumni and benefactors who make this work possible."
Here are a few of the latest developments paving the way to a bright horizon:
The Institute for Informatics and Applied Science
A generous $5 million lead gift from the David and Cathleen Reisenauer family allows Gonzaga to hire its first director of the Institute for Informatics and Applied Science. This new institute will act as the focal point for technology and information science at Gonzaga. Augmenting current faculty expertise with new hires will allow the institute to lead GU into new partnerships with local industries, healthcare providers and government agencies. GU Provost Sacha Kopp says the establishment of the institute will assure that Gonzaga is uniquely positioned to explore an increasingly data-driven world.
"We seek to understand how big data and artificial intelligence can extract powerful insights in technology development, manufacturing, pharmaceuticals and healthcare," Kopp says. "And we seek to understand the threats posed to national, individual and private-sector security due to information and resource theft or attacks in cyberspace."
New Degree Programs
Several new undergraduate and graduate degree programs are slated to come online in the next couple of years, some as early as fall 2024, that will put GU students at the forefront of technological innovation to better serve society after graduation. Among them are undergraduate and graduate degrees in data science, graduate degrees in engineering management, cybersecurity and business analytics, and an undergraduate degree in biomedical engineering.
Tech Hub
GU is partnering with Lakeside Companies in leading a consortium of more than 50 aerospace companies, higher education institutions, and local, regional and tribal governments in creating an Inland Northwest Tech Hub, a designation created by the federal CHIPS and Science Act that would spark the establishment of a manufacturing center dedicated to the production of advanced aerospace materials. The center will combine education research, workforce training and the production of advanced composite materials much in demand in the aerospace industry, and predominantly manufactured outside the U.S. currently.
"This represents a dynamic partnership of leaders in industry, research, education, government and workforce, all collaborating to achieve high-rate production goals for the next generation of aerospace manufacturing," McCulloh says.
Browse more stories about STEM at Gonzaga.
Careers & Outcomes
Academics
College of Arts & Sciences
School of Engineering & Applied Sciences
News Center