Gonzaga's Human Physiology Eager For Its New Digs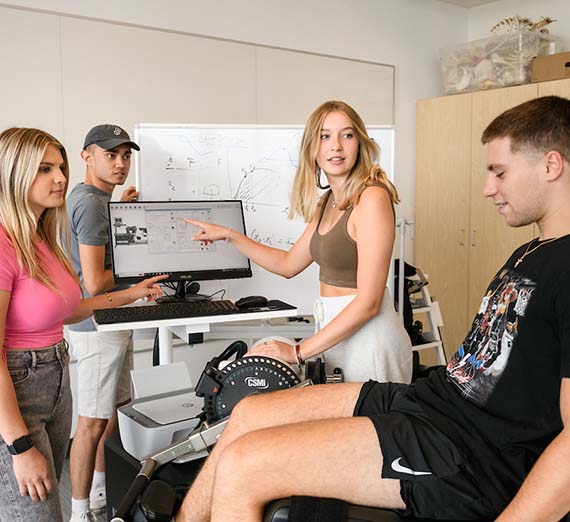 ---
Gonzaga University's Human Physiology Department is ready to start the 2022-23 academic year in new facilities in the Health Partnership building at 840 E. Spokane Falls Blvd. The growing academic program is key element of the UW School of Medicine-Gonzaga University Health Partnership.
Eight sophisticated labs used for teaching and research will increase opportunities for GU students and faculty, and expanded classrooms and networking areas provide exceptional opportunities for GU students to connect with and work alongside medical students from the University of Washington School of Medicine.
"This new space is world class," said David Thorp, department chair during the planning stages. "We've targeted teaching and research space that makes best use of the faculty's expertise."
Now that moment has arrived and the new chair, Ryan McCulloch, indicates the faculty is poised and excited to get rolling.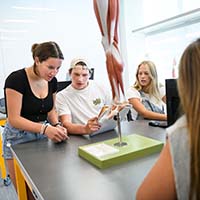 "Our entire department is thrilled about our incredible new capability to improve student learning and student research," McCulloch said. "We've already begun to host students in our lab spaces, and they are amazed by our new spaces and capabilities."
There's also the intangible value of having Gonzaga undergraduate students be able to mix with medical students in the new building.
"They'll be passing each other in the halls, interacting in the lobby, and studying in the same spaces," McCulloch said. "As most of our physiology students go into the health care field, this will provide a great chance to gain insight and understanding of what is involved in post-graduate studies."
Human Physiology was established in 2009 and welcomed 114 students as majors. That number grew to 231 by fall 2021, up 103%. Further growth is expected with the new quarters.
Check out the Human Physiology degree.
In Their Own Words: Faculty Introduce Human Physiology's New Labs
Biomechanics and Gait Lab, Biomaterials Lab, Biomechanics Teaching Lab
By Ryan McCulloch, associate professor, and Clint Wutzke, associate professor
Gait Lab
It is a much larger space than we've had previously, which significantly expands the range of activities we can assess. It has large force plates that allow us to record detailed information about how humans interact with the ground as they move, enabling us to measure forces in three directions, their center of pressure, and more. It also allows us to record motion in three dimensions, enabling a complex assessment of movement.
One example of the type of research we can conduct here is the evaluation of running, something we were unable to measure in our previous space. We also have the capability to more efficiently measure the gait of someone with Parkinson's disease or other pathological conditions.
Biomaterials Lab
This lab features a new materials testing system that allows us to evaluate the mechanical properties of materials, whether this be the modulus of bone, the fracture strength of an implant material, or the fatigue resistance of a prosthetic device. Our capabilities here are greatly expanded.
Biomechanics Teaching Lab
This lab includes a dedicated space where we can teach students, but more importantly, involve them in qualitative analysis of biomechanics principles. This is a flexible space that will allow us to adjust equipment and setup to serve the students in a way that best meets the need of a particular teaching topic.
Integrative and Environmental Physiology Lab
By Dave Thorp, professor
The Integrative and Environmental Physiology Lab and the Exercise Physiology Teaching Lab make use of many of the same pieces of equipment. While this space is more "research-focused," we can also use it for teaching. The two – teaching and research – are inextricably linked in guiding our students' experience.
The environmental chamber is an entirely new capacity for us. This chamber allows us to manipulate the environment and measure human function in a variety of unique conditions. We'll be able to manipulate temperature between -18°C to +44°C (0°F to 111°F), relative humidity between 30% to 95%, and simulate altitude from sea level to 5,550m (18,000 ft).
The mechanisms the body uses to accommodate to these changing conditions are pretty fascinating, and this chamber has the potential to open up fertile avenues for new research and teaching. To have our students learn about these physiological functions by experiencing them and measuring them in humans in real-time is amazing. This will be a unique experience for our majors – few undergraduate physiology programs can offer this kind of opportunity.
Just some possibilities in terms of application: We can simulate higher altitudes and measure how exercise capacity changes (In our Exercise Physiology course, I am asked questions about this every year. Now we'll be able to demonstrate it.). We can simulate training at altitude and show how sea-level performance changes. We can simulate the effects of hard work in hot, dry environments or very cold environments and see how task performance and physiological control changes.
In addition to testing these effects on the human function, we can also test the effects of different garments on improving human function in these environments. For example, in simulating hard work in hot, dry environments, we can test various clothing for, say, wildland firefighters and determine how different protective gear/clothing might affect their ability to work. Really, the list here is endless.
Anatomy and Physiology Teaching Lab
By Steve Conant, senior lab specialist
Being in this customized space exemplifies the innovation and capability of our Human Physiology program. A dividing wall that doubles as a whiteboard can allow the two A&P labs to be one big space. We have designed this space to have adaptable workstations for purposes of microscopy, dissections, physiological data acquisition and digital scholarship. We have two dedicated Virtual Reality stations in each lab and large farmhouse sinks for easy cleaning of dissection trays.
Cellular and Molecular Physiology Teaching/Research Labs
By Patrick Crosswhite, associate professor
This new lab and equipment allows us to expose our students to new research opportunities. We plan to develop a new cellular physiology course that will give our students even more options to customize their learning experience. Previously, we were able to work with 1-3 students at a time on some of molecular physiology projects that investigated mechanisms of blood pressure regulation. Now I can work with students and will be able to continue this research in one space, with all the equipment and resources we need. /p>
Exercise Physiology Teaching Labs
By James McKenzie, senior lecturer
With our new facilities we will realize all manners of new opportunities for students and faculty. With the growth of our major, we will be better able to accommodate students in the lab spaces, which will make for a more effective and impactful lab experience. Previously our students became crowded in the labs, making it difficult to observe, learn, and use the equipment. This space allows for more equipment, allowing for smaller groups working in parallel to provide more 'hands-on' exposure to tools and techniques used to study Human Physiology. It also greatly expands our abilities – we have already acquired several new pieces of equipment which will serve to broaden the students' understanding of experimentation, measurement and research practices in our field. Some of the capabilities we added include testing in hot or cold environments, at altitude, as well as field-testing outside the lab spaces. Finally, the excitement with the new facilities – among both the students and the faculty – will bring an abundance of fresh energy to the Human Physiology program.
Learn more about the UW-GU Health Partnership's September opening.