What are the Fastest-Growing Majors at Gonzaga?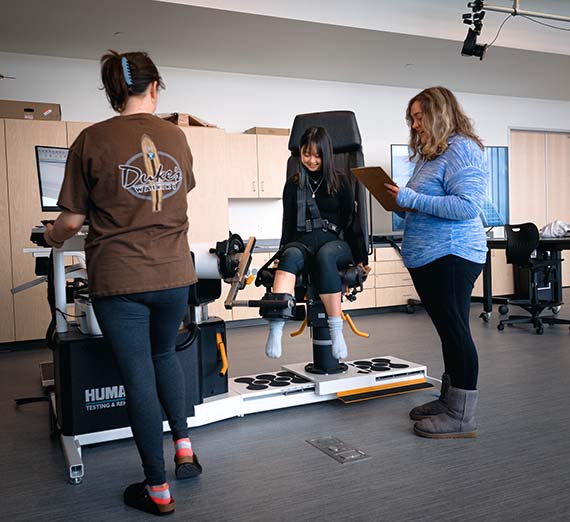 ---
While Gonzaga University boasts strong academic programs in the College of Arts & Sciences and six individual schools (business, education, engineering, health sciences, law and leadership), data shows increased interest from students in these specific majors since 2019:
Institutional Research, which houses all data for Gonzaga, reviewed student head counts in spring terms from 2019 to 2023, looking specifically at areas of study that have been available a minimum of five years and have had at least 50 students. These majors had the highest average number of students added each year and the highest percentage increase over the five-year period.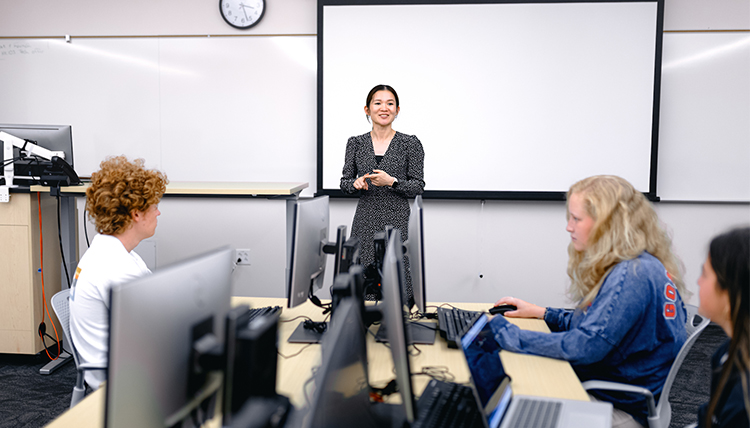 Yanping Zhang teaches a computer science course.
With the advancement of technology across industries, and the proliferation of artificial intelligence, the growth of computer science programs is expected.
"The field is growing and changing daily," says Paul De Palma, chair of computer science within Gonzaga's School of Engineering and Applied Science. "Our department is rising to the challenge with new specialties in security, data science and software development."
He adds, "Having an abundance of students is very good news. That GU graduates are thriving is even better!"
Gonzaga is advancing its connections to the tech evolution, such as a developing an Institute for Informatics and Applied Science, and leading efforts to create a sophisticated new hub for aerospace manufacturing.

Students work in Human Physiology's gait lab inside the UW-GU Health Partnership.
Growth in the human physiology and kinesiology areas?
"Basically, every sector of health or health care related services are in demand nationwide," says Patrick Crosswhite, chair of Gonzaga's Human Physiology department in the School of Health Sciences.
That demand comes from a variety of factors, he says, including an increasingly aging population and population growth in general.
"Demand for health providers (doctors, nurses, physical therapists, etc.) has outpaced the ability of the United States to train and develop new providers, which is managed at a state, not federal, level. For example, the state of Washington has only three medical schools and can only accept a limited number of students every year. Another example is the constraints around clinical placements in nursing schools."
Gonzaga's own nursing program – like so many others – is limited in the number of students it can accept based on the number of clinical training placements available in local clinics and hospitals.
Fortunately, the expansion of Gonzaga's School of Nursing and Human Physiology to a broader School of Health Sciences, will help the University keep up with the demands in health care. Already, the program has added a department of public health, which is housed in the UW School of Medicine – Gonzaga Health Partnership. Such partnerships foster the kind of shared research and training that will provide students with the best possible preparation for their careers.
How do Gonzaga's numbers compare with national trends?
According to the National Center for Education Statistics, in a review of bachelor's degrees conferred by degree-granting postsecondary institutions across the U.S. from 2010-11 to 2020-21, these disciplines ranked highest:
Health professions (fastest change, surpassing social sciences and history and continuing upward)
Social sciences and history (slight downward trend)
Psychology, biological and biomedical sciences, and engineering, all closely ranked and growing toward the end of this period of study
Gonzaga's Strategic Plan priorities align with the trends and the needs of today's communities.