The Family Driving Gonzaga Toward the Future of Technology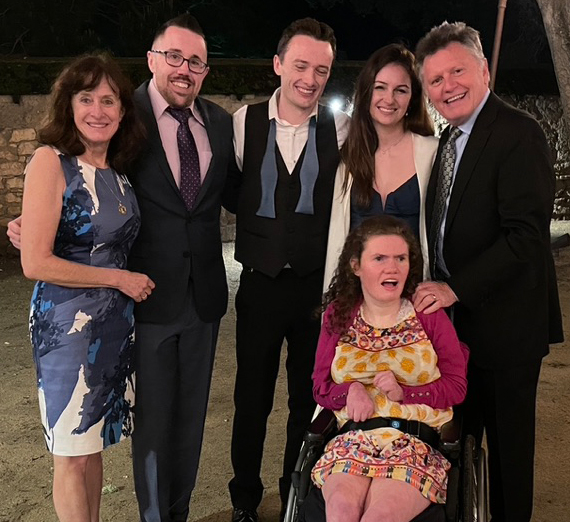 ---
On any given day in the early 1980s, Dave ('82) Reisenauer's car could be anywhere on or around the Gonzaga University campus, its whereabouts completely unknown to its owner. He'd offered its use to his brother, cousin, friends, and to a classmate named Cathleen ('84) in exchange for regular haircuts. Any one of them could have parked the car anyplace, and back in those days, there was no technology like text messaging, mapping applications or key fobs to assist in finding it—Dave just had to wander and look.
Forty years later, Dave and Cathleen Reisenauer are an inseparable pair who search together for impactful solutions to the world's problems. They're still closely connected to their Alma Mater and are the catalysts leading the way in advancing Jesuit tech education and opportunities for Gonzaga students, regional businesses and more. Their recent multi-million-dollar gift establishing the David and Cathleen Reisenauer Family Directorship for the forthcoming Institute for Informatics and Applied Technology is the latest act of generosity of the Reisenauer family, which is paving the way for a new era at Gonzaga University and the Inland Northwest.
It all began during a first year (formerly freshman) orientation committee meeting, when Dave and Cathleen first met. Both grew up attending Catholic schools—Cathleen in Portland, Oregon, and Dave in Spokane—with families involved in farming. Cathleen's cousin Karen was at Gonzaga, and a visit to Spokane clinched her decision to become a Zag. Her father's influence helped her select a major.
"Dad told me, 'You're good at math and you need to be in business,' so that's what I did," she recalled.
For Dave, who was the eldest of seven children in his family, Gonzaga was a natural next step from Gonzaga Prep, where he attended high school. As a junior at Prep, Dave attended a summer program on Gonzaga's campus which was run by two professors—Bill Carsud of the computer science department and Dan Hughes from math—and brought high schoolers to campus to experience studies in the applied sciences. Dave was particularly fond of and had an aptitude for math, but wanted to apply it practically, so he chose to major in both math and electrical engineering.
Despite being in completely different programs, Dave and Cathleen managed to connect in several ways during their undergraduate experience.
"We met each other on the freshman orientation committee and then somehow I found out Cathleen cut hair," said Dave.
As a bit of a side-gig, Cathleen would trade hair trims for favors such as bags of M&Ms, bottles of wine, restaurant dinners, and in Dave's case, the use of his car. Dave lived in Campus House, which was an extension of Campus Ministry; he also worked at the Campus Bookstore in the lower level of the COG.
"Living at Campus House and working in the bookstore had a direct impact on me as a student, "Dave said, "especially in terms of the broad range of people who I had an opportunity to connect with across the disciplines."
From the education to the friendships and every memory in between, Dave and Cathleen forged a relationship with Gonzaga that has withstood the test of time.
"The friendships we developed then are still with us now," Cathleen added. "Forty years out from graduation and we are still as close as ever."
It wasn't long after graduating that Dave and Cathleen reconnected and began dating. By 1987, they were married and living in California. Cathleen worked at Bank of America and then later, Hewlett Packard, while Dave worked at IBM.
"We joked that I-B-M stood for 'I've been moved,'" laughed Cathleen, who admitted that in the years that he worked for the tech giant, her husband's role changed more times than she could keep up with. "I heard from friends who worked there that 'Dave's a really good boss,' which was great—but at home, he's 'Dad.'"
Cathleen and Dave have three children—Peter, Cayla, and Andrew. Genetic disease in two of the three children led Cathleen to leave the business world to become a full-time caregiver to the kids, and the family dogs. Meanwhile, Dave worked for tech giants IBM, Hitachi, and now NVIDIA.
Throughout it all, the Reisenauer family has kept the Jesuit values developed in them during their respective Gonzaga experiences close to their hearts.
"It's who we are," said Cathleen. "It's always been part of what we believe and what we taught our kids. It's our responsibility to be people serving others, to consider the whole person, and to strive for excellence—and it needs to be multiplied."
The Reisenauers' alignment with the mission of the University was made manifest in their support for Gonzaga student athletes through the Student-Athlete Health and Wellness Initiative.
"During a conversation with Mike Roth about athlete nutrition, we wondered out loud what could be done to ensure they received support for not just nutrition, but also sleep, mental health, and physical health both during and after their time in athletics," said Cathleen, a lifelong runner and advocate for the Jesuit principle of cura personalis (care for the whole person). "And it's important to note that it isn't just us championing this—many others are part of this important work."
"This health and wellness program also touches on dignity of the human person and the pursuit of excellence," Dave added, "and expanding students' ability to take the education and leadership skills they build here and apply them to the world."
Both Dave and Cathleen agreed that the purpose behind their support for Gonzaga students is to help foster a better world—a commitment they see playing out further in their latest act of generosity, which will help Gonzaga and its students become more competitive in the fields of informatics and applied technology. They are enthusiastic about the relationships and opportunities the new institute will create.
"Similar to what we helped build at Notre Dame," said Dave, "the Institute for Informatics and Applied Technology will leverage the skills of the people Gonzaga is producing with the businesses and governments in the Inland Northwest into a triad of collaboration that is unlike anything in the region."
The Reisenauers enjoy discovering unique opportunities and working with organizations to bring them to fruition for the benefit of many. They've partnered with Notre Dame, Catholic Charities, the Leukemia Foundation and others to have tremendous impacts that spread their vision for the future and affect meaningful change.
"Gonzaga University has been blessed by the Reisenauer family's commitment to our mission, their remarkable generosity and care for others," said Gonzaga President Thayne McCulloh. "The way in which they are acting on the Catholic, Jesuit principles and values of the University that resonate so deeply in them is truly transformational. Together with their fellow benefactors, Dave and Cathleen are helping to usher in a new era for Gonzaga and its students."
And who knows—perhaps it will be a future Gonzaga student of the Institute for Informatics and Applied Technology that develops the ultimate tech for finding lost cars on campus.
Join the Reisenauers in supporting Gonzaga University and its students with a donation.