Take a Seat: Engineering students help Boeing improve airplane seats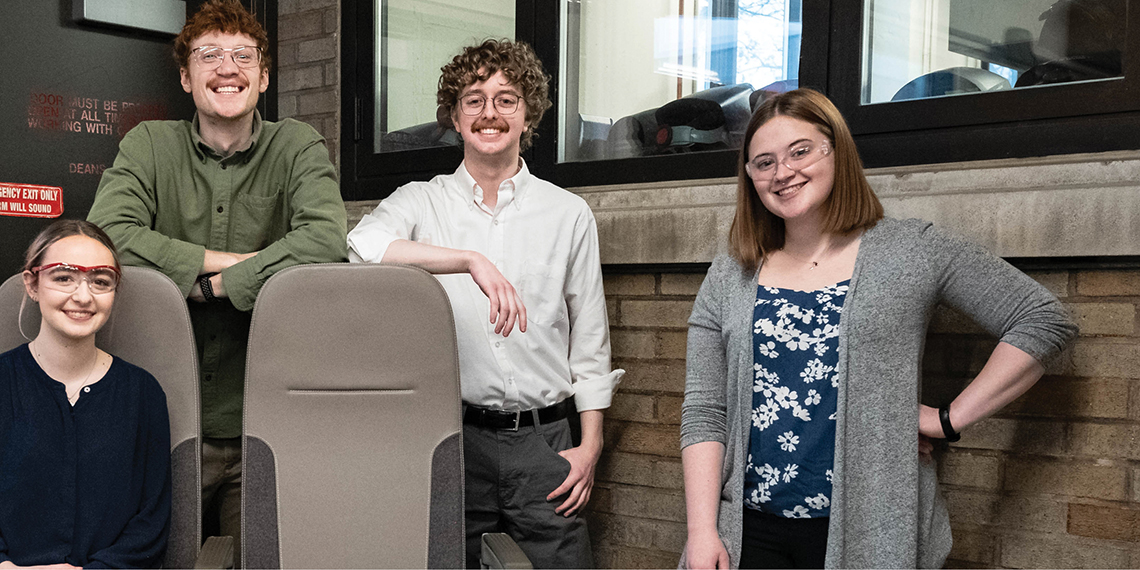 Every bolt, bracket, piece of vinyl and cushion of a prototype seat on Boeing aircraft has been taken apart and analyzed by senior Gonzaga engineering students, in collaboration with Boeing and seat manufacturer Adient Aerospace. The goal? To produce a more environmentally friendly seat.
This is one of 41 senior design projects that engaged 164 engineering and computer science students in the School of Engineering and Applied Science since August.
Boeing has been an ongoing partner in senior design projects for some of Gonzaga's best and brightest students. This year students worked with the aircraft manufacturer on eight projects, from researching development of a mobile service app to better serve in-flight customers, to developing a deicing system without applied chemicals.
Boeing's Cabin and Interiors and Payloads Engineering teams are seeking innovative ways in seat design and production to reduce waste, emissions and weight during the product lifecycle for complete customer solutions that address sustainability.
Gonzaga students disassembled an airline seat, part by part. They examined each piece to evaluate how it was made, materials and processes used, and the quantity of carbon dioxide emissions produced in production, packaging, shipping and assembly. This involved a tremendous amount of industry research and communication with product suppliers.
"One interesting aspect was working on sustainability reports to compare the existing materials on the seat to the recommended materials that we found," says mechanical engineering student Hannah Dunn ('23). "The ones we focused on decreased the material's density, increased its durability, reduced emissions during shipment and were recyclable."
She said the students found it challenging to find materials that not only fit the sustainability goals, but also met strict flammability requirements. They sent upholstery samples to Boeing for flammability testing.
Ryan Kellogg ('14), academic director of the Center for Engineering Design and Entrepreneurship that oversees the senior design projects, says: "The realism of senior design and the other projects is what makes this program special. Boeing and other industry sponsors come with real opportunities with actual value." As a former engineering student impacted by the senior project work, he knows how much that matters.
For sponsors like Boeing, the work of Gonzaga seniors provides a big-picture view of how these students might perform as innovators in their companies. Boeing is one of the largest employers of Gonzaga graduates.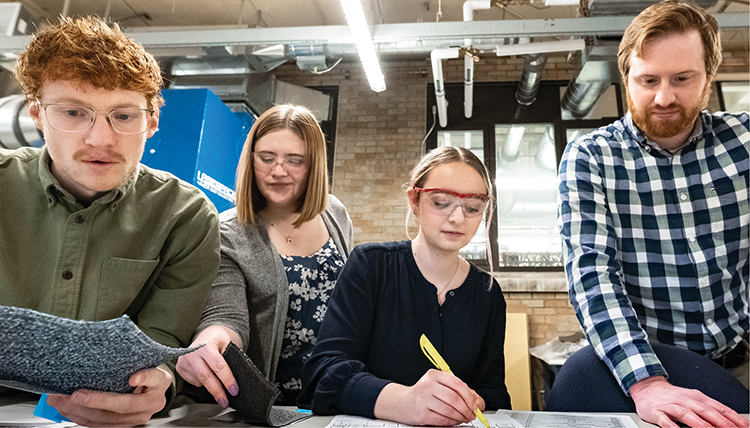 Addressing real-world needs through Engineering's senior design projects
Kellogg is no stranger to tackling research for solutions to major productions. He spent five years on SpaceX's Dragon 2 capsule, currently the only U.S. spacecraft to transport cargo and crew members to the International Space Station, and two years on Starship, currently the world's largest rocket in development. A big part of his job now at Gonzaga is building relationships with industrial and government leaders to bring senior design ideas to students.
Here are just three of 41 projects students in the School of Engineering and Applied Science have addressed this year:
Computer science students helped Spokane Public Library to harvest air quality and weather data for the Spokane area and share it with the public through the library's own information technology system.
Civil engineering students developed plans and processes with Garco Construction for fish-passage structures near Cle Elum, Washington, that allow fish to safely bypass dams.
Mechanical and electrical engineering students worked with the Smart Antenna Research Lab in the Paccar Center for Science to develop low-cost ways that antennas can be connected without the connection wires interfering with the antennas themselves.
In May, students presented their work at the public Senior Design Exposition on campus. Answering questions from a diverse group of people helps students gain experience speaking to individuals who may or may not have technical backgrounds. "This helps new engineers learn how to communicate their work most effectively to a wide audience," Kellogg says.
Learn more about engineering senior design projects
here
.
See more from the latest magazine.
Careers & Outcomes
School of Engineering & Applied Sciences
Academic Vice President
Mechanical Engineering
Engineering Management
Gonzaga Magazine