Inland Northwest Consortium, Led by Gonzaga University, Files Tech Hub Application to Create The American Aerospace Materials Manufacturing Center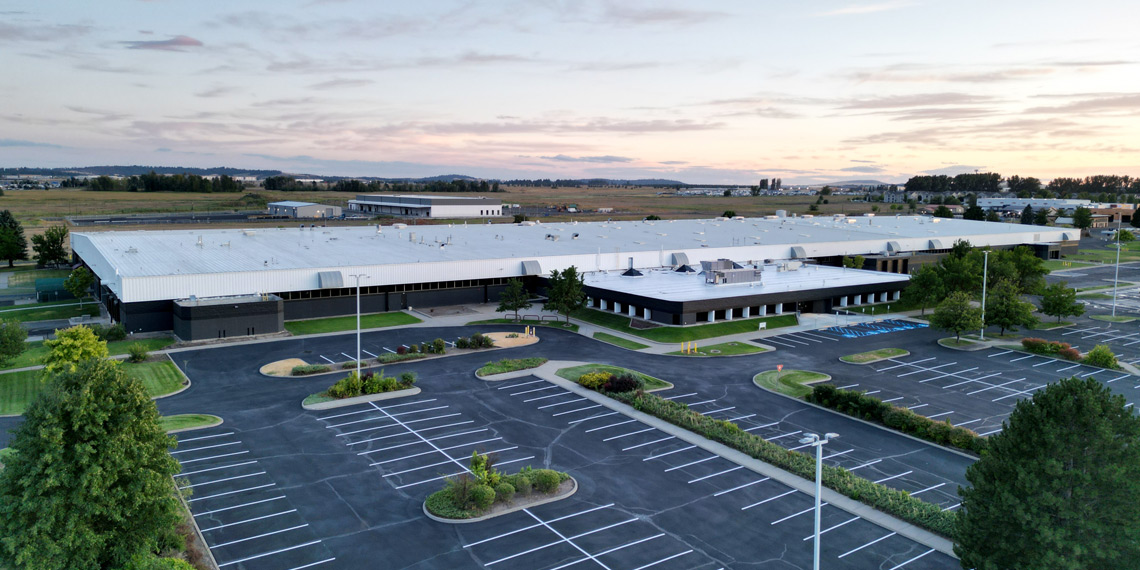 Washington state has been at the forefront of innovation in the aviation and aerospace industry for more than a century, designing and building some of the most advanced and successful commercial and military aircraft, uncrewed aerial systems (UAS) and space exploration vehicles the world has ever seen.
The future of aviation and aerospace is the development of advanced composite materials to create aircraft that are lighter and more fuel efficient at reduced cost.
The question is, how will Washington continue to be competitive in this new arena in the face of fierce global competition? The answer: a consortium of like-minded organizations committed to creating the world's most advanced Tech Hub, situated in the Inland Northwest.
This consortium of nearly 50 partners, led by Gonzaga University in partnership with Lakeside Companies, has filed applications with the Economic Development Administration (EDA) for federal designation and Phase 1 funding to create the American Aerospace Materials Manufacturing Center (AAMMC). With the region's world-class aerospace workforce, this innovative Center is designed to meet immediate and next-generation development and production of advanced aerospace materials and reduce American reliance on foreign-produced composites.
"Gonzaga is proud to serve as the lead for the broad-based and incredible consortium that is applying for Tech Hub recognition and funding of this exciting new composite materials manufacturing center," said Thayne McCulloh, president of Gonzaga University. "This represents a dynamic partnership of leaders in industry, research, education, government and workforce, all collaborating to achieve high-rate production goals for the next-generation of aerospace manufacturing."
Consortium members are aligned on the need to enhance American competitiveness and capabilities in composite materials, the market opportunity in the aerospace industry and potential other industries, and the capabilities of the Center's partners and the regional capabilities of the Inland Northwest to meet this need.
See the full list of consortium members for the American Aerospace Materials Manufacturing Center
"The industry goals for proving new production capabilities of thermoplastic composites (TPC) for aerospace at the AAMMC will lead to a new domestic supply chain and begin to reverse U.S. reliance on these foreign made materials. Global demand for advanced aerospace composites is growing exponentially and this industry collaboration with our area education and workforce partners will build those capabilities again, right here in the Inland Northwest. This center will not only help us catch up to foreign competition but is critical to America regaining our position as the leading supplier of aerospace components in the world," said John Hemmingson, CEO of Lakeside Companies.
"We are incredibly proud to be a part of this consortium and application. There is no better location for this Tech Hub than right here in the Spokane-Coeur d'Alene area. We are at the center of the I-90 aerospace corridor, and we have so many great resources including a concentration of existing composites suppliers and leading research universities. We also have some of the fastest growing cities in both Washington and Idaho between Spokane, West Plains, Spokane Valley, Post Falls and Coeur d'Alene. You can tell from all the letters of support and the wide array of organizations that are in the consortium -- we have the talent, the resources and the desire to make the AAMMC Tech Hub successful and we are looking forward to doing just that!"
The Tech Hubs program was authorized as part of the CHIPS and Science Act of 2022. The EDA received $500 million in appropriations to support this program in the FY 2023 Omnibus. Phase 1 of the EDA's Tech Hub program calls for the designation of more than 20 regions as hubs, awarding approximately $15 million, or some $500,000 per grant. Gonzaga University, through a generous benefactor, has pledged matching funds if its application is successful. Phase 1 includes the hiring of a Regional Innovation Officer (RIO) who will act as chief executive officer for the consortium, reportable to the governing body, and who will work to build a team supporting the Center's advancement. The RIO will have a strong background in managing a diverse ecosystem of stakeholders, preferably with a background in aerospace engineering, experience in supporting workforce development efforts and knowledge of the region and its stakeholders.
Phase 1 awards are expected in late fall. Phase 2 narrows the grants, awarding five to 10 consortia $50-$75 million across multiple component projects.
Together, consortium members will create a legal governing body to oversee the development and selection of Phase 2 implementation activities. This governing body will act on an ongoing basis to set goals, implement actions, budget, and supervise other organizational needs. It is this collaborative and collective effort that will ensure that the AAMMC fulfills its potential.
The Center will combine applied education research, workforce training and advanced production with industry experts, principally located in a 386,000-square-foot repurposed manufacturing facility near Spokane International Airport with room to grow over 50 acres. The Tech Hub's inclusive framework is designed to expedite the evolution and commercialization of the domestic aerospace supply chain, foster education, attract robust entrepreneurial interest and drive private sector investments into new companies. The program focuses on increasing the skills of the current workforce, coordinating with regional Tribal nations and workforce leaders, and utilizing best-practices for supporting underrepresented communities in both Washington and Idaho to model the next generation of aerospace jobs.
"This testbed will result in new domestic supply chains that are able to meet the global high-rate production demands of advanced composite aero structures for both commercial markets and government needs," McCulloh said in announcing the EDA application.
"Governmental and civic collaboration is unmatched,and the combined exceptional educational resources of our region guarantee our capability to be leaders in this field far into the future. This consortium of world-class partners is proud to create an opportunity that will better our community and the nation for years to come," McCulloh said.
Consortium Members – American Aerospace Materials Manufacturing Center
Aerospace and Industry Leaders

Advanced Thermoplastics Composites (ATC) Manufacturing
Avista
Blue Origin
Boeing
Continuous Composites Incorporated (CCI)
Electroimpact
Lockheed Martin
Northwest I-90 Manufacturing Alliance
Raytheon/Collins
StanCraft
Unitech Composites Inc.

Higher Education and Secondary Education

Gonzaga University
Coeur d'Alene Public Schools
Community Colleges of Spokane
Eastern Washington University
Elevate North Academy
Heritage University
North Idaho College
Spokane Public Schools
University of Idaho
University of Washington
Washington State University

Venture Development

Lakeside Companies
Washington Trust Bank

Workforce Development and Labor

Coeur d'Alene Economic Development Corporation
Idaho Workers Development Council
International Association of Machinists District 751
Machinists Institute
Spokane Workforce Council

Government, Tribes, and Economic Development

City of Coeur d'Alene
City of Post Falls
City of Spokane
Coeur d'Alene Regional Chamber
Coeur d'Alene Tribe
Greater Spokane Inc.
Greater Spokane Valley Chamber of Commerce
Idaho State Department of Commerce
Kalispel Tribe of Indians
Latino Civic Alliance
S3R3 Solutions
Spokane County
Spokane International Airport
Spokane Tribe of Indians
Washington State Department of Commerce
West Plains Chamber of Commerce

In Coordination with

Nasa
Pacific Northwest National Laboratory
Additional Defense OEMs
CONTACT
Jamie Aitken
Sr. Director of Strategic Communications, Gonzaga University
aitkenj@gonzaga.edu
509-313-6131
Maria Lusardi
Marketing Director at Lakeside Companies
mlusardi@lakeside-capital.com
573-289-0714
Global Impact
Academics
School of Engineering & Applied Sciences
News Center