Inland Northwest Consortium, Led by Gonzaga University in Partnership with Lakeside Companies, Awarded Designation to Create The American Aerospace Materials Manufacturing Tech Hub
A World-Class Testbed for Production, Commercialization, Entrepreneurs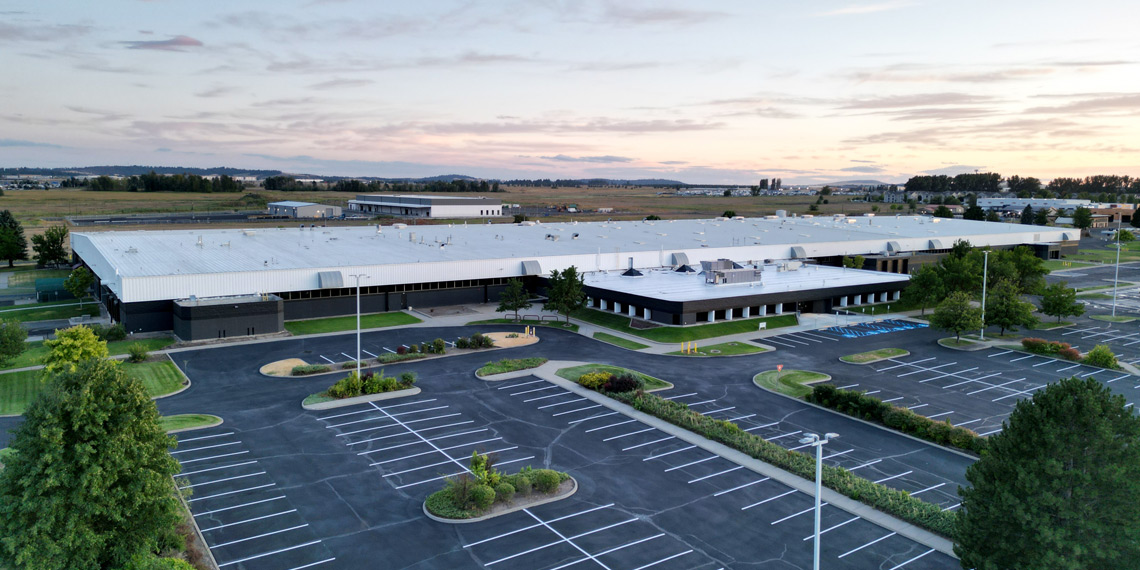 The Economic Development Administration (EDA) has designated the Inland Northwest Consortium led by Gonzaga University as a Regional Technology and Innovation Hub, a critical first step toward the establishment of the American Aerospace Materials Manufacturing Center (AAMMC) designed to expedite the evolution and commercialization of the domestic aerospace supply chain for the next generation of aviation composite materials.
The consortium, created in partnership with Lakeside Companies, is a collaboration of nearly 50 industry leaders, educational institutions, and state, local and tribal governments. The Tech Hub application received widespread support from members of Congress, legislators, and civic leaders across Washington and Idaho.
The EDA chose the Inland Northwest Consortium from among 198 applications vying for Tech Hub designations across the country as the first step of a two-phase process. The consortium's vision is to create a regional hub for research and commercialization of advanced composite materials for the aerospace and aviation industries, including development of the American Aerospace Materials Manufacturing Center, a 386,000-square-foot repurposed manufacturing facility near Spokane International Airport.
"Gonzaga is proud to serve as the lead for this broad-based and powerful consortium," said Thayne McCulloh, president of Gonzaga University, "and we are grateful to our lead partner Lakeside Companies and to each one of our regional partners for the critical role they have played to date. The consortium is a dynamic partnership of entities from across the Inland Northwest, representing industry, research, education, government, and workforce, all collaborating to achieve high-rate production goals for the next generation of aerospace manufacturing."
Worldwide demand for advanced aerospace composites is growing exponentially, with much of this critical sector dominated by foreign interests. The EDA's Tech Hub initiative was launched to change the global landscape.
Consortium members are aligned on the need to enhance American competitiveness and capabilities in composite materials, the market opportunity in the aerospace industry and potential other industries, and the capabilities of the hub's partners and the regional capabilities of the Inland Northwest to meet this need.
Consortium Members – American Aerospace Materials Manufacturing Center
Aerospace and Industry Leaders

Advanced Thermoplastics Composites (ATC) Manufacturing
Avista
Blue Origin
Boeing
Continuous Composites Incorporated (CCI)
Electroimpact
Lockheed Martin
Northwest I-90 Manufacturing Alliance
Raytheon/Collins
StanCraft
Unitech Composites Inc.

Higher Education and Secondary Education

Gonzaga University
Coeur d'Alene Public Schools
Community Colleges of Spokane
Eastern Washington University
Elevate North Academy
Heritage University
North Idaho College
Spokane Public Schools
University of Idaho
University of Washington
Washington State University

Venture Development

Lakeside Companies
Washington Trust Bank

Workforce Development and Labor

Coeur d'Alene Economic Development Corporation
Idaho Workers Development Council
International Association of Machinists District 751
Machinists Institute
Spokane Workforce Council

Government, Tribes, and Economic Development

City of Coeur d'Alene
City of Post Falls
City of Spokane
Coeur d'Alene Regional Chamber
Coeur d'Alene Tribe
Greater Spokane Inc.
Greater Spokane Valley Chamber of Commerce
Idaho State Department of Commerce
Kalispel Tribe of Indians
Latino Civic Alliance
S3R3 Solutions
Spokane County
Spokane International Airport
Spokane Tribe of Indians
Washington State Department of Commerce
West Plains Chamber of Commerce

In Coordination with

NASA
Pacific Northwest National Laboratory
Additional Defense OEMs
"We are incredibly proud to be a part of this consortium," said John Hemmingson, CEO of Lakeside Companies. "We are at the center of the I-90 aerospace corridor, and we have so many great resources including a concentration of existing composites suppliers and leading research universities. We also have some of the fastest growing cities in both Washington and Idaho between Spokane, West Plains, Spokane Valley, Post Falls and Coeur d'Alene.
"We have the talent, the resources and the desire to make the AAMMC Tech Hub successful and we look forward to taking the next step in bringing this exciting facility to the Inland Northwest," Hemmingson said.
The Tech Hubs program was authorized as part of the CHIPS and Science Act of 2022. The EDA received $500 million in funding from Congress to support this program.
The AAMMC Tech Hub's inclusive framework is designed to expedite the evolution and commercialization of the domestic aerospace supply chain, foster education, attract robust entrepreneurial interest and drive private sector investments into new companies. The program focuses on increasing the skills of the current workforce, coordinating with regional Tribal nations and workforce leaders, and utilizing best-practices for supporting underrepresented communities in both Washington and Idaho to model the next generation of aerospace jobs.
Designated Tech Hubs will now be eligible to apply for Phase 2, that will invest $50-$75 million in five to ten consortia for full implementation across multiple component projects.
"The organizational, educational, civic, business and cultural resources of this area are unmatched," said McCulloh. "This incredible group of partners and innovators is perfectly poised to create the future, and it begins right here in the Inland Northwest."
Contact
Jamie Aitken
Sr. Director of Strategic Communications, Gonzaga University
aitkenj@gonzaga.edu
(509) 313-6131
Maria Lusardi
Marketing Director at Lakeside Companies
mlusardi@lakeside-capital.com
(573) 289-0714
Learn about Gonzaga's forward-thinking future
Global Impact
Academics
School of Engineering & Applied Sciences
News Center