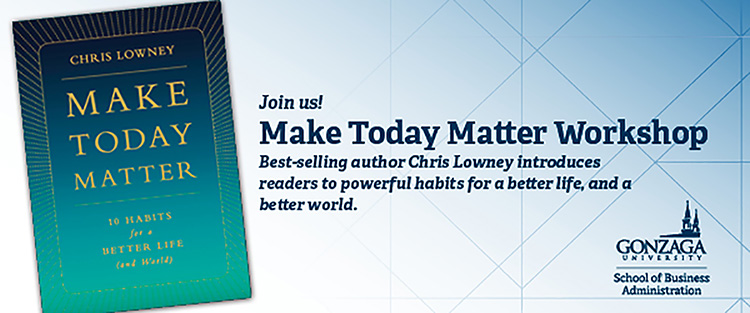 MAKE TODAY MATTER: 10 HABITS FOR A BETTER LIFE (AND WORLD) WORKSHOP
Gonzaga University's School of Business Administration will be hosting a three-week Zoom workshop to follow-up on best-selling author Chris Lowney's talk "What 2020 taught us about how to lead in 2021." The featured book of discussion will be Make Today Matter: 10 Habits for a Better Life (and World).
Make Today Matter, won the 2018 Independent Press Award as "Distinguished Favorite" in the Inspiration category. The book also won a Gold Medal in the 2019 Illumination Awards. Chris introduces readers to 10 simple yet powerful habits that will add up to a better life, and a better world. Those habits emerge through inspiring stories of ordinary people who are making each day count in extraordinary ways, whether in a high school classroom, a hospital emergency room, one of the planet's largest garbage dumps, or a sprawling, impoverished shantytown in Venezuela.
Click here to purchase the book via Amazon.
Schedule
WEEK 1: Monday, Nov. 9| 6:00 p.m.
Miss week 1 view the recording here: https://youtu.be/NHgjCJQPFSc
Why Does It Take A Crisis?

First Things First: Decide What Matters?

Habit 1 - Point Out the Way

Habit 2 – Bring Big Heart Every Day

Habit 3 - Don't Win the Race: Contribute to the (Human) Race
WEEK 2: Monday, Nov. 16 | 6:00 p.m.
Miss week 2 view the recording here: https://youtu.be/6JhZixPz8dk
Habit 4 - Give Away Your Sneakers: Help Someone Today

Habit 5 – Banish the Inner Demons: Be Free for What Matters

Habit 6 – Change Your Little Part of the World

Habit 7 – Keep Walking Up the Hill and Down the Hill: Preserve
WEEK 3: Monday, Nov. 23 | 6:00 p.m.
Event Link: https://gonzaga.zoom.us/j/97346659056
Habit 8 – Be More Grateful

Habit 9 – Control the Controllables: Listen to the Still, Small Voice

Habit 10 – Answer This Hurting World's Call for Happy Warriors

Pulling Together All Ten Habits: The Wisdom App

Twenty-Four Brand-New Hours