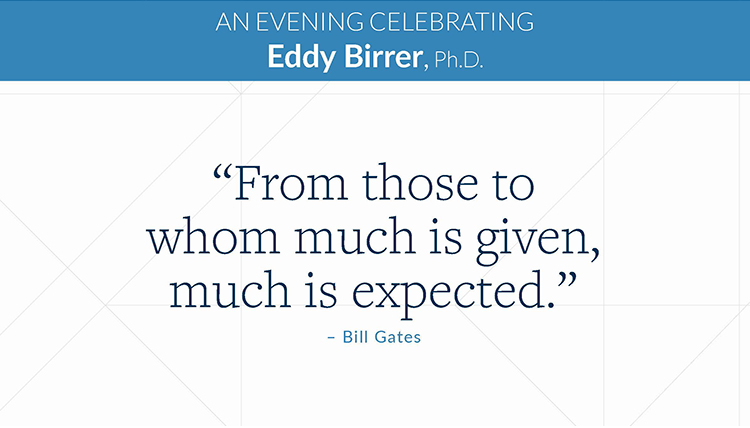 Join friends, family, colleagues, and alumni to celebrate Eddy Birrer's 50 years as a university professor. During his 34 years at Gonzaga, Eddy has had a long-lasting impact on generations of Gonzaga Accounting students and countless noontime basketball participants! Share memories of your time at Gonzaga with Dr. Birrer while reconnecting with old friends, classmates, and Gonzaga faculty.
Thursday May 24, 2018
5:00 – 8:00 p.m.
Safeco Field, First Base Terrace Club
1250 First Avenue S.
Seattle, WA
$100 per person
(heavy appetizers and drinks will be served)
Business Casual
In 1984, Dr. Birrer wanted to teach at a Catholic university in the Northwest, but was concerned about accepting reduced pay to teach at Gonzaga. Following his interview for the position, Dr. Birrer attended Sunday mass and heard the following passage: "…do not worry about your life… strive first for the kingdom of God and his righteousness, and all these things will be given to you as well." He and his wife heeded those words and moved to Spokane.
During the more than three decades since that time, Dr. Birrer has committed himself to serving accounting students at Gonzaga. "I am pleased to see how much my students have achieved both personally and professionally," Dr. Birrer said. "I have been blessed to have had such great students while teaching at Gonzaga."
Please consider donating to the Eddy Birrer Endowed Scholarship Fund to support future accounting Zags by visiting www.gonzaga.edu/birrerscholarship or contacting Brian Ruark at Ruark@gonzaga.edu or 509-313-6251.