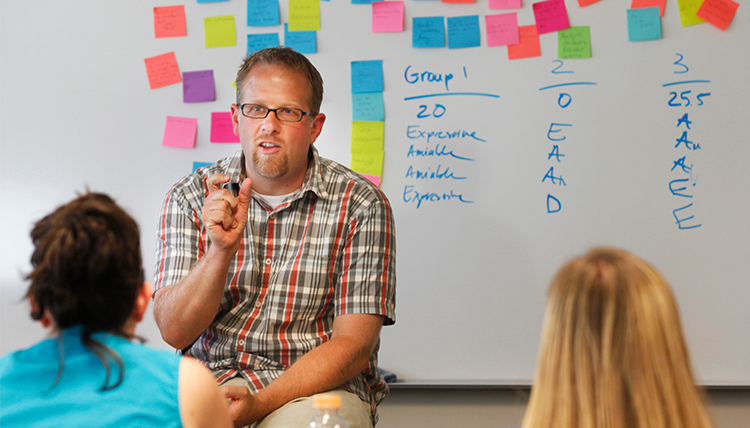 LDRS 200 Foundations of Leadership (3 credits)
–
Spring, Freshman Year

This course is designed to serve as an introduction to the dynamic and growing field of study in leadership. Through discussion, lecture, research, readings, and activities, students will review basic myths and principles of leadership; including leadership theory, the relational leadership model, the context of leadership in groups, and ethics and leadership. These various components of the course are intended to challenge students to think critically and imaginatively about the foundations of leadership. Students will be responsible for crafting their own model of leadership that reflects the material covered in the course.
LDRS 315 Theories of Leadership & Organizations (3 credits) – Fall, Sophomore Year
This course will explore leadership theory as students develop a systematic, holistic, philosophcal, theoretical framework for leadership. Emphasis will be place on the nature and role of leadership in understanding the self and interpersonal interactions. The overall purpose of this course, is to challenge each student to carefully analyze how they view leadership, explore who they are as leaders, and assist in helping students use their individual strengths to improve as leaders in a variety of contexts. (c) conflict
LDRS 325 The Practice of Leadership (3 credits) – Spring, Sophomore Year
This course is designed to engage you to be in the application of models, and paradigms to real-world scenarios related to conflict, team dynamics, and emotional intelligence. While traditional teaching methods such as a lectures and readings will be used, other methods include role-playing activities, case studies, and assessments will supplement the course. You will be required to draw from your knowledge of leadership theory covered in previous CLP courses.
LDRS 375 Leading Across Cultures (3 credits) – Fall, Junior Year
Through this course, students will gain knowledge of diverse cultures, cross-cultural communication, the dynamics of privilege and oppression, and the uses of power between groups. To develop cultural competency, leaders need to know: themselves, others, the relevant issues, and have an appreciation and curiosity for working with others. Students will connect global leadership concepts to practice and engage in a number of activities, discussions, and self-assessment instruments to increase their self-awareness of leadership styles, abilities, strengths, and limitations.
LDRS* Leadership Elective* (6 credits) – Spring, Junior or Senior Year
Electives will be offered by faculty on a yearly basis based on student learning objectives and faculty expertise. Elective include such courses as Leadership & Storytelling, Student Leadership & Governance, Service & Leadership, Outdoor Leadership, and Women & Leadership. Elective options will be available Fall semester prior to Spring registration.
LDRS 450 Contemporary Issues in Leadership (3 credits) – Fall, Senior Year
Through exploring contemporary issues in leadership, this course is designed to be a capstone experience of integrating leadership knowledge and skills. This course will provide students with an understanding of the principles of Servant Leadership (Greenleaf, 1970, 1998, 2001) and an exploration of adaptive leadership theory and practice (Heifetz, 1994, 2001, 2009). These two leadership theories in tandem provide a uniquely Jesuit approach to leadership, with servant leadership cultivating the heart, while adaptive leadership provides an avenue for the head and hands. A focal point of the course is on helping students begin to develop a vision of their vocation as leaders by participating in real-time, casein-point examples of adaptive leadership. As a capstone to the Minor in Leadership Studies, students will practice their leadership skills and knowledge in a legacy project and construct a learning portfolio from their coursework.