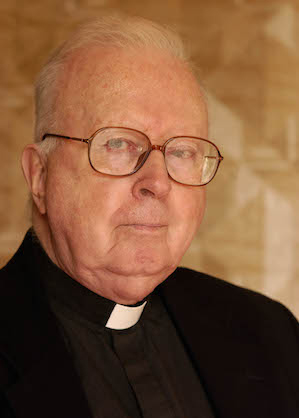 In the fall of 2007, the Fr. Fredric Schlatter S.J. Book Award was created to honor academic excellence among graduating seniors in the fields of Classics and Classical Civilizations.
The award is presented each spring at Gonzaga's award convocation to the graduating student who has shown a genuine passion for the Classics, a mastery of the ancient languages and a high level of academic integrity and accomplishment in his or her major concentration.
The award is named after Fr. Schlatter, whose steadfast commitment to academic excellence, his achievements in scholarship, and his tremendous devotion to the Classical Civilizations program at Gonzaga have long been recognized at our school, in Spokane, and across our region. The prize itself consists of a reference book on a subject in a field of Classics or Classical Civilizations that matches the interests of the recipient, who is selected by a vote of the department faculty.
Past recipients of the Fr. Schlatter book award include:
2017: McKayla Ferris
2016: Brian Foster-Dow
2015: Katharine Gibbs
2014: Taylor Ann Sims
2013: Hanna Hanks
2012: Sydney Taylor and Antone (Tony) Pierucci
2011: Jennifer Van Houdt
2010: Alexander Gross
2009: Maureen Plass
2008: Anna-Sophia Zingarelli