Calendar of Events
Summer 2021
Fall 2021
Spring 2022
Past Events
---
Summer 2021 Events
---
July 20 - Heating Our Homes and Addressing Climate Change: Greenhouse Gas Emission Forecasts for Electrification of Space Heating in Residential Homes
Speaker: Theresa Pistochini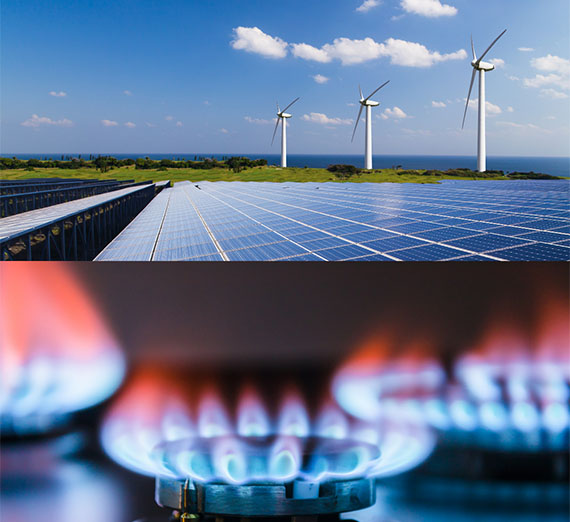 Date: Tuesday, July 20, 2021
Time: 6-7:30 p.m.
Location: Zoom Meeting
Free and open to the public.
The Spokane Sustainability Action Subcommittee has recently released a draft plan that recommends phasing out natural gas hookups for all new commercial and multifamily residential buildings by 2023, and from all new construction by 2028. This proposal created significant discussion within the community about whether we can continue to use fossil fuels such as natural gas (methane) and address the climate crisis, with members of the climate action group 350 Spokane arguing in favor of the provision and Avista Utilities arguing against. In its guest opinion in the Spokesman-Review, Avista Utilities cited a study by UC Davis, claiming that it "confirms that in Washington, electrification of natural gas heating can actually increase carbon emissions." Others have argued that the UC Davis study proves the opposite, that switching from natural gas furnaces to electric heat pumps will drastically reduce climate pollution.
To help contribute to the public discussion of this important issue, the Gonzaga Center for Climate, Society, and the Environment has invited Co-Director of the UC Davis Energy Efficiency Institute and Western Cooling Efficiency Center, Theresa Pistochini, to discuss the UC Davis study and what it does and does not say about the likely impacts of transitioning from natural gas to electricity for our home heating in Spokane.
About Theresa Pistochini
Theresa Pistochini is Co-Director of Engineering at the UC Davis Energy Efficiency Institute and Western Cooling Efficiency Center with 12 years of experience in applied research in energy efficiency and building operation, primarily in the areas of Heating, Ventilation, and Air Conditioning. She led the development and construction of an HVAC testing laboratory in 2013 and has served as co-PI or project manager on several large projects, including the California Energy Commission funded project to develop a Product Evaluation Hub. Theresa provides technical management for the engineering staff, reviewing project progress including experimental plans, analyses, results, and publications. She earned her M.S. degree from UC Davis and is a registered professional engineer in California.
Abstract
Most residential buildings in the United States are heated and cooled by either a natural gas furnace paired with an air conditioner or an electric heat pump. A growing number of policymakers are considering electrification (converting natural gas appliances to electric heat pumps in new and existing construction) as a means of reducing greenhouse gas (GHG) emissions that result from natural gas combustion and leakage. Although electric heat pumps do not have on-site combustion, there are emissions associated with the electricity that powers them as well as with refrigerant leaks.
This novel study considers GHG emissions impacts of installing and operating a heat pump or gas furnace for 15-years across all U.S. regions and climates, including emissions from electricity generation, combustion, and from methane and refrigerant leakage. The study applies long-run marginal emissions factors to represent future grid emissions from permanent increases in electricity demand that are expected to result from heat pump adoption.
Learn more:
---
Fall 2021 Events
September 10 - Understanding the Latest IPCC Climate Report
Speakers: Dr. Hugh Lefcort & Dr. Betsy Bancroft
Date: Friday, September 10
Time: noon-1pm
Location: Hemmingson Center, Room 314A and via livestream
Free and open to the public.


Recently the Intergovernmental Panel on Climate Change (IPCC) released the first comprehensive update to our understanding of climate science (Assessment Report 6 or AR6) in seven years. In this presentation Gonzaga Biology Professors Hugh Lefcort and Betsy Bancroft will share some of the key findings from this latest climate science report and its significance. Attendees are encouraged to come with questions and ideas for discussion.
About the speakers: Dr. Hugh Lefcort is Professor of Biology at Gonzaga University. Dr. Lefcort served as a peer reviewer on the IPCC's sixth Assessment Report. Dr. Betsy Bancroft is Associate Professor of Biology and of Environmental Studies at Gonzaga University.
---
September 13 - Building Communities in a Dying Civilization
Speaker: Dr. John B. Cobb, Jr.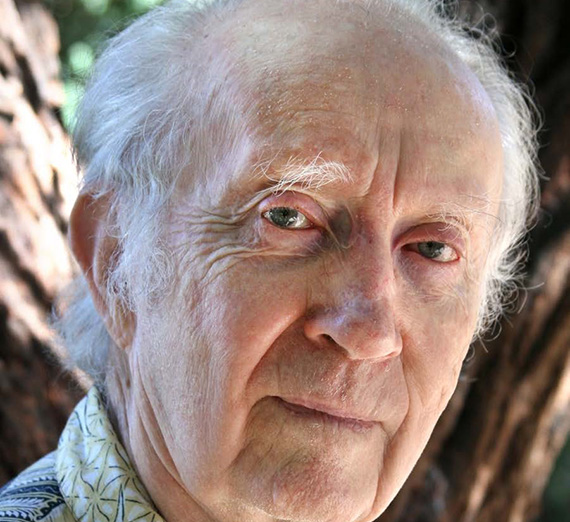 Date: Monday, September 13, 2021
Time: 4-5:30 p.m.
Location: Zoom Meeting
Free and open to the public.
The civilization we have known is dying. Sadly, it is not transforming itself into something that could survive. Accordingly, the death of the civilization will also be the death of billions of people as well as the extinction of thousands of species. Given that it is too late to prevent losses, what can we do? My judgement is that we can build sustainable local communities many of which can survive. If we made this global policy, even now, our losses would be greatly reduced.
About John B. Cobb, Jr.
John B. Cobb, Jr. was born of Methodist missionary parents in Japan in 1925. His schooling was interrupted by 42 months of military service in World War II. When separated, he attended the University of Chicago, completing a PhD in the Divinity School, where he was introduced to neo-naturalism and especially to the philosophy of Alfred North Whitehead. From 1958 to 1990 he taught theology at the Claremont School of Theology. Together with David Griffin he founded the Center for Process Studies in 1973, and through this and other organizations, he has promoted the study of Whitehead and of the ecological civilization Whitehead's thought calls for.
---
September 27 - The Northwest Beyond Coal: The Fight to Close Colstrip
Speaker: Doug Howell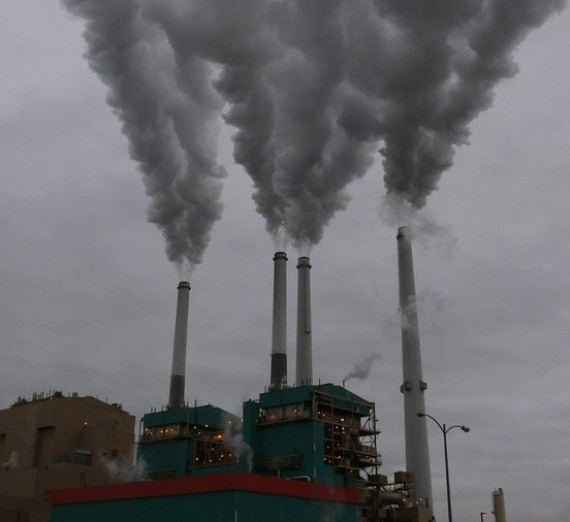 Date: Monday, September 27, 2021
Time: 6-7:15 p.m. (Pacific Time)
Location: Zoom
Free and open to the public.
Avista Utilities, Puget Sound Energy and four other northwest energy companies own the Colstrip coal plant in eastern Montana that has always been one of the top three – and sometimes #1 – climate polluter in the American West. After a 10-year campaign, the plant is on a path toward closure eliminating up to 17 million tons of carbon dioxide a year, equal to the climate emissions of over three million cars. How did we get there? What can we learn?

The Colstrip campaign has commonalities with most climate campaigns. There are essential campaign approaches that must be followed in order to ensure we are effective in ending the climate crisis. This presentation uses the Colstrip campaign as a case study to help inform effective climate campaigns for the work that lies ahead.
About Doug Howell
Doug Howell has been a social and environmental advocate for 30 years. The majority of Doug's professional career has focused on environmental issues, primarily global warming. In the 1980s in Washington, DC, Doug worked for U.S. Senator Barbara Mikulski (D-Maryland) on environmental and other issues. In 1990, Doug worked for a law firm where his main client was the California Energy Commission (CEC). For next nine years, Doug worked for the Environmental and Energy Study Institute (EESI), where he created and directed their transportation and energy program. In 2000, Doug was hired by Seattle City Light to implement their first-in-the-nation greenhouse gas (GHG) neutral program. In 2004, Doug moved to King County to develop their climate protection program, including the first-in-the-nation long-term GHG reduction targets and implementation plan. In 2007, Doug was hired to run the Northwest regional office for the National Wildlife Federation where he managed staff, raised money and set the pathway for NWF's future direction in the Northwest. In 2009, Doug joined the Sierra Club to run their Coal-Free Northwest campaign. In this capacity, Doug sets the priorities, develops the implementation plan, and coordinates organizational field staff, Sierra Club departments and external partners to make the Northwest the first coal-free region in the United States.
---
October 6 - 2021 Spokane Candidates Climate Change Forum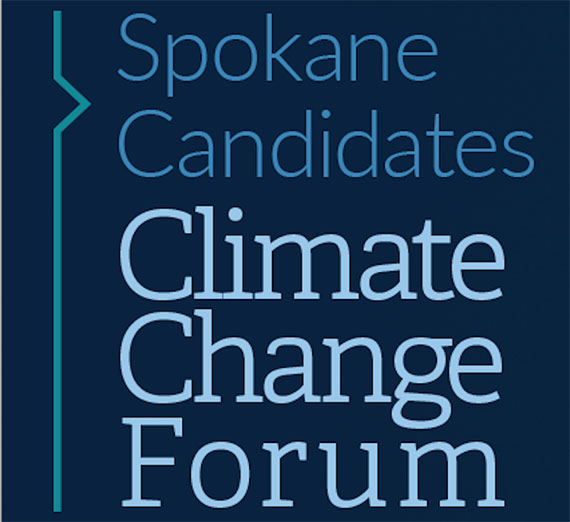 Date: Wednesday, October 6
Time: 6:30-8:30pm
Location: The Globe Room at Cataldo
Free and open to the public. Registration required.
What do local candidates for office think about climate change? How will it affect your vote? Gonzaga University's Center for Climate, Society, and the Environment will host the third annual Spokane Candidates Climate Change Forum for voters to hear local candidates' thoughts about the topic before the November election. The event is free and open to all.
Co-sponsored by: 350 Spokane; Futurewise; The Lands Council; Sunrise Spokane; Spokane Riverkeeper; Community Building Foundation; Gonzaga Environmental Studies and Sciences Dept.; Spokane Public Schools Student Advisory Council on Climate Change.
---
October 13 - Climate Girl Effect
Speakers: Professors Carolyn Cunningham and Heather Crandall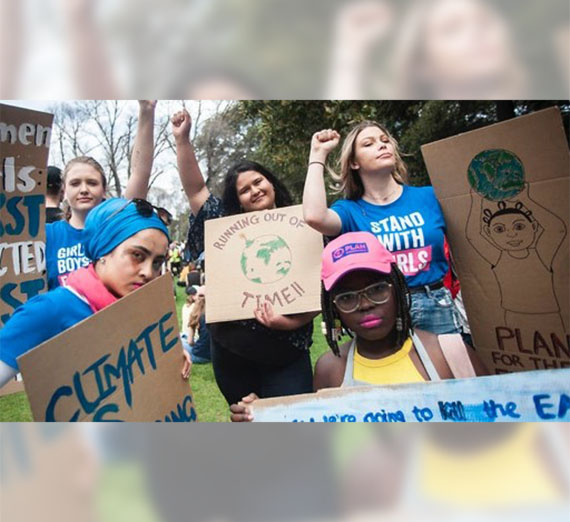 We will discuss our recent book: Fridays, Flint, and Fire: The Climate Girl Effect that explores girls' technofeminist activism in the climate justice movement. This activism takes the form of apps and video games, letters, protest, funktivism, launching non-profits, and lawsuits. In the current moment, girl activists challenge traditional gender boundaries as they fight for a livable future.
About the Speakers
Carolyn Cunningham and Heather Crandall have been researching, publishing, teaching, and presenting together for years on topics of gender, technology, and social media activism. They have a chapter in the book, Social Media for Social Justice: Cyberfeminism in the Digital Village, they won a top paper award for their paper on hashtag activism that later became a journal article in Explorations in Media Ecology. They both are affiliate faculty in the Women's and Gender Studies program at Gonzaga. As educators, Dr. Cunningham and Dr. Crandall designed and taught a course on Women, Communication and Leadership that turned into their edited collection, Gender, Communication, and the Leadership Gap (2017). Dr. Cunningham and Dr. Crandall are excited to share insights from their new book, Fridays, Flint, and Fire: The Climate Girl Effect (forthcoming May 2022).
---
October 19 - The Rights of Nature: Saving the Planet or Harmful to Humanity?
A moderated debate hosted by Brian G. Henning, Director of the Gonzaga Center for Climate, Society, and the Environment, Professor of Philosophy and Environmental Studies.
Proponents of the rights of nature argue that the environmental regulatory system – which treats nature as merely property to be owned – has failed to protect nature and our own life support systems, and that a radical change in the law is needed which re-positions humanity in the role of a guardian or trustee of the best interests of those natural systems.

Opponents of this approach see recognizing the rights of nature as inappropriate and ultimately demeaning to the special dignity of the human person – undermining a rights-based system of law which makes humans exceptional.

The leading proponent and opponent will come together to debate this important issue. The Rights of Nature: Saving the Planet or Harmful to Humanity?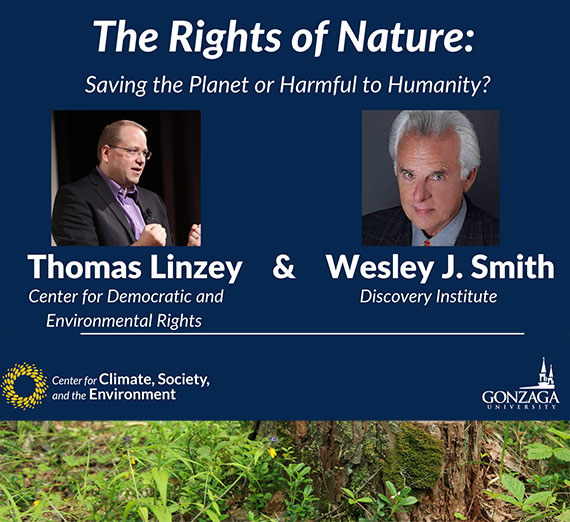 Date: October 19, 2021
Time: 5:30 p.m. to 7:00 p.m. (Pacific)
Location: Zoom Meeting
Free and open to the public.

Featured panelists:
Thomas Linzey, Senior Legal Counsel
, the Center for Democratic and Environmental Rights (CDER)
Mr. Linzey is an attorney and senior legal counsel for the Center for Democratic and Environmental Rights (CDER). He is widely recognized as the founder of the contemporary "community rights" and "rights of nature" movements, which have resulted in the adoption of several hundred municipal laws across the United States. Linzey's work has been featured in the New York Times, the Los Angeles Times, Mother Jones, and the Nation magazine, and he was named, in 2007, as one of Forbes' magazines' "Top Ten Revolutionaries." In 2018, Linzey was named by American Environmental Leaders as one of the top 400 environmentalists of the last 200 years. He is the author of several books, and has been featured in Leonardo DiCaprio and Tree Media's films 11th Hour and We the People 2.0.
Wesley J. Smith
, Chair and Senior Fellow, Discovery Institute's Center on Human Exceptionalism
Mr. Smith is an attorney, and serves as Chair and Senior Fellow at the Discovery Institute's Center on Human Exceptionalism. Since 1985, he has published thousands of articles, columns, and opinion pieces on issues pertaining to the moral importance of human life, addressing the entire spectrum of bioethical issues relating to conscience, patient protection, eugenics, suicide, transhumanism, medical ethics, and law and policy. His writing has appeared in Newsweek, the New York Times, the Wall Street Journal, USA Today, and Forbes, among others, and he has appeared on more than a thousand television and radio talk/interview programs, including ABC Nightline, Good Morning America, Larry King Live, CNN Anderson Cooper 360, CNN World Report. He has testified as an expert witness in front of federal and state legislative committees, and is an international lecturer and public speaker.
---
November 3 - Thomas Berry's Vision for the Earth Community
Speaker: Dr. Mary Evelyn Tucker
Date: Wednesday, November 3, 2021
Time: 4 p.m.
Location: Zoom Meeting
Free and open to the public.
Thomas Berry was a historian of both western and Asian cultures who created a unique history of religions program at Fordham University. After decades of study, Berry developed a comprehensive understanding of history - human, Earth and universe. From this perspective he offered a comprehensive context for revisioning education in a time of ecological and climate challenges.
About the speaker: Mary Evelyn Tucker teaches at Yale University where she is co-director of the Yale Forum on Religion and Ecology. Her special area of research is East Asian religions, especially Confucianism. She worked closely with Thomas Berry for three decades, edited his books, and is his literary executor. She wrote his biography with John Grim and Andrew Angyal.
---
November 16 - Climate Crisis as Public Health Crisis: A Regional Perspective
Speakers: Dr. Bob Lutz and Amber Lenhart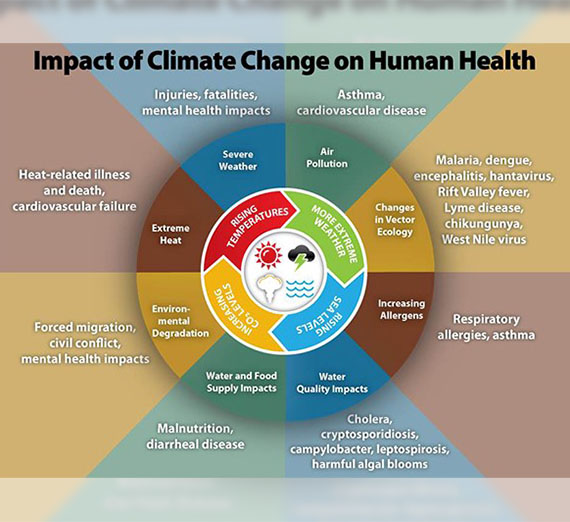 The effects of climate change on health are many – directly, such as poor air quality from wildfire smoke, to indirectly, such as increasing rates of zoonotic infections, and food insecurity with variations in regional agriculture. The Inland Northwest will need to adapt to these inevitable changes, and this presentation will provide both existing challenges as well as possible solutions.
About the speakers:
Bob Lutz, MD, MPH, is a Board-Certified Family Medicine physician, and holds adjunct faculty positions with the University of Washington School of Medicine and Washington State University Elson S. Floyd College of Medicine. He received his medical degree from Temple University in 1988, and a Master of Public Health from the University of Arizona in 2003. Upon moving to Spokane, WA in 2004 with his wife, Amy, he served on the Spokane Regional Health District's Board of Health for eight years, until being appointed as the Health Officer for Spokane County, WA from 2017-2020. He currently serves as the Health Officer for Asotin County, WA, is a member of the Washington State Board of Health, representing local public health, and is the Medical Advisor for the COVID-19 Response for the Washington Department of Health.
Amber Lenhart (she/her) was born and raised in the Spokane area and received her Master of Public Health degree from the University of Washington. Ms. Lenhart worked to improve the health of all people through local and state policy change while working for Health Impact Project, a collaboration of the Robert Wood Johnson Foundation and The Pew Charitable Trusts in Washington, DC, and most recently served as the Spokane Regional Health District's policy specialist. As a national expert in health equity through policy change, Ms. Lenhart has worked and lectured on the health impacts of systemic racism, unhealthy housing, childhood lead exposure, disasters and climate change, and the built environment.
---
Spring 2022
February 17 - An Evening with the Author of Braiding Sweetgrass, Robin Wall Kimmerer
Speaker: Dr. Robin Wall Kimmerer, PhD, Citizen Potawatomi Nation
Date: Thursday, February 17, 2022
Time: 5:30pm (Pacific Time)
Location: Zoom
Free and open to the public.
Join us for a memorable evening with the award-winning author of Braiding Sweetgrass, Robin Wall Kimmerer.

Braiding Sweetgrass: Indigenous Wisdom, Scientific Knowledge, and the Teachings of Plants is about alternative forms of Indigenous knowledge outside of traditional scientific methodologies. The book reframes the relationship between land and humans by exploring themes of reciprocity. Braiding Sweetgrass focuses on plants and botany as seen through Native American traditions and Western scientific traditions. The book received largely positive reviews, appearing on several bestseller lists. Professor Kimmerer is known for her scholarship on traditional ecological knowledge, ethnobotany, and moss ecology.

This event is co-hosted by the Gonzaga Center for Climate, Society, and the Environment, the Gonzaga School of Leadership Studies, and the Gonzaga Native American Studies Department.
About the speaker: Kimmerer is a mother, scientist, decorated professor, and enrolled member of the Citizen Potawatomi Nation. She is the author of Braiding Sweetgrass: Indigenous Wisdom, Scientific Knowledge and the Teachings of Plants, which has earned Kimmerer wide acclaim. Her first book, Gathering Moss: A Natural and Cultural History of Mosses, was awarded the John Burroughs Medal for outstanding nature writing. Kimmerer is a SUNY Distinguished Teaching Professor of Environmental Biology, and the founder and director of the Center for Native Peoples and the Environment, whose mission is to create programs which draw on the wisdom of both indigenous and scientific knowledge for our shared goals of sustainability.

As a writer and a scientist, her interests in restoration include not only restoration of ecological communities, but restoration of our relationships to land. She holds a BS in Botany from SUNY ESF, an MS and PhD in Botany from the University of Wisconsin and is the author of numerous scientific papers on plant ecology, bryophyte ecology, traditional knowledge and restoration ecology. As a writer and a scientist, her interests in restoration include not only restoration of ecological communities, but restoration of our relationships to land. She lives on an old farm in upstate New York, tending gardens both cultivated and wild.
---

March 7 - Climate Change in the Rural Northwest: Learning from Malden
Speaker: Scott Hokonson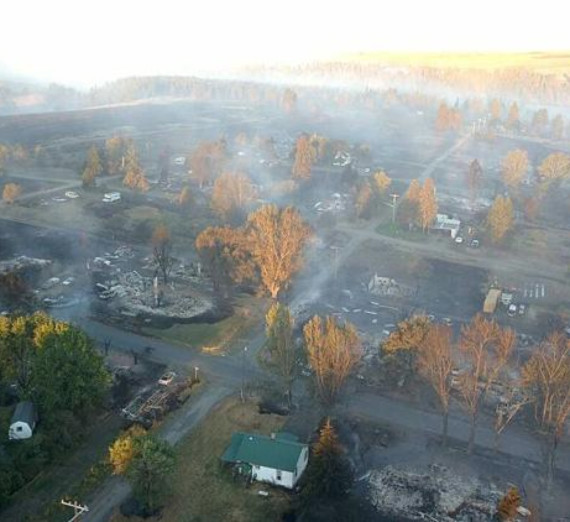 Date: Monday, March 7, 2022
Time: 6-7:30 pm (Pacific Time)
Location: Wolff Auditorium, Jepson Building, Gonzaga University & streaming online (streaming link will be emailed the morning of the event to registered attendees)
Free and open to the public.
On September 7, 2020 wildfires raged through northern Whitman County, Washington, fanned by wind gusts as high as 50 mph. The Babb Road Fire consumed more than 15,000 acres of Palouse farmland and habitat and engulfed the towns of Malden and Pine City, forcing nearly 200 residents to evacuate. The fast-moving fire consumed the Town of Malden in only two and a half hours, spewing briquette-sized embers and destroying 80% of the town's buildings, many down to their foundations. Among the rubble are the majority of homes and the town's only post office, town hall, fire station, food bank, and library.
In this talk Scott Hokonson will discuss the urgency of planning to be resilient to our changing climate and lessons learned that can help other communities in the Inland Northwest.
About the speaker
: Hokonson is Project Director for the Pine Creek Community Long Term Restoration Group. He is a Malden firefighter and Malden town council member who was working towards his masters in urban planning and social work when Malden burned in the Labor Day fires of 2020.
---
April 22-23 - Hope for Creation Conference
Date: Friday, April 22 and Saturday, April 23, 2022
Co-sponsors: Whitworth University, The Cathedral of St. John the Evangelist, Gonzaga Center for Climate, Society, and the Environment
Location: The Cathedral of St. John the Evangelist, 127 E. 12th Avenue, Spokane, WA
Registration: information coming soon

Hosted by St. John's Cathedral, in partnership with the Whitworth Office of Church Engagement and the Gonzaga Climate Center, the Hope for Creation Conference is designed to share a vision of hope for creation; spotlight local caretakers of land, water and air; and renew Spokane's leadership on environmental care.

Expo '74 was the first world's fair dedicated to the environment. It brought the topic of creation care to the world stage and helped shape the consciousness of the Spokane community. As we near the 50th anniversary of Expo '74, now is the time to look back at where we've been, consider carefully what is being done, and develop a road map for the future. Spokane was a leader in creation care then, and that leadership should continue.

All are welcome at this event – civic leaders, nonprofit organizations, faith communities, business people and engaged citizens. All points of view are needed, and the dignity of each person will be respected.
---