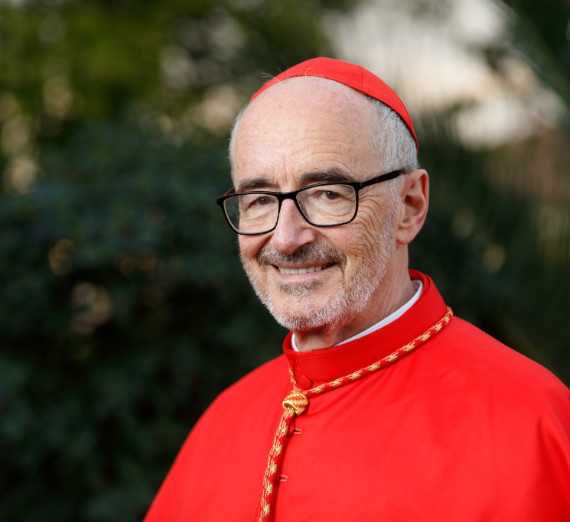 On March 9, 2023, Gonzaga University was honored to host Cardinal Michael Czerny for a public address. Cardinal Czerny is Pope Francis' choice to lead the Catholic Church's efforts to become a better caretaker of the planet and all its creatures. His talk at Gonzaga explores the intersections between faith, climate change, and Gonzaga's role in caring for our common home. The event was hosted by the Gonzaga Center for Climate, Society, and the Environment, the Gonzaga Jesuit Community, and the Gonzaga Office of Mission Integration.
---
Caring for our Common Home, in This World and with This Climate
Event Description
Frightening news of climate-related disasters – wildfires, hurricanes, floods or tornados, record summer highs and warmer winters – comes at us almost daily and from almost everywhere in in the world. Millions of families are migrating after their homes and livelihoods have been destroyed "by climate", and usually these are people in resource-poor places that lack the means to bounce back. Where is God in all this? Can we – blessed with faith and with education - do anything to help prevent such disasters and rebuild a better world? With his 2015 encyclical Laudato Si': On Care for our Common Home, Pope Francis invited people of all backgrounds to undergo an "ecological conversion" in order to live in better harmony with God, with one another, and with all of God's creation. Therefore "a great cultural, spiritual and educational challenge stands before us, and it will demand that we set out on the long path of renewal" (Laudato Si, paragraph 202) Czerny is in charge of the Catholic Church's efforts to assure humanity's ability to live in dignity. Given how climate-related disasters disproportionately affect the world's poorest citizens, Czerny's work involves not just the science of climate change, but migration patterns, social services, global economics and more.
Context
Pope Francis announced in May of 2021 an important new initiative called the Laudato Si' Action Platform, which invites every Catholic work to develop a plan to embody the idea that everything is closely related and that today's problems call for a vision capable of taking into account every aspect of the global crisis. This project was launched in October of 2021. Gonzaga's Climate Institute aims to be a leader in this space as we envision what the climate crisis and integral ecology require of institutions of higher education. Taking place a year after the official launch of the Laudato Si Action Platform, Cardinal Czerny's talk will be aimed at both a local and an international audience.
Biography
Cardinal Michael Czerny, S.J. (Gonzaga class of '68), is Prefect of the Vatican Dicastery for Promoting Integral Human Development. Cardinal Czerny is uniquely qualified to tackle the complexities of the climate crisis, as he has worked on complicated and urgent issues for the Church since being ordained as a Jesuit priest in 1973. Early in his career, he assumed the director's role of the University of Central America's Institute for Human Rights after his predecessor was one of six priests murdered in El Salvador. He later worked with the United Nations in mediating an end to that country's civil war. In 2002, he founded the African AIDS Network, leading the organization for nine years in coordinating efforts in nearly 30 sub-Saharan African countries to provide health care, education and social services for victims of HIV/AIDS, channeling funding from a multitude of foreign sources in the process. In 2016, Pope Francis assigned Cardinal Czerny a major role in working with migrants and refugees around the world.
Questions, contact ClimateCenter@gonzaga.edu
---
Events and lectures like this one are only possible through generous supporters. Consider supporting the Institute for Climate, Water, and the Environment.