School of Leadership Studies Alumni Webinar
November 11, 2020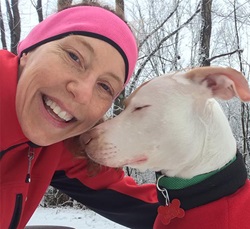 Veterans Day marked the first School of Leadership Studies Alumni Webinar: Listening, Empathy, Awareness & Dignity: LEADership Through Storytelling & Companionship. Centered on themes of unconditional listening and acceptance, panelists explored the intersection of leadership and storytelling through the lens of Veterans and their service animals. Christine Hassing (pictured right), Alumna of Gonzaga's M.A. in Organizational Leadership, was joined by fellow alumni, United States Military Veterans and spouses of to mark the release of her new book, Hope Has A Cold Nose, a compilation of co-authored life stories featuring remarkable Veterans and their unique journeys to hope with the support of their cold-nosed companions.
Expanding beyond any single context, the conversation here and the stories that it frames reveal important leadership lessons in narrative inquiry and trust-building, and offer an opportunity to examine the roles that meaning and companionship play in our lives. As storytellers and story-listeners, we can begin to forge new pathways to hope, dignity and collective healing.
Webinar Panelists:
Christine Hassing: Author of Hope Has a Cold Nose,M.A. Organizational Leadership '18
Michael Ortiz: Prologue contributor in Hope Has a Cold Nose, United States Military Veteran, M.A. Organizational Leadership '19
Taylor Rowell: United States Military Spouse, M.A. Organizational Leadership '19
Moderated by Alan Westfield: Professor of Military Science, United States Military Veteran, Ph.D. Leadership Studies '12
More About Hope Has a Cold Nose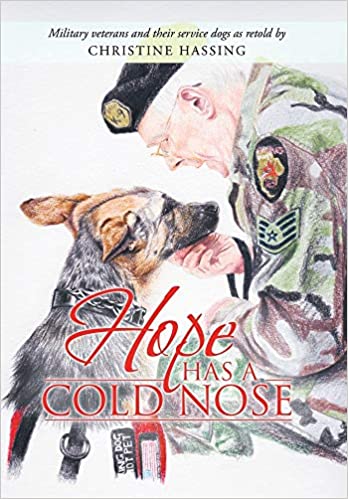 In Hope Has a Cold Nose, Christine Hassing relays true stories of soldiers and others who rose from the ashes of PTSD with the help of their service dogs. Devoting every chapter to a different human-canine pair, Hassing shares the story of each person with PTSD and their service dog with pathos and creativity.
These powerful stories, part testimonial, part author's interpretation using rhythm and rhyme, bring important insights about how service dogs help people with PTSD in countless ways. From sensing a nightmare and waking a soldier before terror takes hold, to placing a comforting paw on someone's shoulder to ward off a panic attack, these dogs play a key role in helping those who've lived through trauma reintegrate into society.

Lovingly written, Hope Has a Cold Nose is a unique and compelling collection of survivors' stories for dog lovers of all kinds, for those who've experienced PTSD and their loved ones, and for those interested in how service dogs can help people heal from the deepest emotional wounds.
Now available for purchase via Amazon, Balboa Press, Barnes & Noble, and Kobo.