Gonzaga's online RN to MSN program is designed for registered nurses with an associate's degree in nursing who want to earn an advanced nursing degree.
The RN to MSN program gives you an accelerated path to earn your master's degree thanks to bridge courses that prepare you for master's-level course work.
Bridge Course Program:
Study major research methods and approaches to improving health care and patient outcomes
Update you knowledge and skill in health assessment
Learn how to create healthy work environments and improve population health
Gonzaga's RN to MSN in Nursing Leadership in Healthcare incorporates knowledge from business, organizational behavior, quality improvement, health care law and nursing to teach you how to devise innovative solutions to today's complex health care problems.
You will gain knowledge and competency in financial and human capital management and learn strategies for responding to the ethical and legal issues encountered in administrative roles.
Potential Career Tracks:
Clinical Nurse Manager
Chief Nursing Officer
Director of Nursing
Nurse Administrator
Executive Director
Care Mgmt. Coordinator
Health Director
Medical Director
Clinical Nurse Leader
Asst. Nurse Manager
Outcomes
Facilitates effective communication and interprofessional collaboration
Demonstrates a commitment to ethical principles in decision-making and practice
Utilizes best evidence as a basis for decision-making in a defined area of advanced nursing practice
Demonstrates leadership and advocacy in defined areas of advanced nursing practice
Demonstrates or promotes safe and effective practice in a defined advanced nursing role
Gonzaga is regionally accredited by the Northwest Commission on Colleges and Universities (NWCCU). The baccalaureate, MSN and DNP programs at Gonzaga University are accredited by the Commission on Collegiate Nursing Education.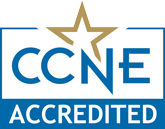 Commission on Collegiate Nursing Education:
655 K Street NW, Suite 750
Washington, DC 20001
(202) 887-6791