Putting Community Experience at GU in Action in Medical School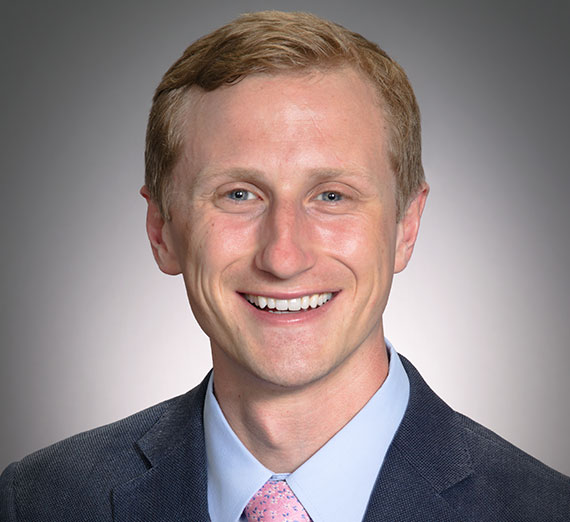 ---
Former GSBA president Taylor Kratochvil ('16) was in his second year of medical school at the University of Nebraska Medical Center in Omaha when COVID arrived in January 2020. Medical students transitioned from clinics and hospitals to remote learning.
"Everyone wanted to help," he recalled in a recent conversation. "We all felt the need to do something productive and to contribute in a meaningful way."
President of his class, he took a call from an associate dean who underscored the urgency of the situation and the practical contributions medical students could make: "I have a resident who cannot find child care with all the day care closures," she said. "Do you know someone who can babysit?" It was the first step in a quickly evolving system of action. Students developed a spreadsheet to identify everyone who was willing and available to take shifts.
"We provided childcare and pet care for frontline health care workers so they could work in the clinics and hospitals," Kratochvil shared. "We worked out schedules involving more than 200 medical students as well as student volunteers from public health, nursing, pharmacy, allied health and dentistry."
Addressing the urgent need for PPE – personal protective equipment – quickly became another vital challenge. Kratochvil and the team developed a system to get materials delivered, masks produced by volunteers, and then distributed to the health care centers.
"One of my partners used Google maps to determine volunteer routes to distribute cloth for masks and where to pick up supplies," Kratochvil explained. "She went through, neighborhood by neighborhood, dropping pins at each volunteer's house. I remember looking at the map and feeling something eerily familiar. Then it came to me – this was exactly like the asset map of Logan neighborhood I worked on with Sima Thorpe in the Center for Community Action and Service Learning (CCASL) when I was at Gonzaga. I remember thinking: This is literally asset mapping."
Gonzaga's Mapping Assets and Promoting Strengths (MAPS) project in 2014-15 used the Asset-Based Community Development (ABCD) model that helps communities identify existing strengths and benefits including individuals, physical resources, agencies and programs to capture opportunity and improve the local neighborhood. The study helped form the foundation of GU's current Opportunity Northeast initiative.
There were professionals familiar with the ABCD model in Omaha, so when the COVID urgency cleared, an associate dean recommended reflections and self-study to explore takeaways from the experience. What was learned during the pandemic? What resources should be maintained to help guide future plans?
Kratochvil and colleagues addressed those questions in "Asset-based Community Response: A Model Promoting Effective Student-Community Engagement in Disaster Scenarios," a paper published in "Progress in Community Health Partnerships: Research, Education and Action.""During a time of so much uncertainty, people were jumping at the opportunity to be involved," he said. "It would have been easier, though, if students were aware of what relationships and resources already existed. It took time to figure out how things needed to work."
"We need to recognize how valuable the investment is to work with neighbors – to truly understand who and what is working in our neighborhoods," he continued.
As GSBA president, Kratochvil had championed the first Logan Block Party in 2016. He points to the importance of establishing rapport with neighbors and fellow citizens.
"Things like the block party help you learn about the neighborhood – it's great to invest in them. Then, when you ask for help or you want to connect – it won't be outside of the normal. We are already partners. It shouldn't take a disaster to force us to work together."
Kratochvil is completing his residency in pediatrics at Boston Children's Hospital (Harvard University) and Boston Medical Center (Boston University) and plans to return to Nebraska to practice pediatric medicine.
Discover Logan's strengths with Gonzaga's MAPS Project. Explore assets, foster community growth, and engage with neighborhood initiatives.
This story originally appeared in Gonzaga Magazine as part of a feature on community engagement titled "We Belong to Each Other." Check out more stories from this piece.
---