Neighborhood, Community-Minded Volunteers Learning to Lead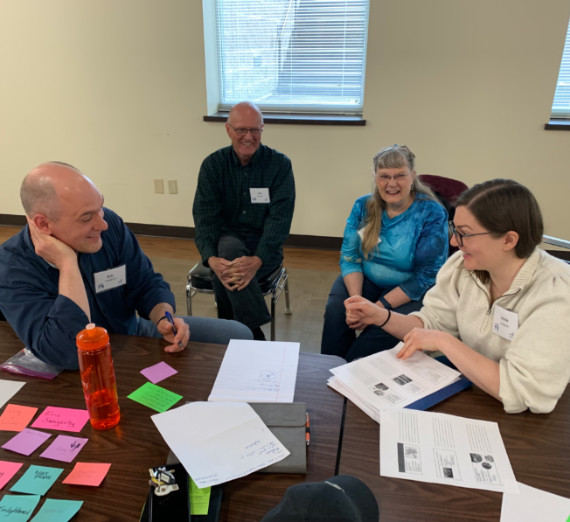 ---
The second cohort of the Spokane Neighborhood Leadership Academy (SNLA) wrapped up its six-session program with a cadre of grateful leaders ready to bring new energy and commitment to neighborhoods across the city.
The academy is a partnership between the city's Office of Neighborhood Services and Gonzaga's School of Leadership Studies. Launched in 2022, this program has hosted 25 participants from 18 of Spokane's 29 neighborhoods.
Academy participants learn about city government structure, who to contact at the city about neighborhood topics, how to run meetings and manage conflicts, and principles of diversity, equity and inclusion. They also learn from mentors and fellow participants who share their own experiences and missteps.
Several members of this year's group are first-time neighborhood leaders who valued both the information about city operations and the practical skills the course cultivates. Michael Skog, of Riverside, was particularly grateful to see upclose the complexity of local government.
"The governance of Spokane has a lot more moving parts than I realized," he says. Sessions with City Council members helped him understand that "council members really do rely on neighborhood councils to keep them informed."
"I also learned the importance of recognizing who is not in the room, and being mindful how decisions can impact those communities."
"What's really special about SNLA is that it allows folks to see themselves as community leaders in a new way," says Kelsey Solberg, then-SNLA co-instructor. "Everyone brings their experiences, perspectives and ideas that, when shared, make for such a rich learning experience for everyone. Once they uncover their unique power and really see themselves as leaders, they come alive."
Tienaya Godes, of Nevada Heights, who first stepped into advocacy at the state and national level to support Head Start, was among those who valued learning more about city operations with respect to neighborhoods.
"There was not one thing presented that isn't useful to me," Godes says. "I'm committed to setting an example my children can follow. Taking time to get connected, celebrating that even small accomplishments matter – everyone can play a part in building a stronger community."
Godes was surprised to learn that the neighborhoods across the city, though often sharing similar obstacles or concerns, vary greatly in their demographic makeup. While racial and economic backgrounds may be different, resident leaders learned that everyone should have a voice.
"We can make the process kinder, be more welcoming, and readjust our lens when considering what's great about this community," Godes says.
The Right Blend: Knowledge & Skill Development
"I started calling Logan neighborhood 'home' 35 years ago as an undergrad at Gonzaga," says Janean Jorgensen Schmidt ('92, '22 M.A.), who was elected chair of that council in June.
"I've been on nonprofit boards, and I've been petrified of running meetings or engaging in the difficult conversations a chair has to navigate. Without coaching sessions from the SNLA, I'd be very anxious about serving as chair," says Schmidt.
"SNLA gave me some useful tools and resources. I really believe this program is saving neighborhood councils from burnout."
Five longtime community leaders mentored the participants, accompanying them throughout the course, taking time to meet with, listen and share their personal experiences.
Carol Tomsic, a mentor from Lincoln Heights, notes that the Academy's thoughtful design is both practical and inspiring. And Kathryn Alexander says mentors help participants "see how things have been, and how they might change." She's a strong advocate of the Community Assembly, where neighborhood leaders work together.
"Neighborhood council leaders are busy handling multiple jobs and problems, and they traditionally think of their neighborhoods first," she says. "One neighborhood is one voice; the more we work together – at Community Assembly in particular – the stronger we all are."
Schmidt says she sees her neighborhood a bit differently after attending the Academy.
"I'm enjoying going for walks more. I'm appreciating residents who pick up trash and plant flowers. I'm saying 'hi' to more people on the sidewalk. I'm noticing graffiti and wondering how to redirect that energy into art."
The Spokane Neighborhood Leadership Academy welcomes applications for its 2024 cohort this fall.
This story originally appeared in Gonzaga Magazine as part of a feature on community engagement titled "We Belong to Each Other." Check out more stories from this piece.
---