'I Am Because We Are': Gonzaga in Zambezi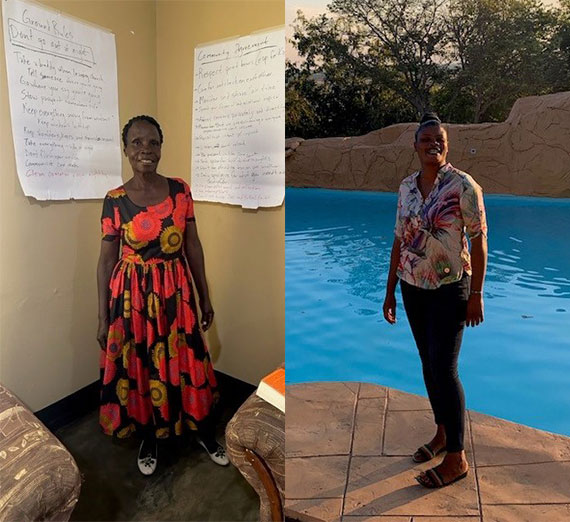 ---
On a warm evening in late May 2023, a small group of Gonzaga University students and faculty sit around the long table inside the Our Lady of Fatima convent in Zambezi, Zambia, listening to Kakuhu Josephine Lipako describe the teenage years she spent fighting for Zambian independence. At 75, Mama Josephine has spent a lifetime in various governmental roles. When a student asks Mama what makes a good leader, she is quick to respond. "Love," adding that nothing good can happen without love.
Love is a feeling our group encounters frequently among many residents of this small town in the Northwestern Province of South Central Africa. The Zambian concept of ubuntu – I am because we are – is evident in the way locals express abiding passion for their nation, their traditions, their churches and extended families. It is evident in the way they celebrate each other and the way they greet our Gonzaga group with songs and dancing when we land at the small dirt airstrip in Zambezi.
After 22 hours of air travel and time to visit Victoria Falls and Botswana, our group arrives at this town along the western edge of the country to sit at the table with the legendary Mama Josephine and listen to her stories. We will spend three weeks taking part in the Gonzaga-in-Zambezi program, a 16-year-old cultural immersion experience developed in 2007 by Professor Josh Armstrong and the University's community engaged learning center. He and Professor Jeff Dodd, who joined the program in 2013, emphasize that the program is about accompaniment or "coming alongside" the local community. Gonzaga students and faculty support ongoing efforts to improve health outcomes, inspire business entrepreneurship, and help in primary and secondary classrooms that are often woefully understaffed.
Catholic social teaching contemplates a concept known as subsidiarity, "a principle that implies those who are closest to the problem often best know how to solve it" (McLaughlin, see note). Our group is not here to instruct locals on how to fix things but to find out what they are doing and accompany them. Without question, we are students of this culture, guided by generous locals, acknowledging that our short stay here allows us only a tiny glimpse into this complicated place.
It is tricky, this program, finding ways to support the community without disturbing its environment. We wrestle with how much support to give, whom to give it to, and how to confront the guilt that lingers from the devastating effects of colonization that left Zambia and the entire continent with limited resources. Our nightly reflections can be difficult as we contemplate the inevitable cultural clashes that come from our Western lens and their Global South one. Despite these challenges, 13 young women, Jeff and I cannot help but find ourselves frequently enchanted by the experience.
We are also frequently overwhelmed by the graciousness with which we are received here and the seemingly endless generosity from so many people – Mama Josephine, Father David, Brother Moses, Mama Violet, Father Yona, and too many others to list. Each day, we are cared for by Mama Katendi Sengevu, who began cooking for that first group and gradually expanded her role, learning more English and preparing Zambian renditions of our familiar foods. Mama Katendi also serves as our cultural guide, explaining traditions and sometimes serving as an interpreter. In every way, she is the heart of this program.
The steady, almost fierce love that Mama Katendi gives us can never be fully appreciated, and it is our relationships with her and others that keep Jeff, Josh and a rotating cast of others coming back year after year. This spirit of accompaniment works both ways as we come alongside them and they us. link
McLaughlin, J. (2014, July). "Unfinished houses: Building the kingdom on God's time." America: The Jesuit Review. https://www.americamagazine.org/issue/unfinished-houses
Dive deep into cultural leadership in Zambezi with Gonzaga.
This story originally appeared in Gonzaga Magazine as part of a feature on community engagement titled "We Belong to Each Other." Check out more stories from this piece.
---