Welcome to Virtual GEL 2021!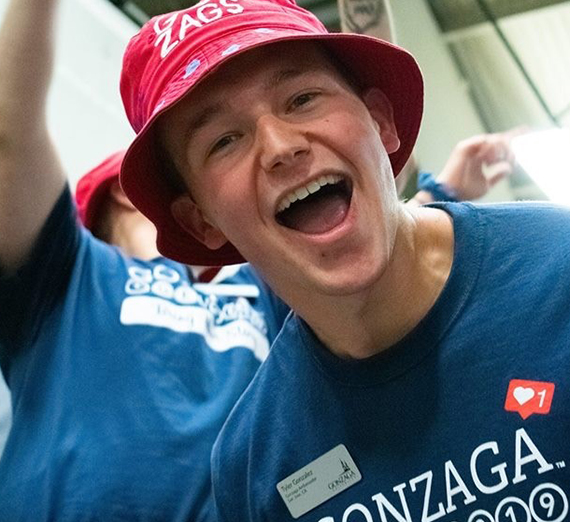 ---
Hello newly accepted Zags! My name is Tyler Gonzalez, and I am the student coordinator for this year's Gonzaga Experience Live (GEL) Weekend! I remember attending GEL Weekend during my senior year and having the time of my life. Since then, GEL Weekend has been the highlight of every year of my Gonzaga experience as I look forward to sharing the excitement, passion, and energy the Gonzaga community has to offer. GEL Weekend gives students like you a peak into what it is like to be a Zag, and there so are many people eagerly waiting to share their experiences with you!
I am currently a senior majoring in Math with minors in Environmental Studies and Computer Science. With all these areas of study, you would think I have a clear picture of what I want to do post-grad, but I am still narrowing down my passions. Gonzaga has helped invigorate so many of my different passions, including working with kids, improving the health of our planet, and demanding justice. I am still figuring out where this will lead me, but I am confident that my Gonzaga experience and holistic education has prepared me well. Aside from my classes, I have devoted my time to many different niches within the Gonzaga community. Whether it is mentoring a local elementary school student through our Center for Community Engagement, giving campus tours to prospective students as a student ambassador, working in the Visit Office, spending a semester abroad in Italy, or playing way too many intramural sports, I have taken full advantage of the opportunities Gonzaga has to offer. My experiences are just the tip of the iceberg in terms of involvement on campus. I am so excited for you to get a glimpse into this amazing Gonzaga community and imagine what life might be like for you should you choose to join us on campus next fall!
No matter what your experience with Gonzaga might have been like up to this point, I encourage you to dive into GEL Weekend with an open mind and limited expectations. Talk to a club you think you might be interested in, form a connection with a fellow accepted student, ask a good question to a student ambassador, picture yourself sitting in a college class, and start to imagine your life as a Gonzaga student. Coming to Gonzaga has been the best decision I have ever made, and I am beyond excited to be sharing this experience with you all. Please reach out to me with any questions or concerns. We can't wait for you to Be You at GU during GEL Weekend!