When Should I Visit Campus?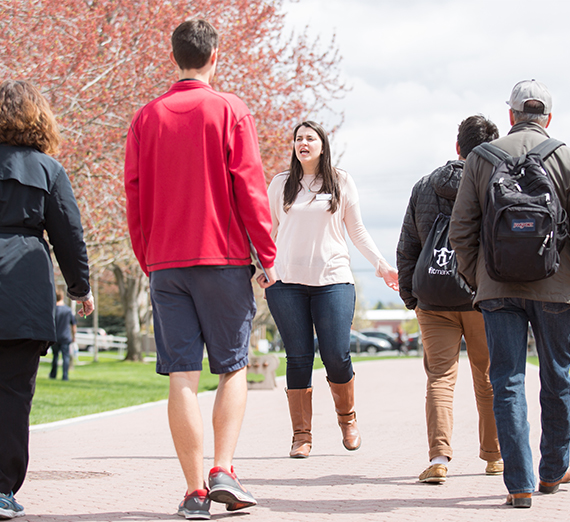 ---
Many students ask us when the best time to visit campus is, and we hope this helps answer that question! Regardless of if you're admitted or still weighing your options, you really can't go wrong with any campus visit. Nevertheless, see below for our various options. We are excited you are considering a visit, and look forward to seeing you on campus!
Regular Campus Tours
If you aren't able to dedicate a full day to visiting campus or you're looking for something a little more tailored to your interests, our individual visits are another way to experience Gonzaga. We offer individual visits most Mondays – Fridays, unless it's a holiday or Preview Day. During an individual visit, you have the opportunity to take a tour with other students, meet with an admission counselor, and potentially meet with a faculty member or attend a class. For more information on individual visits, check-out our website.
Preview Days
If you're looking for an opportunity to get a little taste of everything, but aren't able to come for GEL, Preview Days are a great option. We have Preview Days available in both the fall and the spring, and they are full days of events with activities from a campus tour, to a student panel, to academic sessions (plus, a delicious lunch!). We'd love to have you join us for one of our Preview Days!
Nursing Fridays
For students admitted to the nursing program, if you cannot attend GEL or a Preview Day, then sign up for a Nursing Friday! The program includes a campus tour, a tour of the nursing facilities, and an information session about the program. More information can be found here.
Saturday Visits
Need a quick visit on a Saturday? On most Saturdays during the school year, we offer an information session at 11:30 am and a 90-minute campus tour at 12 pm.
GEL Weekend
Gonzaga Experience Live, or GEL, is our annual admitted students' weekend that takes place April 18 - 19 in spring 2020. This weekend is a great opportunity to immerse yourself in GU in a variety of ways. From sample classes, to late-night kickball, to improv shows, GEL Weekend provides several ways to get to know professors, current Gonzaga students, and other admitted seniors – who knows, you might meet your future roommate! Admitted students have the option to stay overnight with a Gonzaga student in the residence halls or to come for the day only, but either way, you're bound to get a taste of life as a Zag during GEL.
If none of our in-person visit programs work for you, we also offer a Virtual Tour to help you explore our campus and residence halls from anywhere!
Our Visit Calendar is a great resource to check our visit schedule for the coming months. If you would like to schedule a visit, please submit a Visit Request Form. We would love to have you explore campus with us, and encourage you to contact our office with any questions at visit@gonzaga.edu or at 509-313-6531.
We hope to welcome you to campus soon!