10 Ways to Visit Gonzaga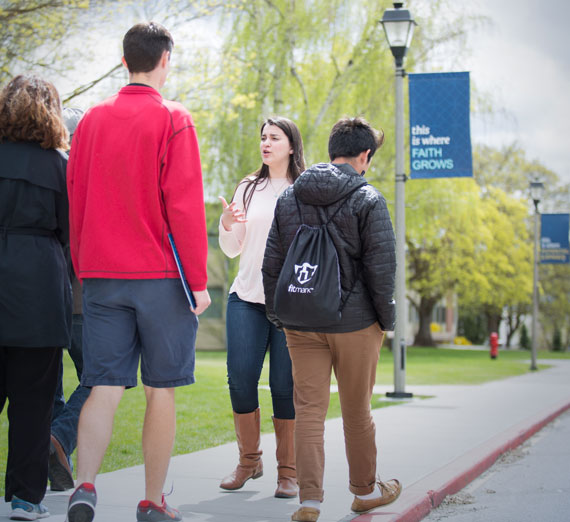 ---
So, maybe you are considering Gonzaga, but find yourself wondering, "Is it really as amazing as they keep saying?" or "Is it a good fit for me?" We think so, but consider this our open invitation to come see it for yourself.
There's nothing like visiting Gonzaga's campus to get a real idea of whether this is the place for you. We have a variety of options so you can be sure your tour will fit your interests and schedule.
1. Go on a Guided Campus Tour
When you think of a campus tour, this is the one that comes to mind. Complete with a guide who has honed their ability to walk backwards. You'll have the opportunity to see campus, visit a residence hall and meet with an admission counselor, if you're interested. Schedule your Campus Tour.
2. Meet One-on-One with an Admission Counselor
Get your questions about academics, campus life and activities, and financial aid answered during an interview with one of our Admission Counselors. Schedule your Admission Interview.
3. Join us for a Preview Day
Think of it like an open house. You'll get to go on a campus tour, hear an overview of our admission process from our Dean of Admissions, participate in an interactive student panel discussion, learn more about financial aid and academic programs. Plus, breakfast and lunch are on us. Learn more about Preview Days.
4. Get to Class Early
Get a real preview of academic life at Gonzaga. Faculty meetings and class visits are available during the school year to High School Juniors and Seniors as well as transfer students, and require two weeks' notice. Schedule your Class Visit or Faculty Meeting.
5. Make Your Friday Plans with the Nursing Department
Tailored to meet the needs of nursing students, Nursing Fridays will give you the opportunity to learn more about our nursing program, explore the facilities and labs, and interact with nursing faculty. Nursing Fridays are available to high school juniors and seniors. Two weeks' notice is appreciated. Learn more about Nursing Fridays.
6. Stay Overnight
A unique opportunity to experience campus life in a way that is completely different and more personal than your average tour. You'll be hosted by a Gonzaga student, stay in a residence hall, have a meal in the COG, and your hosts will help you experience what it means to be a Zag. Overnight Visits are available to high school juniors and seniors in the fall, and to seniors in the spring and require at least two weeks' notice. Learn how to make the most of an overnight visit and get yours scheduled.
7. Stop by on a Saturday
For those times when a weekday just won't work. Schedule your Saturday Visit.
8. Bring a friend... or 40
We welcome middle school, high school, and international student groups to join us for a tour of campus. Learn more about scheduling your group visit.
9. Connect with Graduate Programs
If you are considering one of our graduate programs, you can connect directly with your program to arrange a visit customized to your interests. Connect with your program.
10. Be Your Own Tour Guide
If you can't make it to campus, campus will come to you. Start your self-guided virtual tour now.
---
Contact the Visit Office
1 (800) 322-2584, ext. 6531
visit@gonzaga.edu