Arts Broadening Scope Amid Pandemic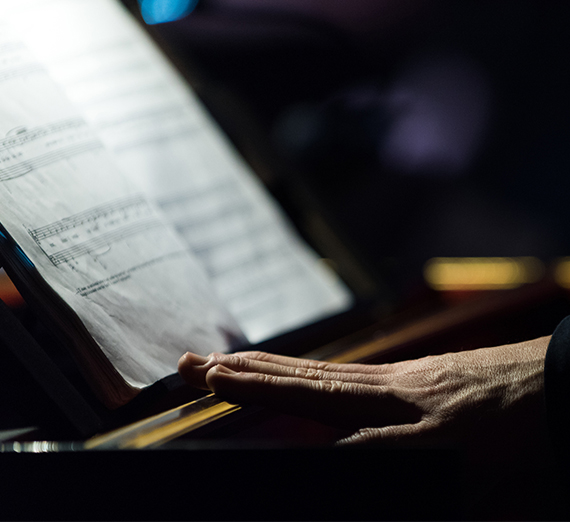 ---
Seems like every story starts out, "Because of the pandemic . . ."
Gonzaga's visual and performing arts are no different. Significant adjustments have been made to fall plans and schedules to give artists new ways of sharing their skills.
For example, Theater & Dance Chair Charlie Pepiton had to face the hard decision, made for him by COVID-19, to cancel the fall production of "Pirates of Penzance."
"Theater programs always talk about how they can get their classes involved with each other. But we always lack time to do so as we're working on productions outside of class," Pepiton says. "For the fall, we're focused on what we call 'deep practice.' We're going to be making theatre that adjusts to our new circumstances."
This fall, the Theatre Arts faculty plan to thread together four classes – playwriting, performance text analysis, acting 1 and directing 2 – to create a festival of new short plays. Students will write, research, analyze, act and direct these performances for a 10 Minute Play Festival, Oct. 9-10, delivered to live and online audiences. In the spring, the Theatre program will present Elmer Rice's award-winning play "The Adding Machine" on March 18-28. That production will be created to be responsive to the distancing and streaming needs of that moment. It's a play that explores, among other things, the relationship of technology to our humanity. "The Wolves" by Sarah DeLappe on April 29-May 1, is a student-directed, contemporary play about a women's soccer team. Theater is exploring staging it outdoors on one of Gonzaga's practice fields with chairs physically distanced for a live audience.
Gonzaga Dance Program intends to engage in performance opportunities even if that means audiences must experience them remotely, says Director Suzanne Ostersmith. Raven Spirit, an indigenous/contemporary dance company from Vancouver, B.C., will work remotely with the Gonzaga Repertory Dance Company in creating a work that will present in Seattle, Bellingham and Vancouver in March, if restrictions ease. Dance will be looking at other channels of presentation for a number of other dance performances previously scheduled this fall, including 60-Second Dance Works and Ballet Ensemble.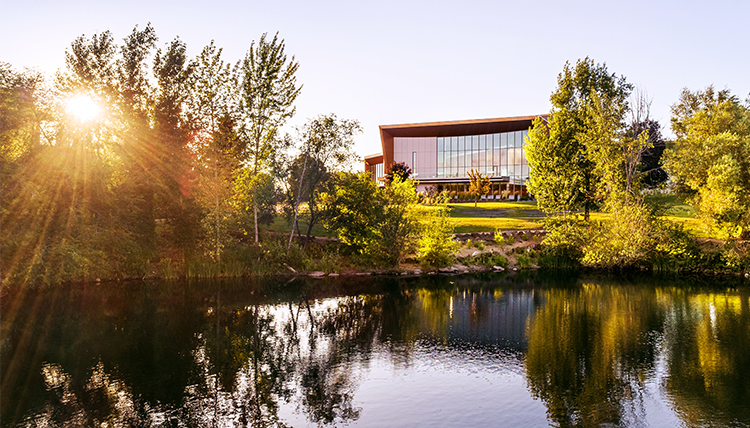 Gonzaga's new performing arts center will have to wait another season to fill the house.
The Myrtle Woldson Performing Arts Center will not be bringing any presenting events to campus this fall, with hopes that three touring events canceled last spring will be able to return this spring. "Only if the state and regional health officials ease restrictions to allow for public performances will the MWPAC be used for much more than possible class space this fall," says Director Laura Sims.
Gonzaga music programs are all taking new looks at how they present student performances. "We are going to work on a lot more repertoire – covering a different array of music," says Orchestra Director Kevin Hekmatpanah. "I would like to give students opportunities to be soloists with the orchestra – this is a valuable experience without the high stakes of public performance. If there is a student who would like to try their hand at conducting or composition, this will be a unique opportunity for them."
Choral collaborations are the theme for Gonzaga's choirs, which will be connecting music and Black Lives Matter, music of First Nations composers and international music. Director Tim Westerhaus plans to create recorded videos of his choirs singing in outdoor Spokane spatially-distanced spaces. Chamber Chorus will stage theatrical scenes in duos, trios and small ensembles, with streamed performances in mid-November.
The Choir's final project will be a pre-Thanksgiving Christmas concert, streamed with watch parties.
Meanwhile, the visual arts also are taking a COVID hit. Jundt Art Museum Director Paul Manoguerra says the Museum is open to the University community for educational purposes by appointment only. "We will open to the public, with restrictions, when the county gets to Phase 3, or if and when the museum industry gets the go-ahead from state health officials."
For details on these programs:
Support budding artists at Gonzaga!