'Drawn to the Wall VII' Exhibition with Five Artists Opens June 15 at Jundt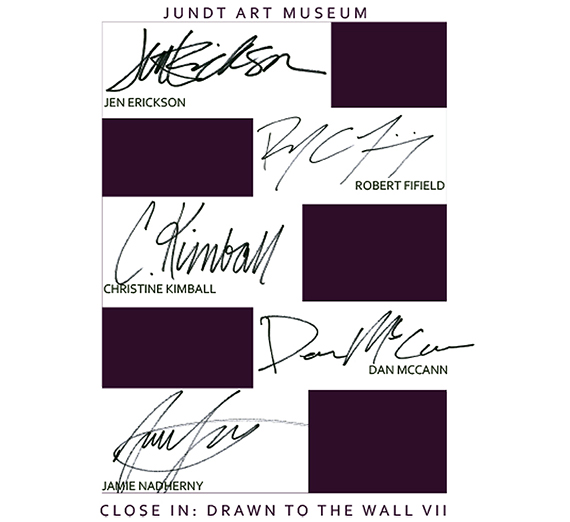 ---
SPOKANE, Wash. — "Close In: Drawn to the Wall VII," an invitational exhibition featuring the drawing installations of five well-known Northwest artists on 8-by-11-foot movable walls, will be on display in the Jundt Galleries of Gonzaga University's Jundt Art Museum from June 15 through Aug. 17.
Artists Jen Erickson, Robert Fifield, Christine Kimball, Dan McCann, and Jamie Nadherny will participate. The Jundt Art Museum will host a free public reception for the artists from 4-9 p.m., Friday, June 14. A free public walk-through with the artists, moderated by Paul Manoguerra, director/curator, will begin at 10:30 a.m., Monday, June 17.
The inspiration for "Drawn to the Wall" comes from a temporary installation of drawings done in 1995 by American artist Jim Dine in Ludwigsburg, Germany. Dine had six days to fill the interior of the gallery with charcoal drawings drawn directly on the wall. At the end of the gallery's six-week event, the pieces were washed off and the walls were painted over.
Every three years, the Jundt Art Museum invites five regional artists to draw on its gallery walls. Each of the five artists is given two weeks to complete a drawing on one side of an 8-by-11-foot wall in a "communal studio" environment. The unusual component of this invitational is that the drawings will be removed by the artists themselves by painting them over after the exhibition.
Jen Erickson's work is inspired by scientific theories, memories, and the visualization of data. She uses this inspiration to create atmospheric mixed-media paintings featuring forms created from the abundant accumulation of handmade marks. Layers of paint and graphite are built up, buried, and re-exposed through carving and sanding to reveal and conceal text and data from different stages of the process. As in memory, this painted information comes together and disperses, engaging in a constant continuum of growth and decay. Erickson received her bachelor of fine arts in painting from the University of Montana and her master of fine arts in painting and drawing from Central Washington University. She has taught classes at CWU, Gonzaga, and Eastern Washington University. She currently teaches printmaking, oil painting, watercolor and drawing at North Idaho College. Her work has been exhibited regionally and nationally.
Born in Montana, Robert Fifield spent the majority of his life moving from state to state throughout the Midwest. Fifield earned his BFA in painting, drawing, and printmaking from Millikin University (2005) and his MFA in painting from Illinois State University (2008). In 2013 Robert and his wife Donna moved from Illinois to Spokane so he could take a position teaching at Whitworth University. Fifield uses quilt patterns as a starting point. About quilts he says, "Quilts hold us close, and keep us warm wrapped in our beds. They are an ever-present reminder of the loved ones who crafted them as quilts connect human beings in ways that few objects can. At the time of the birth of my first child, Locea, I was struck with my desire to make these kinds of connective objects. Through this work I am demonstrating the warmth I find in geometric abstraction through the use of familiar, well-established quilt patterns."
Christine Kimball has been a working artist throughout the Inland Northwest since the 1980s. She is well known for her large-scale oil paintings, mural work, and small expressive landscapes that she grew to love when she attended Fort Wright College of the Holy Names. It was there that she met her mentor, Ben Moss, who later became the chair of the art department at Dartmouth College. Kimball received her BFA in painting and drawing at Fort Wright and continued her studies with Miriam Clare Murphy, SNJM, and Robert Gilmore at Gonzaga. In 1994 she received a fellowship from the LaNapoule Art Foundation in LaNapoule, France where she lived and worked for four months. Her work is in public and private collections in Seattle, Toronto, Los Angeles, Portland, Oregon, and Kyoto and has been featured on television series as décor.
Dan McCann has been working and exhibiting in the fine arts field for 30 years. He uses a variety of materials tailored to the intent and content of the art. Being self-taught, in the early 1970s McCann began working with glass — designing and building stained glass windows, fused glass, and creating a line of fused glass jewelry. The move into mixed media began in the early 1990s. "I felt my glass work began to stagnate, using arbitrary objects to create an ordered, a visual impact, establishing a relationship with the objects."
Jamie Nadherny (aka Lou Lou Pink) is a Spokane-based multidisciplinary artist who works primarily in sculpture, installation, and performance art. Her works focus on creating narratives situated around the exploration and examination of hybrid identities. Nadherny earned her BFA from EWU with an emphasis on painting; she earned her MFA from Pacific Northwest College of Art. Nadherny built a business that featured a gallery outside of Prague in the Czech Republic, opened a full-care horse boarding facility in Portland, Oregon, and relocated to Spokane to focus on making art. She currently teaches at Gonzaga's art department, and Spokane Falls Community College.
Green's Work in Arcade Gallery
In the Arcade Gallery, the Jundt Art Museum will feature "Close In: Evolution — Potter Harry Green's 50-Year Journey," which also opens June 15 with a reception to coincide with the "Drawn to the Wall VII" opening reception (4-9 p.m., Friday, June 14). Both exhibitions will run through Aug. 17.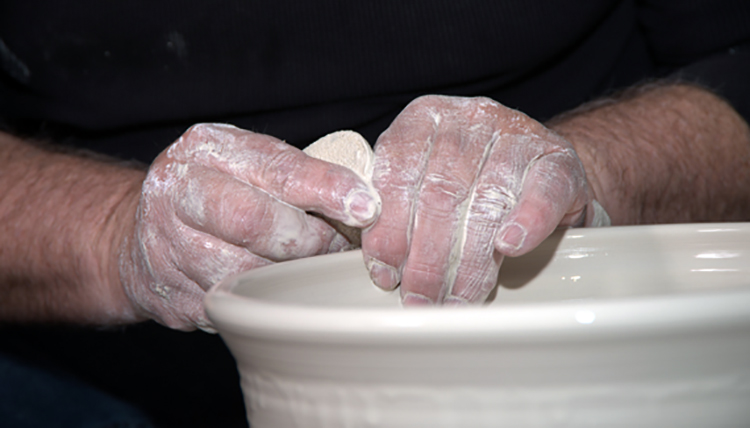 Active in establishing the study and creation of pottery at Gonzaga several decades ago, potter Harry Green studied at EWU, in Japan and Europe, and at University of California, Berkeley. Working for several years creating functional pots for Nordstrom, Green joined Pottery Northwest in Seattle. After almost 50 years, he continues to throw functional serving pieces, using porcelain clay and china white glaze. Green said he aims to "showcase a host's culinary skills, beauty of presentation, and hopefully longer visits around the table."
The Jundt Art Museum's exhibitions are free and open to the public from 10 a.m.- 4 p.m., Monday through Saturday; closed Sundays and University holidays. For more information call (509) 313-6843 or visit www.gonzaga.edu/jundt. To arrange a docent-guided tour, please call Karen Kaiser, curator of education, at (509) 313-6613.