Allie Kurtz Vogt: Layers' Exhibition of Oil Paintings Opens July 9 at Jundt Art Museum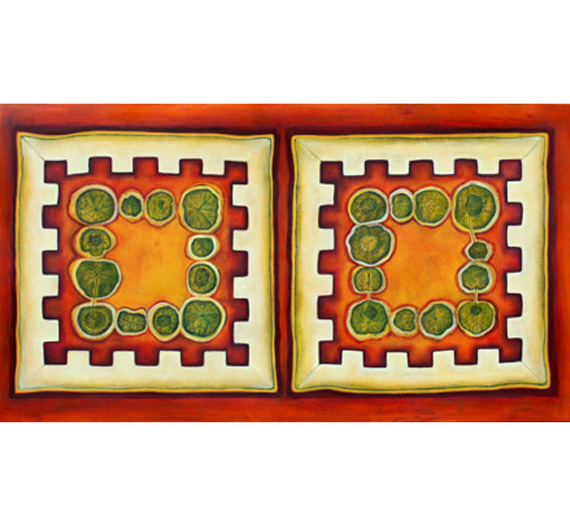 ---
SPOKANE, Wash. – The Gonzaga University Jundt Art Museum continues "Close-In," its series of summer exhibitions featuring work by regional artists, with "Allie Kurtz Vogt: Layers," an exhibition of oil paintings that opens July 9 in the Jundt Galleries and runs through Aug. 15.

An artist and educator who has lived in Idaho for the past 33 years, Allie Kurtz Vogt has been an art instructor at North Idaho College in Coeur d'Alene since 1980 and served as the Union Gallery Director at NIC from 1985-1996. In 1997, Vogt became coordinator for the Boswell Hall Corner Gallery, NIC. Her large-scale oil paintings contain fragments of her past, and tangible links to her memories of family, friends, and places.

"Growing up in a Catholic Family," says Vogt, "the beauty of the images and rituals in church has always been very profound and influential throughout my life as a painter."

These intensely personal works are tributes to those she loves. The exhibit will feature new works as well as selected paintings from past exhibitions.

Vogt earned a Bachelor of Fine Arts degree in painting from Colorado State University, a Master of Fine Arts at CSU, and studied in Florence, Italy and Vienna, Austria. She was an artist/participant in the first Drawn to the Wall exhibition at the Jundt Art Museum in 2001. Her work is in collections throughout the United States.

A free public walk-through with the artist will begin at 4 p.m., Thursday, Aug. 15 followed by a reception from 5-6 p.m.

"Tradition and Transformation: Dale Chihuly," showcasing the work of well-known glass artist Dale Chihuly, continues in the Arcade Gallery through July 31.

The museum's exhibitions are free and open to the public Monday through Saturday, 10 am to 4 pm. The museum is closed Sundays and school holidays. For more information, please contact Karen Kaiser, assistant curator for education, at (509) 313-6613 or via e-mail.