Highlights from Gonzaga's 126th Commencement
Commencement 2019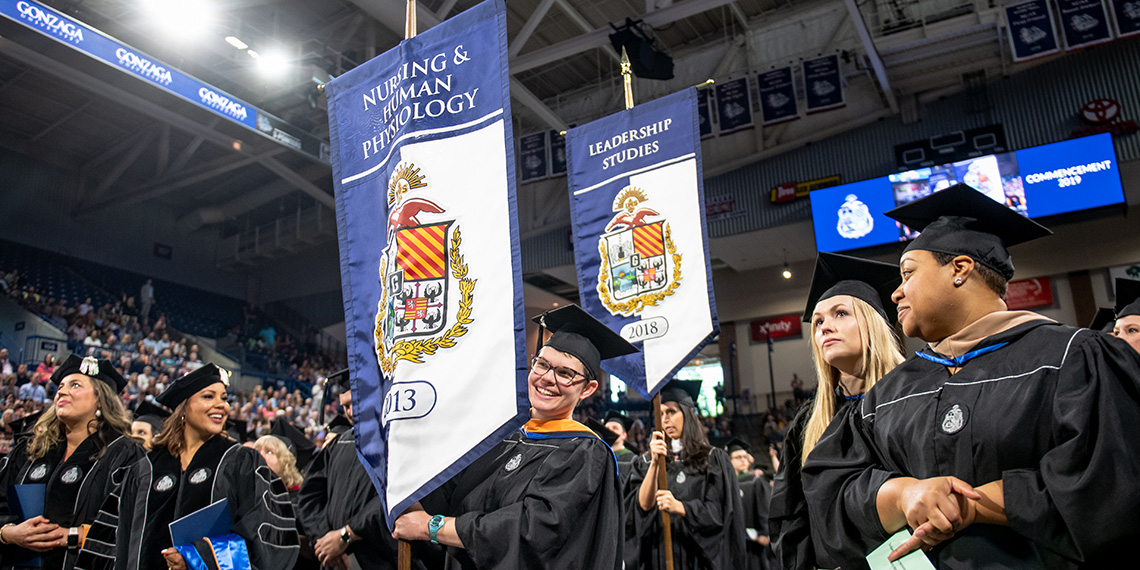 SPOKANE, Wash. — Gonzaga University conferred a total of 2,163 undergraduate, graduate and law degrees (estimated) at its three 126th commencement exercises May 11-12, including: 1,323 bachelor's degrees (the largest class ever), 675 master's degrees, 57 doctorates, and 108 law degrees. Following are highlights.
View additional graduation coverage, photos and features at Commencement, including:
Undergraduate Commencement, May 12
In his keynote address, Maj. Gen. Joseph Caravalho ('79), M.D., retired soldier and surgeon, recalled when he was the student respondent at his own graduation from Gonzaga 40 years ago as a second lieutenant in the U.S. Army with a bachelor's degree in math.
Caravalho has received numerous honors and awards in his distinguished career, including the Army Distinguished Service Medal. He was the Pentagon's joint staff surgeon before becoming president and CEO of the Henry M. Jackson Foundation for the Advancement of Military Medicine.

Humor comprised much of Caravalho's address at the Spokane Veterans Memorial Arena; Gonzaga bestowed upon him an honorary Doctor of Laws degree. Also at the ceremony, Gonzaga honored Spokane resident Alvin J. "Fritz" Wolff, Jr., with an honorary Doctor of Laws degree in recognition of his commitment to building facilities, companies and communities.

"I'm honored that the University finds my life interesting enough to share, because I am indeed an average Joe," Caravalho said. "I was born in Hawaii before it became a state, but you'll just have to believe me because those of us from Hawaii don't like to share our birth certificates."
At Gonzaga, Caravalho said he made lifelong friendships, earned an exemplary education, and achieved his lifelong goal of getting into medical school.
"Now I lead a nonprofit to advance military medicine. I am blessed. I've lived an amazing life," he said. "In the blink of an eye, my story could be yours."
Law School Commencement, May 11
Madelyn F. Wessel, university counsel at Cornell University, encouraged graduates as they begin their careers. Honored many times for public service and contributions to the legal profession, the distinguished scholar and author said there is much good to be done in the practice of law in our imperfect world.
"We lawyers can make a difference, we lawyers do make a difference, and we are counting on all of you to help make this imperfect world better as you leave Gonzaga and move on," she said, recommending four principles:
Find the joy. "You simply have to stop long enough to find your joys in life."
Cherish your mentors. "Having the benefit of wisdom and experience through a mentor is an incalculable benefit as you move forward into your careers."
Happy accidents happen. "You persevere, you grow, you tough it out, you learn some new things, you make it work, and this is the really important thing — you trust a bit to chance."
Do the right thing. "As you move into your careers there will be many different ways to do the right thing, to act with integrity, with an eye toward the common good, something our country and our world needs rather desperately right now."
Also at the ceremony, Mark DeForrest was honored posthumously with the Gonzaga Law Medal — recognizing his exceptional lifetime commitment and distinguished service to the Law School as a Thomas More Scholar student and professor.
Emily Sauvageau, graduating with a Juris Doctor, delivered the student address.
Graduate Commencement, May 11
Judith Mayotte, a humanitarian, author and spokesperson for refugees worldwide, particularly those displaced by climate change, spoke of the Earth being at a turning point, and challenged graduates to address the rapidly advancing ecological crisis of climate change.

"This planet Earth is our home — to date the only one that can nurture and sustain life as we know it," Mayotte said in the keynote speech at the graduate commencement ceremony on Saturday, May 11 at the McCarthey Athletic Center. "Within these historical times and on this beautiful finite and fragile Earth home, you will make your imprint and you will also leave your footprint. What sort of imprint will you make, and how heavy or light will your footprint be?"

Gonzaga recognized Mayotte — whose career has included service as a Sister of Charity, an award-winning TV producer, and educator — with an honorary Doctor of Laws degree.

Mayotte reiterated the call by Pope Francis in "Laudato si," his encyclical on the environment and human ecology, to build a culture that will face and address our ecological crisis.

"As I walked with refugees and now with those being displaced by extreme weather events, I see clearly that it is the world's poorest and most vulnerable populations who suffer the most from our human-induced climactic changes," she said. "Francis reminds us that the climate is a complex system and a common good, belonging to all, meant for all and needed by all for life to flourish."

She called on the graduates to step up with faith and courage to meet the challenges facing the world today.
Michael Ortiz, who earned a master's degree in organizational leadership, spoke for the students.
Academics
College of Arts & Sciences
Online Programs
School of Business Administration
School of Education
School of Engineering & Applied Sciences
School of Law
School of Leadership Studies
School of Nursing & Human Physiology
News Center