'The World Needs You' — Message to Gonzaga Grads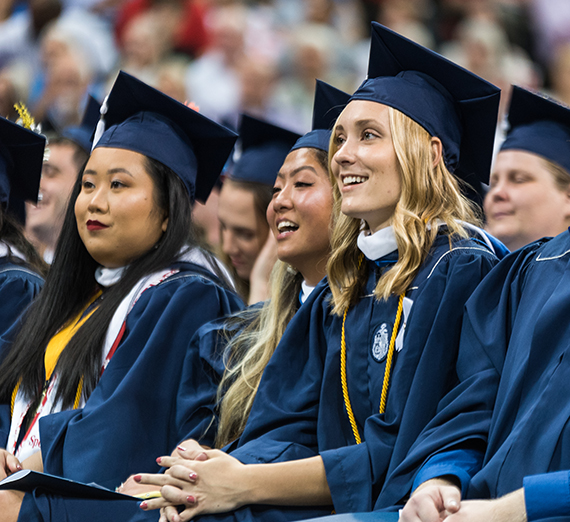 ---
SPOKANE, Wash. — Maj. Gen. Joseph Caravalho, M.D., retired soldier and surgeon, closed his remarks to Gonzaga University's Class of 2019, saying, "Let's get you graduated. There's a world out there that needs you very much."
Caravalho, who had been the student speaker at his own commencement 40 years ago, joked that he remembered at the time thinking, "I'm glad I'm not that old guy getting ready to deliver the keynote."
He graduated from GU in 1979 as a second lieutenant in the U.S. Army with a bachelor's degree in math. He has received numerous awards and honors, including the Army Distinguished Service Medal, and was the Pentagon's Joint Staff Surgeon before taking the role of president and CEO the Henry M. Jackson Foundation for the Advancement of Military Medicine.
One might think Caravalho to be a rather serious individual – adorned in his Army "dress blues" with the markings of a highly decorated officer – but jokes constituted much of his remarks to the gathering at the Spokane Veterans Memorial Arena for Gonzaga's 126th undergraduate commencement ceremony on May 12.
"I'm honored that the University finds my life interesting enough to share, because I am indeed an average Joe," said Caravalho. "I was born in Hawaii before it became a state, but you'll just have to believe me because those of us from Hawaii don't like to share our birth certificates."
After laughter subdued, he added that he was from a working family and he was the first to go to college. He joined the ROTC because he couldn't have afforded school otherwise, and says he chose Gonzaga, in part, because he wanted to see snow.
"I made lifelong friendships, got an exemplary education and achieved my lifelong goal of getting into med school. Now I lead a nonprofit to advance military medicine. I am blessed. I've lived an amazing life," Caravalho said.
"In the blink of an eye, my story could be yours."
He added, "Of course, in the blink of an eye, you could be scheduling your upcoming colonoscopy, developing a bridge strategy and discussing early bird dinner options."
On a more serious note, Caravalho encouraged grads to think about the people who watched over them throughout college – "Those who created intellectual curiosity, who opened your eyes to alternative world views and demonstrated tolerance. These are your faculty members, and they played a role in making you who you are this very moment."
He continued, "You have character and you are inspiring. You just need to dream big. Continue studying. Strive to learn something every day. Become a leader. Be happy in what you do and who you are. And love your fellow human beings."
Gonzaga conferred 1,323 bachelor's degrees this year in what was the largest graduating class in Gonzaga history.
Special Recognition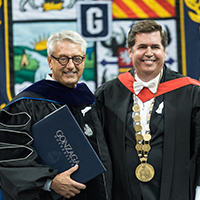 President Thayne McCulloh presented Maj. Gen.Caravalho with an Honorary Doctor of Laws degree for his service to the nation and to the world. McCulloh also presented an Honorary Doctor of Laws to Alvin "Fritz" Wolff, Jr., a businessman and philanthropist who has served the University as a regent and trustee and chair of the board.
Academic Achievement Awards for the highest grade point averages among seniors went to John Rosenberger and Damon George.
Three members of the Class of 2019 died before making it to their graduation. Family members representing James Evans, Christopher Martin and Erika Santacruz received special recognition from President McCulloh and the study body.
The Class of 2019 Student Speaker was Olivia Roberts. Read her message, "Finding, Losing and Rediscovering our Voice," here.
# # # # #