Serving God, Near and Far: Teach For America, Peace Corps & More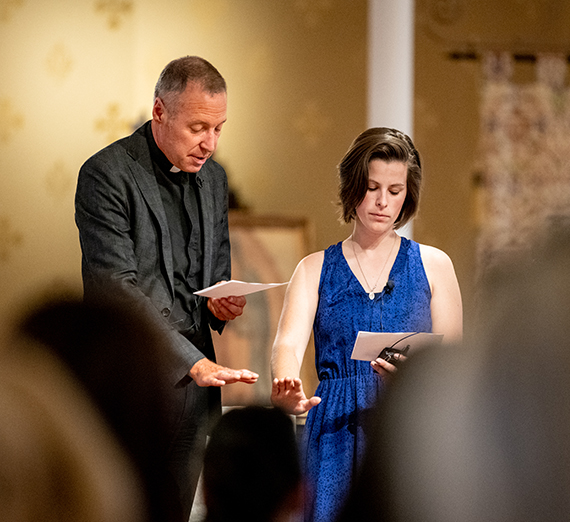 ---
After semesters packed full of learning and service and immersion experiences, 36 graduates of the class of 2019 set aside traditional career paths to take assignments as volunteers in four foreign countries and cities across the U.S.
At the Social Justice Missioning ceremony during commencement weekend, they received pins and prayers, hugs and support from the staff of the Center for Community Engagement and Mission & Ministry who have been by their side.
Teach for America
Regina Ballew – New Orleans
Jedediah Brown – North Carolina
Christine Carero – Richmond, California
Will Hackel – New Orleans
Savannah Hornung – Denver
Andrea Hurtado – San Antonio
Sean Kimball – New Mexico
Madeline McKinnon – Oahu, Hawaii
Sarah Ramsbacher – Phoenix
Austin Salvador – Las Vegas
Rayce Tamanaha – Hawaii
Victoria Weible – Tulsa
Jesuit Volunteer Corps
Devrey Martin – San Francisco
Julia Regalbuto – Los Angeles
Kathryn Sorenson – Kansas City
Carmel Stralen – San Jose
Andy Touhey
Joseph Wagner – Portland
City Year
Anna Dodson – Denver
Lani-Faith Lucas – San Jose
Zaineb Siddiqee – San Jose
Julianne Taylor – San Jose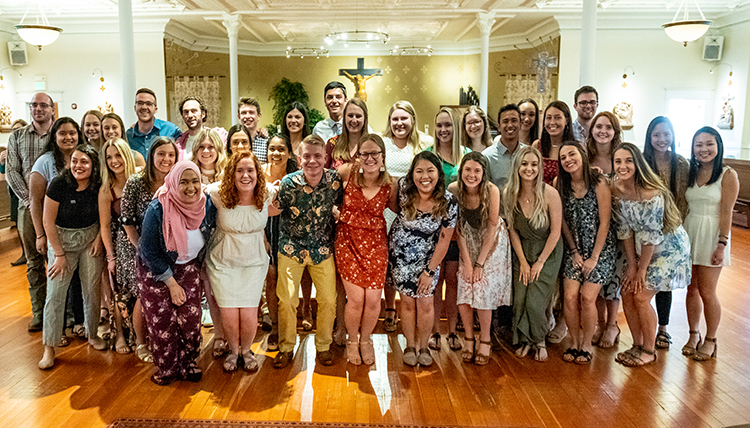 Alliance for Catholic Education
Isabel Gregorio
Madison Schreiter
Pacific Alliance for Catholic Education
AmeriCorps
Jamison Jouno
April Lopez
AmeriCorps VISTA
Ignatian Service Corps
Francis Argueta – Los Angeles
Dominican Volunteers
Natalie Louie – San Francisco
Gonzaga Prep Alumni Service Corps
ExCEL Program, Santa Clara University
International Service
Amigos de Jesus
Claire Vietri – Honduras
Mennonite Central Committee SALT
Morgan Smith – Cambodia
Mercy Volunteer Corps
Keriann DeLine – Guyana
Peace Corps
Ivan Jimenez – Peru
A Second-Grade Lesson in Awaking from Privilege
To provide insight into the work they are called to, 2012 graduate Liz Slamkowski provided the keynote address. She served with the Alliance for Catholic Education, teaching second grade in Washington D.C. for two years. After teaching in Santiago, Chile, for three years, she returned to Spokane where she supports high school students in Christian Service at Gonzaga Preparatory School.
Read her funny and thoughtful presentation here.
Support the next class of world-changers
with a gift
to the Office of Mission & Ministry or the Center for Community Engagement.