Ortiz to Grads: Emotional Ride Shows Strength of GU Community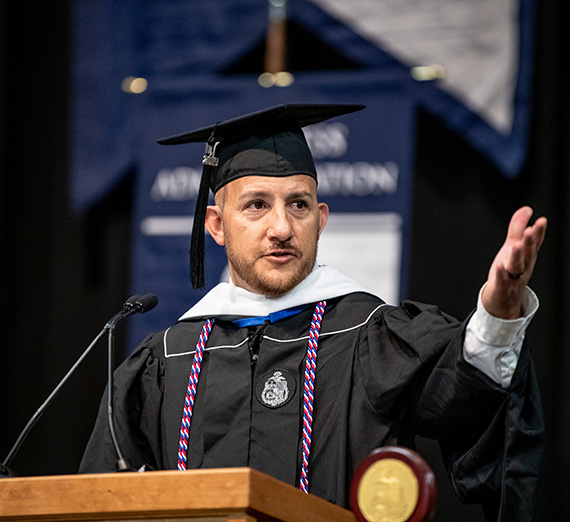 ---
Graduate Commencement Speaker Michael John Ortiz shares with his fellow graduates how the journey to his degree represents the Gonzaga spirit in action. Below is the text of his message.
"Thank you Board of Trustees, President Thayne McCulloh, and Provost Beth Martin. To our professors, faculty and staff, thank you for all of the support and unyielding desire to see this moment come to light for so many of us. To my fellow classmates – congratulations.

To all the families, friends, and loved ones - thank you for sharing this special moment with all of us. To my brothers and sisters in arms – those still serving, those who I fought alongside with in combat… some of which are in this room, and finally to those that made the ultimate sacrifice, I hope I do you all proud. Airborne, All the way, Sky Soldiers.
'Per aspera ad astra' – is Latin for through difficulty to the stars. I have engraved this saying on my class ring to serve as a reminder of what can happen when you fall but fall forward, when you stop to only catch your breath, and when you face the unknown.
For me, attending this university was one of those moments. I remember standing in front of the Zag shop when this journey first began and feeling a sudden desire to turn around and go home. I called my wife and she reminded me of my journey and why I was here… with that, I set across the street and onto campus. Prior to that day I had never stepped foot on a campus in my life, my entire undergrad was done online without feeling a connection to a community of real people or any sense of belonging.
Two short years later however, I feel very much at home here on campus, on our campus, on our very real and not made up campus … and while Jimmy Kimmel has his doubts, I stand here and proudly acknowledge, we exist.

This story really begins the year I joined the Army, the exact same year that a very small and extremely unknown school made its first Cinderella run at the NCAA men's Basketball tournament. A team that went to heights no one other than themselves believed and despite the odds and all of the doubt… created a legacy that is still alive today. I had no idea that 20 years later, like the Zags of that 98-99 season, I'd be standing here with my own beating the odds story to tell.

I was once told that, 'Great success is only sustainable after catastrophic failure.'

It was on March 24, 2016, that I attempted to take my life. I had let the demons of war and the struggles of life allow me to forget I was a husband and a father, a son and a brother, a Soldier and a friend. Within minutes of no longer being here; after a series of miracles, a small army of friends, and a medical staff that was not ready to give up on me… I am still here, and here I stand.

It was these people who allowed me the opportunity to join another community, a community of learning here at Gonzaga

It was here I was given the opportunity to be more than just a name behind a computer screen. Whether online in Oklahoma or here for an immersion, it was here I was able to interact with my professors – who challenged our ideas with new thoughts and alternatives, cultivating our individual and teamwork abilities, and showing us the teachings and philosophies of Palmer, Greenleaf, Northouse, and our very own Dr. Carey.

Coming from all walks of life and experiences its was again both online and in person I was able to interact with my peers, meeting corporate CEOs, non-profit leaders, members of the military, small business owners, and those that had yet to pick their path. However… regardless of position or profession – I am able to walk away with so much more than I came here with and for that I owe all of you a thank you.
For me, this accomplishment gives me a reason to continue to press forward and never give up. As a veteran of war I did this for those that did not come home. As a suicide survivor, I did this for those that feel PTSD and depression is something that places a limit on your life. Finally, as a Zag, I did it for all the underdogs, all the ones that will move past the whispers of doubt and prevail. Per aspera ad astra… through difficulty to the stars.
My fellow classmates, again congratulations, and I am humbled to have had this opportunity to share my story with you all. I am proud to call you friends and peers, I am proud to be a Zag, and I am proud to be here!"