Nurses, Cadets and English Program Grads Recognized at Special Ceremonies
---
Commencement season at Gonzaga is more than the primary ceremonies for undergraduate, graduate and law degrees. We also celebrate the commissioning of ROTC cadets, the pinning of nurses, and the achievements of students in the English as a Second Language program. Congrats to all.
ESL Graduates Extol the Value in Making Friends from Other Cultures
When Federica Torre arrived here from Italy last year to participate in the English Language Center's English-as-a-Second Language program, she felt a bit overwhelmed. She went her first month without doing laundry because she had never done laundry at home. But after some time studying English, she got the hang of laundry, and settled in to the joy of learning about other cultures and making friends from Saudi Arabia, Japan and Korea, to name a few.
She and Ahmed Aldhamen, Saudi Arabia, were honored at the ESL Program's graduation ceremony May 9 on campus. They also served as student speakers. Aldhamen talked about how the English Language Center's ESL program didn't just teach him English, but helped him make friends from around the world. And, proudly wearing his Gonzaga shirt and cap, he told his classmates "being a Zag is great."
Torre and Aldhamen will both enroll as GU undergraduate students in the fall, Torre studying sports management and Aldhamen pre-med. Torre also competes on the Gonzaga golf team.
In addition, 14 other ESL students were honored for completing their current level of training within the program. And most will be back in the fall.
New Nurses Have Put In the Work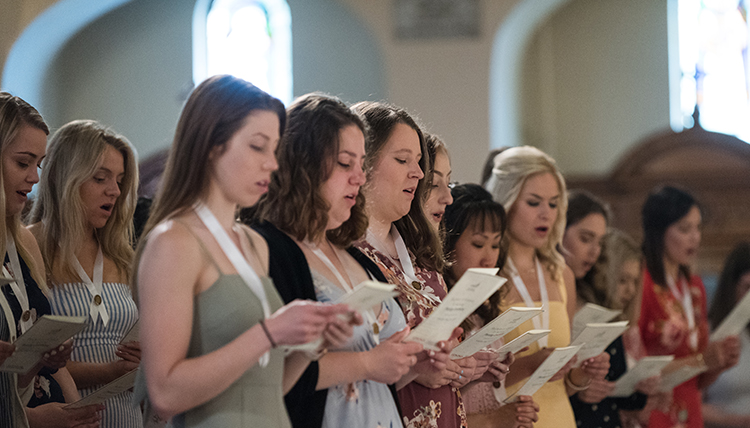 While most students typically find their last senior finals week perhaps the most relaxing of their college careers, 40 senior Gonzaga nursing students spent finals week completing an intensive 35-hour class to prep them to take the NCLEX exam, which is the final step in obtaining an official Registered Nursing license. This group completed 859 clinical hours each, working in various health care facilities. They screened hearing and vision for students in local Catholic schools, practiced long-term care for the aging, worked with medical/surgical, maternal health and inpatient pediatrics clients, and served mental health patients both in the community and at Eastern State Psychiatric Hospital. All of this, while many of them studied abroad, worked outside jobs and volunteered their time generously on campus.
In the official pinning ceremony May 11, which is a time-honored nursing school tradition dating back to the 12th century, these 40 nursing graduates invited nurses who inspired them to do the honors. The next day they received their bachelor of science in nursing degrees. Within the next few weeks they will take their licensing exams: 26 in Washington, seven in California, three in Colorado, two in Oregon and one each in Arizona and Michigan.
Gonzaga ROTC Commissions 13 New Officers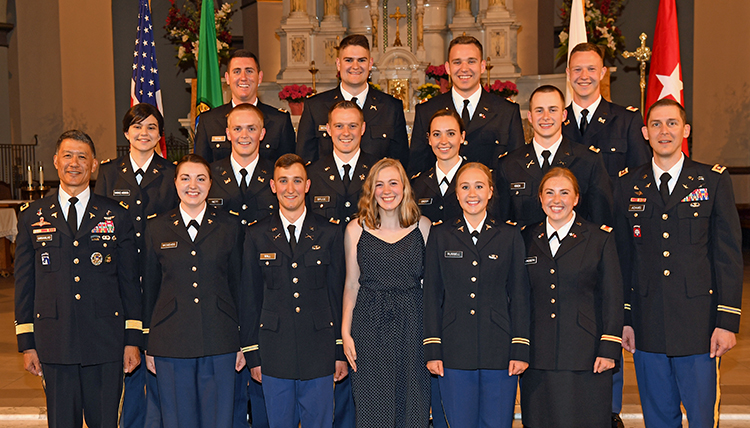 Graduates of the Bulldog Battalion, which includes Gonzaga and Whitworth University students, class of 2019. Photo by Jerry Rowles.
Thirteen U.S. Army second lieutenants comprised the 70th class of ROTC cadets to be commissioned at Gonzaga. The May 10 ceremony at St. Aloysius Church included one future lawyer, Chris Boyne, who will be joining the Judge Advocate General's Corps, along with men and women who plan to serve in medical service, engineering, nursing, military intelligence, signal corps, infantry, quartermaster corps and military police.
This class includes two officers – Zach Hill and Zach Wall – who are among the nation's top 10 percent of ROTC grads this year. This class also includes one Whitworth University member of the Bulldog Battalion, Andrew Knox, who served as long snapper for the Pirate football team over the past four years, and shared the CSM Thomas E. Williams Leadership Excellence Award with Zach Wall. Ten members of the Class of '19 are headed to the regular Army, two to Army National Guard and one to the Army Reserves.
The ceremony was capped by each new officer taking their oath of office from a current or veteran member of military service, pinning of the lieutenant bars by a family member, and a first salute to a non-commissioned military member or veteran who was instrumental in that officer's achievement. Retired Maj. Gen. Joseph Caravalho, president and CEO of the Henry M. Jackson Foundation for the Advancement of Military Medicine in Bethesda, Maryland, and a 1979 graduate of Gonzaga and its ROTC program, served as keynote speaker, telling the cadre "Today you are officers in the United States Army. How cool is that!"