Celebrate: ROTC, Nurses, Volunteers, English Learners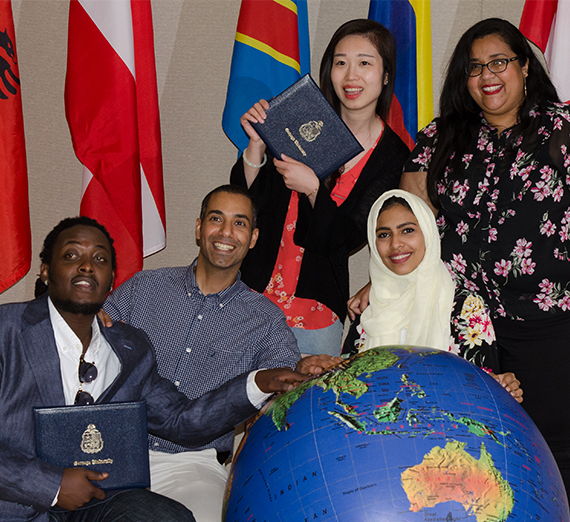 ---
Commencement weekend at Gonzaga is about much more than the grand crossing of the stage to receive a diploma and to shake hands with the president. In addition to three commencement ceremonies, there are many other ways schools and programs honor their distinct groups. Here are a few examples.
A Salute to ROTC Grads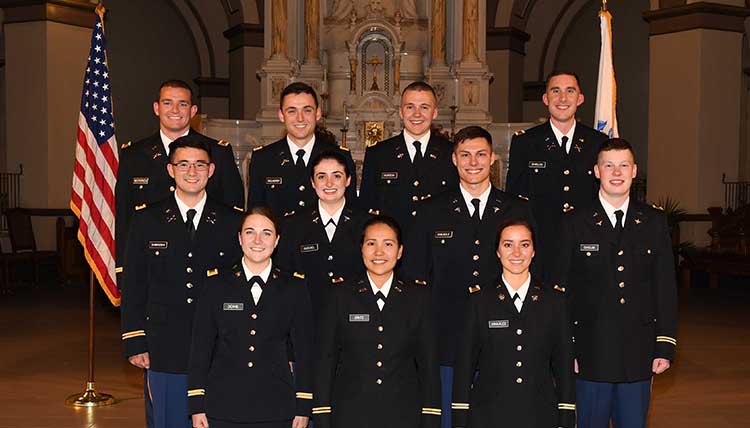 The 2018 graduates of the Bulldog Batalion include four women and seven men who raised their right hands to swear to defend the Constitution and take the oath of office and become U.S. Army officers.

Alan Westfield, senior instructor of military science, said they are "ready for the privilege to lead soldiers and serve in the world's best Army. Through blood, sweat, and tears they have earned their commissions." He noted their excellence in Advanced Camp, Army schools, Ranger challenges, classrooms, labs, Color Guard and service at many community events.
Care for the Whole Person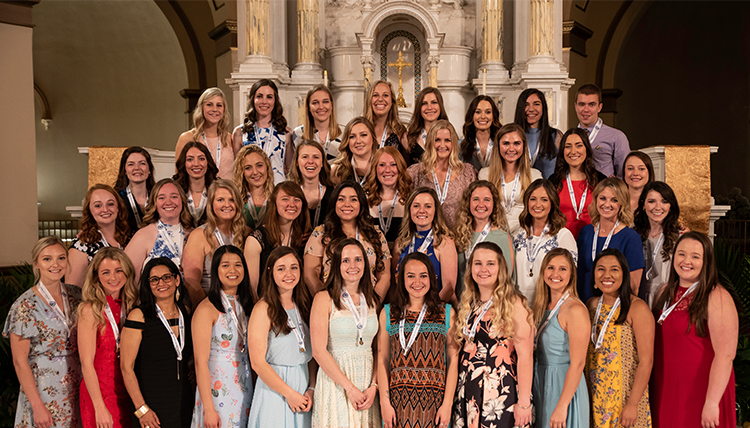 Thirty-nine graduates from the School of Nursing received their nurses' pins, a tradition dating as far back as the 12th Century when monks vowed to care for injured and infirm Crusaders. The modern ceremony dates to the 1860s when Florence Nightingale received the Red Cross of St. George in recognition of her tireless service to the injured during the Crimean War. By 1916, pinning new graduates was standard practice.
Gonzaga nurses are ready for a practice "grounded in leadership, professionalism, effective communication, and safe, competent, ethical care."
Read more about the Nurses Pinning and the Nightingale Pledge.
BSN graduate Molly Bosch was the senior class speaker at the undergraduate commencement ceremony. Read her inspiring story, "Cannonball."
The Next Step: A year of service
After the inspiring messages of Mass and Commencement, after packing up their campus residences, after hugs and final goodbyes, 33 graduates of the class of 2018 set aside career goals and to take up assignments as volunteers in three foreign countries and 20 U.S. cities. Nine of them will move to inner-city schools and mentor youth considered to be on the fringes, through Teach for America. Ten are partnering with Jesuit Volunteer Corps; many have chosen Peace Corps, AmeriCorps, Mercy Volunteer Corps and other similar organizations. One is headed to Spain for a Fulbright English Teaching Assistantship.
All were celebrated by the Center for Community Engagement (formerly CCASL), which fosters students' interests for immersion and service opportunities.
The keynote speaker was 2016 grad Olivia Schneider, who served with Jesuit Volunteer Corps in Missoula, Montana, before beginning her career in Portland. Read her message to this year's grads in "Stronger Than You Know."
Excellence for English Learners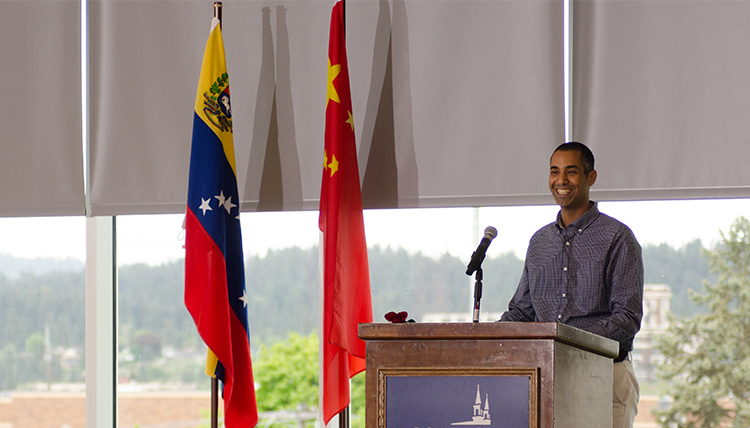 As part of the Center for Global Engagement, five international students have completed their certificates in English as a Second Language. They join more than 8,500 individuals from 70 nations who have participated in the program since 1978.
Martha Savage, associate professor of education and keynote speaker for the graduation ceremony, reflected on conversations the students had around two poems: Robert Frost's "The Road Less Traveled" and "Choices" by Tess Gallagher. She challenged the students to remember the cultural "nests" they discovered here, and to offer those protective areas when they return to their own countries.

"Your presence is a nest to me. If I read some political talk about China or Saudi Arabia, it impacts me, because I know you," Savage said. "Our mission in life is to see nests, to reach out and care, to shift where we need to."

Sultan Alotaibi, the selected student speaker, thanked his fellow classmates from China, Saudi Arabia, Venezuela and Rwanda, as well as the faculty member "all the way from Nine Mile Falls" who treated them to American food and traditions. He also reflected on an important class James Hunter taught about human rights, power and corruption,
racism and discrimination.

"It was all rewarding, even while quite challenging," said Alotaibi, given the variation in individual communication strengths. "James gave us great encouragement," he said. "We learned to speak our minds ... to facilitate meaningful cross-cultural communication."

All of the graduates plan to continue studies, either in English or in other fields, such as computer science, management or communications.

Learn more about Gonzaga's English Language Center.