39 Join the Ranks of Nurses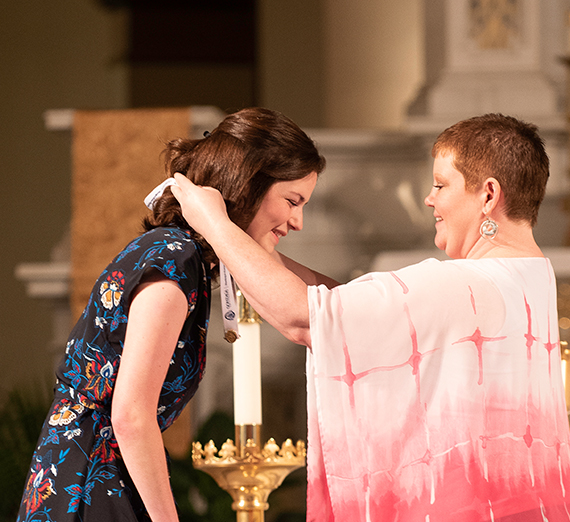 ---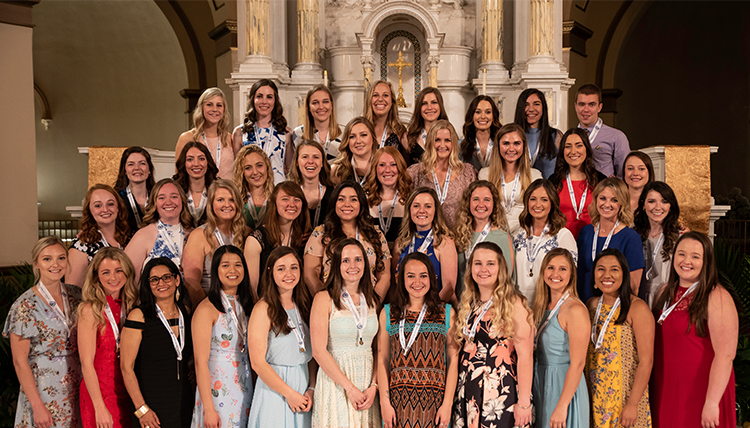 Graduates of the Bachelor of Science in Nursing program, in addition to receiving degrees at commencement, also participate in a nurses' pinning ceremony.

"The nursing pin is a thousand-year-old symbol of service to others," explained Brenda Senger, Assistant Professor of Nursing. "It is both a cross to bear and a medal or badge of honor."

The earliest ancestor of the nursing pin is the Maltese cross, when those who took care of injured soldiers wore this symbol as a sign of service to Christianity. Over the centuries, this symbol was replaced by the family coat of arms that often indicated service to a particular ruler. The nursing pinning ceremony has its origins with Florence Nightingale who would give a medal of excellence to her hardest working nursing graduates to acknowledge a "job well done."

The Gonzaga BSN pin bears the seal or coat of arms of the university, which was designed in 1914 and has been used on all degrees and medals since that time. Its symbols represent Ignatius Loyola, the founder of the Society of Jesus (the Jesuits) and their roots in Spain, as well as elements representing Spokane. The letters AMDG represent the Latin term translated as "for the greater glory of God," the motto of the Society of Jesus.

Senger said, "We hope that you will wear your nursing pins with pride and that they will always be a reminder of the commitment you made to be 'men and women for others'."

"Congratulations on joining almost 3 million nurses in this country who have dedicated themselves to improving the health and wellness of others."
The Nightingale Pledge
I solemnly pledge myself before God
and in the presence of this assembly
to faithfully practice my profession of nursing.
I will do all in my power to make and
maintain the highest standards
and practices of my profession.
I will hold in confidence all personal matters
committed to my keeping in the practice of my calling.
I will devote myself to the welfare of
my patients, my family, and my community.
I will endeavor to fulfill my rights and
privileges as a good citizen and
take my share of responsibility in promoting
the health and welfare of the community.
I will constantly endeavor to increase my knowledge and
skills in nursing and to use them wisely.
I will zealously seek to nurse those who are ill
wherever they may be and whenever they are in need.
I will be active in assisting others in safeguarding
and promoting the health and happiness of all humankind.