Current, Future, Past: Cadets of the Gonzaga Bulldog Battalion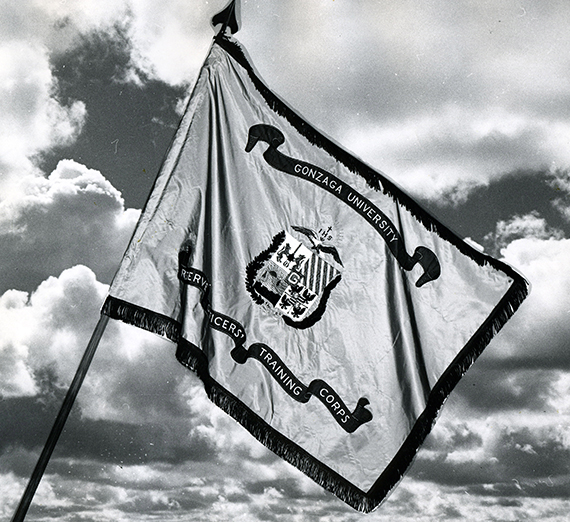 ---
By Sidnee Grubb ('18)
In honor of the 70th anniversary of Gonzaga's ROTC program, we look back on the special stories that have become the ink on the pages of its history.
Every soldier was once just another cadet. It was not too long ago that Father James Peak ('95) was "Jimmy Joe," just another Army cadet in the Gonzaga ROTC program. Then, like they all eventually become, he was a soldier, with eight years of active duty. His life took a big (but not unexpected) turn on a sunny day in June 2007. After a seminary education in Rome, he became a Catholic priest. Father Peak then assisted in student development programs at GU while leading a parish of his own in Spokane. Now, he welcomes a new wave of change as he blends military and ministry in the role of Army chaplain, serving the servants of our country with the Mass and Sacraments, spiritual care and priestly support. He is now on the same hybrid journey that another GU ROTC graduate, Father John McBride ('55), took before him.
Father McBride was a veteran of WWII before he even joined the inaugural class of ROTC graduates at Gonzaga. Upon graduation, he joined the famous seventh Calvary during the Korean War. Amazingly, rather than the all-too-common emotional scars war causes, John embraced gratitude for life and a deepened spirituality. Later, his life as a Jesuit would be marked by the impact he made on the incarcerated, supporting them and their families in any way he could. He passed in October 2017.
History Winds and Connects
Until 1973, ROTC was required for all male students for at least one semester. The ROTC program was a central part of the 'Zag' identity. President Truman once visited Gonzaga University in 1950 to make an address about the progress Washington had made in environmental development and the example future graduates of Gonzaga could be in the effort to be God inspired, socially fair and just citizens. While at GU, he delivered the ROTC official colors, which still hang in the ROTC department offices of College Hall.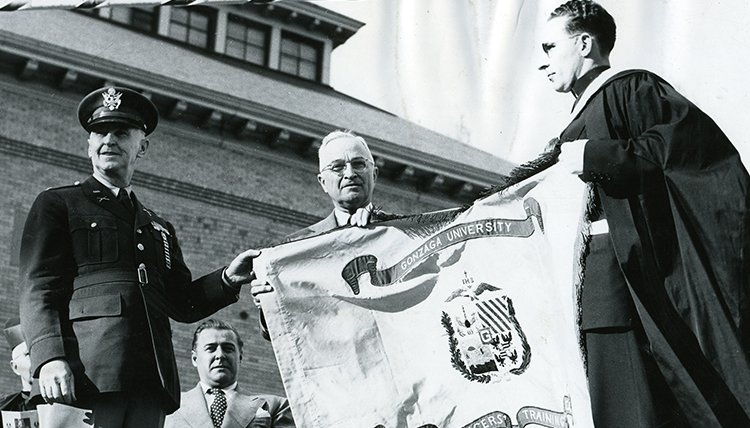 Just two years prior to Truman's visit to Spokane, he had made the historical decision to desegregate the military. Around that time, Thomas Williams, a sharecroppers' son, ran away at 15 years old to join the military as a young black man. Little did he know, Truman's decision would allow him to join one of the first integrated units. He fought in Korea and Vietnam and rose to the rank of Command Sergeant Major. His final assignment? Gonzaga University ROTC program. He led the program for 20 more years, and received an honorary Doctor of Law degree from Gonzaga University.
Sergeant Major Thomas Williams ('08) retired from the service and Gonzaga, but not before offering hospitality and friendship to Alan Westfield, a Senior Military Science Instructor and coach of the Elite Ranger Challenge Team. Sergeant Major Williams was with Gonzaga for 30 years and interacted, influenced and mentored countless cadets. He formed deep relationships with cadets and offered support and care long past their graduation day. For some, he was a personal advisor in their military career, present at their weddings and even godfather of their children.
An Unstoppable Legacy
Nine cadets compete against the clock, rival schools, and their own will in the Ranger Challenge Competition. Every year the teams are put to the test, physically, mentally and emotionally. Carrying 35-pound rucksacks, they hike nearly 30 miles, encountering physical, safety and marksmanship challenges along the way. They navigate using map and compass, sleep on the ground, wear full gear, accomplish tactical planning and tasks, practice first aide, and fight to be the best. As if unaware of their odds, the Bulldogs consistently out-perform much bigger battalions year after year. Two of the last three years, they won the regional task force championship, earning the privilege of moving on to West Point where they compete against sixty other teams from around the world.
According to Coach Westfield, cadets have to display tenacity, resilience, and creativity. "This Ranger Challenge Competition is not just about the victory, it's about learning skills, leadership, fellowship and teamwork that they can take with them into life, especially in the Army."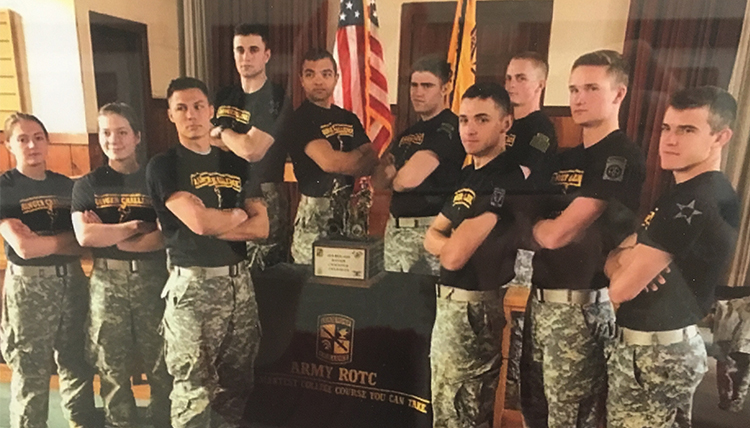 The secret to the Bulldog Battalion's success year after year? "We're prepared, we don't make mental mistakes because we know what the rules are, we know about each other, we train well (and don't over train), we eat well, and we stay focused."
In 2017, the Bulldog Battalion had two female starters on an all-star team. Diana Karlova ('17) and Rachel Howard ('18), and very obviously "earned their way to start," said Westfield. Rachel is a senior nursing major, and current Commander of the Bulldog Battalion and Karlova, a graduate of the biochemistry program, is currently serving in the United States Army.
For some graduates, the physicality and adrenaline-inducing challenge of being on the ground and in the action ignites a passion for the infantry. Kenji Price ('02), for example was the no. 1 cadet in the nation out of 4,000 cadets in 2002. His post-graduation plan was to apply for an educational delay to go to law school and then serve in the Judge Advocate General's Corps. The excitement and passion he experience for the Ranger Challenge diverted his path and he served as a Paratrooper and Ranger in Operation Iraqi Freedom and Operation Enduring Freedom in Afghanistan. After completing his law degree, he was appointed as the Attorney General for the State of Hawaii in January 2018.
True Heroes
Of course, to merely glamorize battle would be a grave and insensitive error. Some members of the Bulldog Battalion have paid the ultimate price in their service to our country. Today, hallway spaces in College Hall exhibit large plaques with the names of more than 100 Gonzaga alumni who lost their lives in World War I and World War II. One of the three most recent losses to the Bulldog Battalion was Major Lawrence D. Acre ('55). He was killed in action in 1969 in the Vietnam War. His image and story are still memorialized in the ROTC department of College Hall.
Of 347 lieutenants commissioned since 2001, an estimated 80 percent have been to Afghanistan or Iraq. It was there that Mathew Fazzari ('10) and Forrest Ewens ('04) became authentic legends and heroes when they made the ultimate sacrifice.
Both Ranger Challenge champions, Fazzari as captain of the team in 2009 and Ewens a member of three championship teams, "they were the best of the best" says Westfield. They attended Whitworth University as students, but were part of the Bulldog family through the ROTC program offered at Gonzaga.
In high school, Ewens was track captain and homecoming king in Chewelah, Washington. He deployed to Afghanistan in February of 2006. Only a few months later, on June 16 of 2006, his unit was ambushed as they departed a village after meeting with elder community members and delivering medical supplies. He is now laid to rest in Arlington National Cemetery.
After his death, his wife and military intelligence officer herself, Megan ('03) decided almost immediately to set up a scholarship for Gonzaga ROTC in Forrest's honor. To keep his memory alive and to share his inspiring story, every year to this day Megan offers a senior who is admired, respected, and shows the same character as her husband, the Lieutenant Forrest Ewan Servant Leadership award.
In an effort to preserve the memory and character traits of another fallen member of the Bulldog Battalion, the Lieutenant Matthew Fazzari Leadership Development Trainer Award is given to a selected senior each year as well. With this award, the junior class selects a senior who has had the biggest impact on their growth and development.
Fazzari grew up in Walla Walla playing baseball, basketball, and the drums in a Christian rock band. After graduation and helicopter flight training, he planned to move to Georgia with his wife Tova and his two sons. Suddenly, there was a call for helicopter pilots to volunteer to go to Afghanistan. Fazzari raised his hand. Shortly after his arrival, a platoon of 35 leaders were in trouble and made an urgent plea for help. Fazzari and his co-pilot Scotty Pace made three passes delivering urgently needed support. Their aid saved lives; then in a moment of bad luck enemy fire hit a hydraulic line, causing a crash landing that killed them both.
Their phenomenal families and these two inspiring men will never be forgotten. They inspire current and future cadets to be better. Their memories live on. In this way, no cadet is "just another cadet." Every cadet is part of an honorable tradition, a broad and reaching family, and a tenacious bunch of life-long friends. As a Gonzaga ROTC Bulldog Battalion member, a student's life is changed, but in turn, they change this institution with their lives.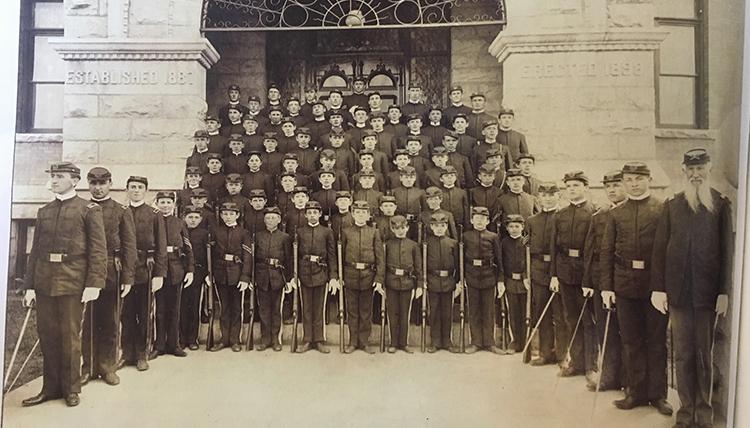 Terminology
Battalion; a large body of troops ready for battle, especially an infantry unit
Infantry; the branch of an army that engages in military combat on foot
Brigade; a military unit size designation; multiple battalions make up a brigade
Branching; the term used when senior cadets are deciding what they will do after graduation
Standard; a military or ceremonial flag carried on a pole or hoisted on a rope.
Colors; the flag of a regiment
"Joe"; a cadet in a non-leadership position